Main Content from Here

A drive through the clouds
Bandaiazuma Skyline
Type:

Onsen, Drive

Highlights:

landscape(From Takayu Joudodaira direction)

Required time(By car):

about 1hr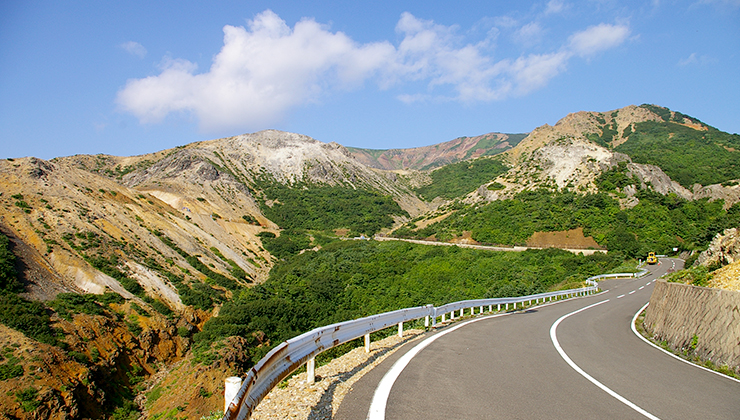 Bandaiazuma Skyline is a mountainous sightseeing road 28.7km in length, linking the west of Fukushima City with Takayu Onsen and Tsuchiyu-toge Pass. The panorama course that weaves through the Azuma range has many beauty spots including mountain ranges and ravines. A different landscape around every bend makes it feel like a paradise above the clouds. The "snow corridor" of spring, the fresh greens of early summer, and the red leaves of autumn present a charming countenance for each season.
The driving course starts at Takayu Onsen and takes about 40min to the halfway point of Joudodaira. At the Fudosawa Bridge, which spans the Tsubakuro valley, there is a free rest area where you can take a break or enjoy a stroll. One of the highlights of the drive is the gradual change in scenery from urban to desolate mountains.
Bandaiazuma Skyline is open from early April to mid November and closed during winter.
Takayu Onsen

Discovered 400 years ago, Takayu Onsen is hot spring known throughout Japan and compared to the famous Kusatsu Onsen due to its high sulfur content. Just 16km from Fukushima Nishi Interchange on the Tohoku Expressway, Takayu Onsen makes a good point from which to access the Bandaiazuma Skyline.

Shirakaba-no-mine Pass

This is the first viewpoint after leaving Takayu Onsen. A sea of Erman's birch and other trees extends into the distance flanked by Mt. Zao and the Adatara range on either side.

Tsubakuro Valley

Tsubakuro Valley, one of the "eight picturesque sights of Azuma," is known as a famous spot at which to view the colors of autumn. An unbroken view of Fukushima City can be seen from Fudosawa Bridge, which spans the valley at a height of 84m and length of 170m.

Tengu-no-niwa

A picturesque site dotted with large rocks, where legend has it that tengu danced in the past. This is the ideal point from which view the beautiful colored leaves on the slopes of Mt. Azuma-Kofuji in autumn.

Joudodaira

Located at the halfway point of the Bandaiazuma Skyline, there is a bounty of alpine plants to be found around the wetland between Mt. Issaikyo and Mt. Azuma-Kofuji. From here you can enjoy nature watching and mountain climbing in the area.