Trekking from Takayu to Lake Goshikinuma
Main Content from Here

The historical road travelled by the mountaineering ascetics
Trekking from Takayu to Lake Goshikinuma
Type:

Climbing

Highlights:

Lake Goshikinuma,rhododendrons

course time:

about 5 hrs 20mins

Distance:

about 11km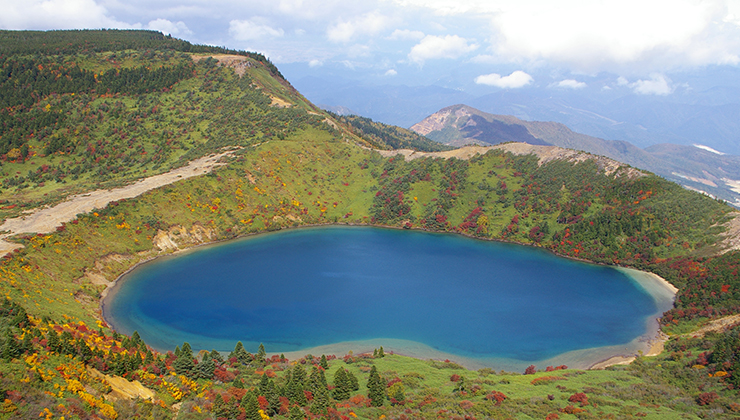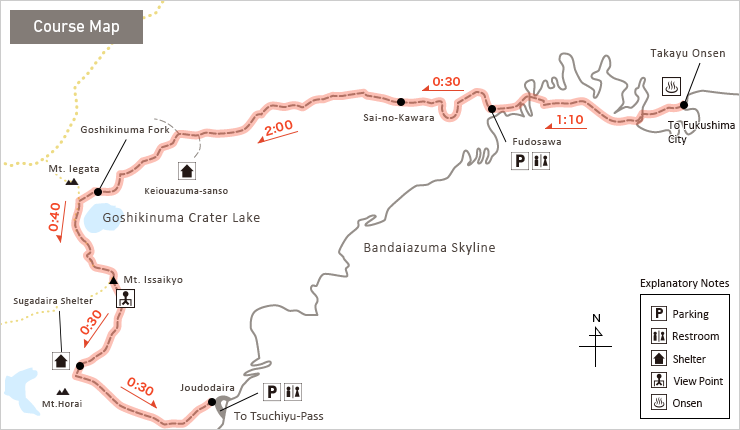 ※Course time and distance is only a guide.
Takayu to Sai-no-kawara

Azumaya-mae at Takayu Onsen marks the trailhead. Cross the Bandaiazuma Skyline twice as you proceed uphill. Thereafter, descend once across a gulley and climb back up to join the course from Fudosawa trailhead. Proceed further up the gentle ascent to arrive at Sai-no-kawara, about 1hr 40min from the trailhead. Pink Iwakagami bloom around Sai-no-kawara in May through June.

Sai-no-kawara to Oiwake and Lake Goshikinuma fork

Many rhododendrons come into sight as you ascend further from Sai-no-kawara. In July, Hakusan rhododendrons decorate the path. Once you pass the approach to Keiouazuma-sanso, the fork to Oiwake comes into sight. Check the sign to confirm the direction of your route, and ascend toward Lake Goshikinuma fork. It takes about 2hr From Sai-no-kawara to Lake Goshikinuma fork.

Lake Goshikinuma fork to Mt. Issaikyo

There is an incredible view from Lake Goshikinuma fork, looking out over Mt. Iegata with the Asahi mountain ranges, Zao range, and Fukushima City in the distance. Enjoy the cobalt blue of Lake Goshikinuma as you climb the steep and uneven slope for around 40min to finally arrive at the summit of Mt. Issaikyo.

Mt. Issaikyo to Joudodaira

After a descent over a steep scree slope from Mt. Issaikyo, you will come upon Sugadaira shelter. Descend further and emerge from Joudodaira wetlands to arrive at Joudodaira.