Main Content from Here

Situated at an elevation of 1600m, Joudodaira presents an array of landscapes – from desolate mountainsides covered in volcanic gravel, to wetlands dotted with marshes and ponds, to fields of alpine flowers.
Just one hour by car from Fukushima City, the visitor center, parking lots, mountain trails and nature sightseeing routes, and other facilities help you spend an enjoyable time in alpine nature at your leisure. At night, the star-filled sky makes Joudodaira one of the prime locations in Japan for night-sky observations. You can enjoy real astronomy at the telescope-equipped observatory.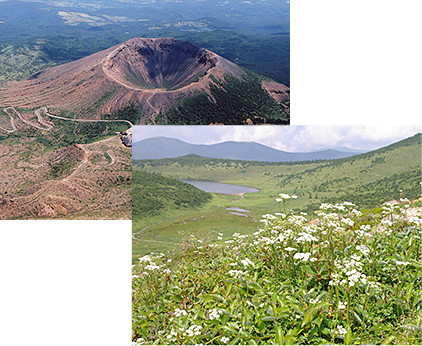 Spring comes slowly to Joudodaira at the beginning of May, when much snow still remains. Take a scenic drive through the "snow corridor" to experience the true pleasure of the Bandaiazuma Skyline in early spring.
The spring sun sparkles on the walls of snow that tower above the sides of the road, and the lingering snow forms a rabbit in start relief on the surface of Mt. Azuma-Kofuji, making the heart soar at the arrival of spring.
Mid-May marks the start of the season of dazzling bright greens. Brimming with vibrancy, the trees race to sprout.
In contrast to the desolate scene painted by the reddish-brown of the mountain side that has remained naked for almost 120 years since the eruption of Mt. Issaikyo (1893), the alpine plants and delicate flowers that thrive in the severe environment enchant with their myriad colors. Then in autumn, the mountains simultaneously change color, presenting a contrast of vivid reds and yellows.
Even when it rains or is cloudy at the foot of the mountain, Joudodaira's high altitude often means it is above the clouds and the sky is clear, resulting in a high chance of a perfect night sky filled with glittering stars. In summer when meteor showers are particularly common, Joudodaira is a place where you can see many shooting stars.
At dawn, the sun rising from a sea of clouds illuminates the natural beauty of Joudodaira.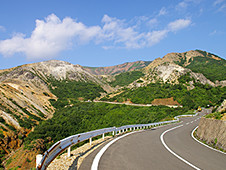 Joudodaira, where you can experience the stirrings of a volcano, the colors of the four seasons, and the sparkling cosmos, is very much a paradise in the heavens.

The Bandai-Asahi National Park was designated as a national park on September 5, 1950. The park site of 186,404 ha straddles Fukushima Prefecture, Yamagata Prefecture, and Niigata Prefecture and consists of three independent units: the Dewasanzan-Asahi Region, Iide Region, and Bandaiazuma-Inawashiro Region. The Joudodaira District lies in the Bandaiazuma-Inawashiro Region and marks the halfway point of the Bandaiazuma Skyline to the west of Fukushima City. Convenient access of just one hour by car makes this one of the central attractions of the area, visited by the many people who come for the mountain trails, nature sightseeing routes, and the excellent facilities of the visitor center, etc.