Main Content from Here

Go to see the cobalt blue Lake Goshikinuma and alpine plants!
Mt. Issaikyo trekking
Type:

Climbing

Highlights:

Lake Goshikinuma,Mt. Issaikyo,Kamanuma,alpine plants

course time:

about 2 hrs 50mins

Distance:

about 7km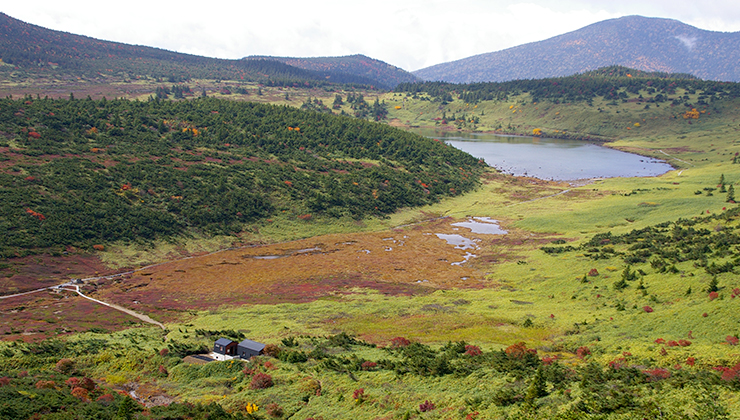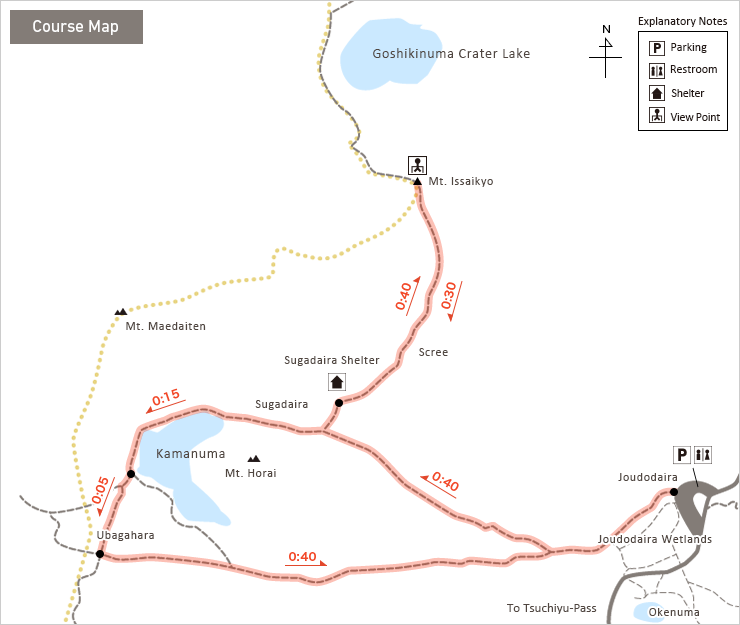 ※Course time and distance is only a guide.
Joudodaira to Mt. Issaikyo

One hour bus ride from Fukushima station. At Joudodaira of altitude approximately 1600m, you can enjoy the characteristic scenery of a volcano and wetland flowers firsthand. Here you will find the Joudodaira Visitor Center, which gives information on the nature in the area, and also a rest house and an astronomical observatory. There are also mountain trails nearby, making this a place where you can enjoy the nature of the region.
Start from Joudodaira parking lot, go along the walkway set in the Joudodaira wetlands, and ascend a steep slope to reach Sugadaira shelter. Take the fork toward Mt. Issaikyo, and climb a steep scree slope to arrive at the summit of Mt. Issaikyo (altitude 1948.8m) in about 1hr 30min. The view of the Azuma range from the summit is striking and you can also look down on Lake Goshikinuma, known as the "Eye of the Witch."

Mt. Issaikyo to Sugadaira and Kamanuma

Return from Mt. Issaikyo to the shelter on the trail by which you came. The trail is slippery, so watch your step. Take the right fork at the shelter and enjoy the flowering cotton grass and miyamarindo at Sugadaira. Next, Kamanuma presents a gentle scene, reflecting Mt. Higashi-Azuma in the surface of the waters.

Kamanuma to Ubagahara and Joudodaira

Ubagahara is a grassland plateau to the south of Kamanuma, where various alpine plants adapted to the severe climatic conditions can be observed. The trails to Mt. Higashi-Azuma, Yajidaira, and Joudodaira form a crossroads at Ubagahara. From here, you can walk along the walkway to the east for about 30min to return to Joudodaira from where you left.