Shinjuku Gyoen was constructed on the site of a private mansion belonging to Lord Naito, a "daimyo"(feudal lord) of the Edo era. Completed in 1906 as an imperial garden, it was re-designated as a national garden after the Second World War and opened to the public.
With 58.3 ha(144 acres) in size and a circumference of 3.5 km, Shinjuku Gyoen, the representative modern western-style garden in Meiji era, blends three distinct styles, Formal Garden, Landscape Garden and Japanese Traditional Garden, and is considered to be one of the most important gardens from the Meiji era.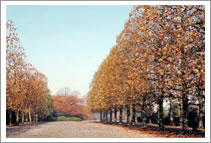 (Avenue of Sycamore trees with autumn foliage in FORMAL GARDEN)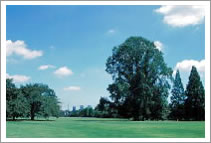 (Tulips trees over 30 meters in height at the center of LANDSCAPE GARDEN)

Among about the 10,000 trees which grow in Shinjuku Gyoen, there are the first examples planted in Japan such plants as tulip trees, planes, Himalayan cedars and bald cypresses, whose distinctive crown shapes give the garden a solemn and dignified atmosphere.
From the cherry blossoms in spring to the soft greens of summer, the chrysanthemums and colorful leaves of autumn and the snowscapes of winter, Shinjuku Gyoen is an ideal place to get close to nature and enjoy the changing seasons, the perfect oasis for metropolitan and short-term visitors alike.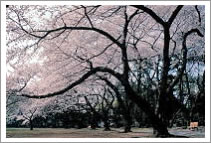 (The whole area of Shinjuku Gyoen turns pink in cherry blossom season)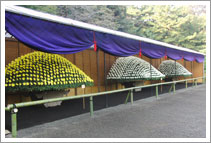 (Chrysanthemum Exhibition held every year in November)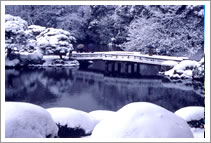 (Winter scene of JAPANESE TRADITIONAL GARDEN)