Chidorigafuchi National Cemetery [MOE]
Outline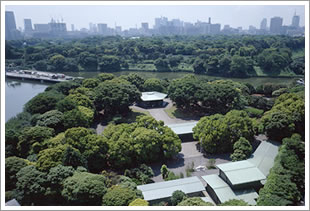 Chidorigafuchi National Cemetery was established by the Japanese government in 1959 to house the remains of the many unknown Japanese who died overseas during World War II. Some of the remains enshrined here were recovered in a series of government missions starting in 1953; others were brought home after the war by returning military units and individuals. They include not only servicemen and military support personnel but ordinary civilians as well.
The Cemetery ranges over an area of some 5,000 tsubo(approximately 16,500 m2). Evergreen trees interspersed with zelkovas and other deciduous trees create an atmosphere of solemnity and tranquility suitable for such hallowed ground. These trees, which were mere saplings when the Cemetery first opened, now tower into the sky and enhance the dignity of the setting with their dense foliage.
Guide
The Ossuaries & The Ceramic Coffin
The remains of the war dead are enshrined in underground ossuaries. The oldest is located beneath the ceramic coffin at the center of the Hexagonal Hall, and new ones were added in March 1991 and March 2000 at the rear of the Hall.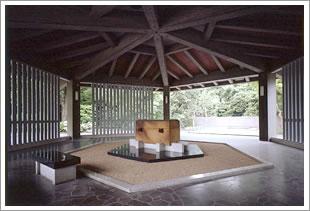 Weighing five tons, the ceramic coffin is one of the largest ceramic objects in the world. It is made of stones and pebbles gathered from the major war zones and fired at a temperature of 1,700 degrees. It contains a gilt bronze urn in the shape of a tea jar - a gift of the Showa Emperor - in which are enshrined remains symbolizing all who died in the war.
Monument Featuring a Poem by the Showa Emperor
This monument has engraved on it a poem composed by the Showa Emperor as copied in the hand of Princess Chichibu in the fall of the year of the Cemetery's establishment. It was erected on March 28, 1960.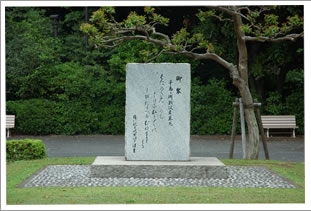 his monument has engraved on it a poem composed by the reigning Emperor as copied in the hand of Princess Hitachi at the New Year Poetry Reading Ceremony to commemorate the 60th anniversary of the war's end. It was erected on September 27, 2005.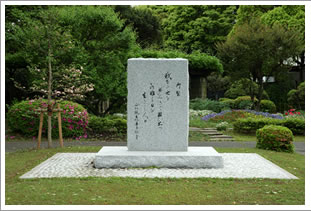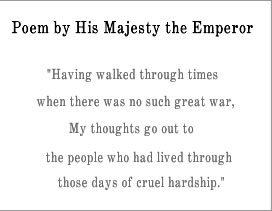 Access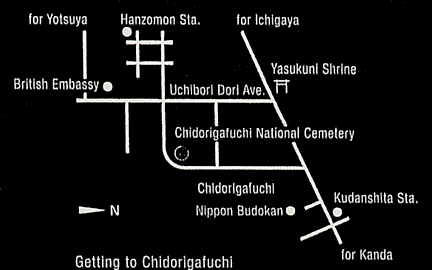 Subway
On the Tozai and Toei Shinjuku Lines
- Get off at Kudanshita Station.
On the Hanzomon Line
- Get off at Hanzomon Station.
Car
Parking is available, including space for eight buses.
<Address>

2 Sanban-cho, Chiyoda-ku, Tokyo 102-0075
Chidorigafuchi National Cemetery
Administration Office

TEL O3-3262-2030, FAX 03-3222-1657

Chidorigafuchi National Cemetery
Memorial Foundation

TEL O3-3261-6700, FAX 03-3261-6712