State of Japan's Environment at a Glance: National Gardens and National Cemeteries
In 1947, former Imperial Gardens in Tokyo and Kyoto were opened to the public for recreational, health, and cultural activities.
Outer Garden of the Imperial Palace (115 ha)
In 1940, the open square in front of the Imperial Palace in Tokyo was converted into a 96-hectare public garden.
In 1969, Kitanomaru Park, a 19-hectare forest park, was established as an addition to the Outer Garden of the Imperial Palace.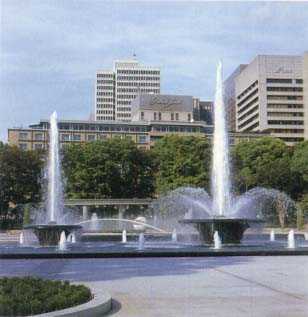 Wadakura Fountain Park
(Outer Garden of the Imperial Palace)
Kyoto-gyoen National Garden (63 ha)
After the transfer of the capital of Japan from Kyoto to Tokyo during the Meiji era (1869), the outskirts of the Kyoto Imperial Palace was converted from a residential area for courtiers to an open square surrounding the Palace. This open garden is called Kyoto-gyoen. Kyoto- gyoen and the Imperial Palace are two of the most important historical heritage sites from Kyoto's one thousand year history as capital of Japan.
Shinjuku-gyoen National Garden (58ha)
During the Meiji era, the Shinjuku Imperial Botanical Garden was redesigned as the Shinjuku National Garden by a French landscape architect. The Garden offers the public a French garden, a traditional Japanese garden, and a tropical plant greenhouse. A variety of cherry blossoms and traditional chrysanthemums also attract visitors to the park.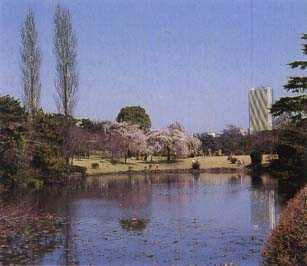 Shinjuku-gyoen National Garden
Chidorigafuchi National Cemetery (1.6ha)
In 1953, the Cabinet decided to establish the National Cemetery to mourn the unknown soldiers and civilians who died during World War II. The National Cemetery is located at the Chidorigafuchi Moat facing the Imperial Palace. Remains recovered from foreign battlefields were returned to Japan and buried at the Cemetery.