Shinjuku Gyoen was constructed on the site of a private mansion belonging to Lord Naito, a "daimyo"(feudal lord) of the Edo era. Completed in 1906 as an imperial garden, it was re-designated as a national garden after the Second World War and opened to the public. With 58.3 ha(144 acres) in size and a circumference of 3.5 km, it blends three distinct styles, Formal Garden, Landscape Garden and Japanese Traditional Garden, and is considered to be one of the most important gardens from the Meiji era.
NOTICE
EARLY OPENING from Sat. August 1 and GARDEN CULTURING at Shinjuku Gyoen "7-9 park" from Sat. August 29 (As of Friday, July 31)
Shinjuku Gyoen starts EARLY OPENING from SAT. AUGUST 1, 2020 as one of the approaches to make Shinjuku Gyoen more attractive for visitors.
From AUG.1 to AUG. 28: OPEN at 7:00 am on ONLY Saturdays, Sundays and national holidays
From AUG. 29, 2020 to MAR. 19, 2021: OPEN at 7:00 am on opening days of the garden
ENTRY:
From 7:00 am to 9:00 am: SHINJUKU GATE ONLY
After 9:00 am: ALL GATES
Please note: Information Center, Restaurant, Café, and kiosks open at 9:00 am (Greenhouse: 9:30 am)
Admission Fee: Usual as below(cash only)
Adults \500 (Group discount \400)
Seniors (65 and Over) and Students (with valid ID) \250
Children (junior high school students/ 15 and under) FREE
*Visitors can enter with the annual passport (CANNOT BE ISSUED from 7:00 am to 9:00 am)
GARDEN CULTURING at Shinjuku Gyoen "7-9 park"
From Sat. Aug. 29, Shinjuku Gyoen starts "GARDEN CULTURING," a project to create a new culture in Shinjuku Gyoen in which visitors can enjoy and experience several activities such as morning yoga, morning workation, or morning running using the application platform during the early opening hours.
REOPENING of Information Center and OPENING of National Parks Discovery Center from July 22
Information Center
Shinjuku Gyoen renovated and reopened Information Center making the center more attractive, convenient, and enjoyable space. Visitors can enjoy the new shop, café, art gallery, exhibition room and receive the information or seasonal highlights of Shinjuku Gyoen at the Information desk.
National Parks Discovery Center
Visitors can experience and explore the beauty and charms of national parks in Japan and get the crucial information such as the environment or natural habitats at National Parks Discovery Center. We can feel the overwhelming nature of national parks with the dynamic movie through 4K theater, "Virtual Nature Experience," and discover and learn about national parks with digital signage, maps and other experience-based contents such as "My Park Finder," which introduces plants and animals of each national park and at "Nature in a Bottle" corner, visitors can watch movie of a park putting a bottle showing the park.
Come visit Information Center and National Parks Discovery Center to enjoy and learn about Shinjuku Gyoen and beautiful national parks in Japan.
*Please note that there may be entry restriction when Information Center is crowded.
REOPENING of Shinjuku Gyoen National Garden From Tuesday, June 2 (As of Friday, May 29)
Shinjuku Gyoen has been temporarily closed from March 27, 2020 to prevent the new coronavirus (COVID-19) infection in the garden, we have decided to reopen the garden in response to lifting the state of emergency.
REOPEN: From 9:00 am on Tuesday, June 2, 2020
Extension of the expiration date of Annual Passport
For those who has an annual passport that expired or will expire after March 27, 2020, we will extend the expiration date for 67 days: which is equivalent to garden's closure periods.
Any procedure for the extension is not necessary in advance.
e.g. Expiration date: March 27, 2020 → extended until June 2, 2020 (for 67 days)
COVID-19 Infection Prevention Measures in the garden
To prevent the spread of coronavirus infection in the garden, we ask all visitors to take the following measures.
●When you have cold symptoms such as fever and coughs, please refrain from visiting the garden.
●Please wear a face mask and follow cough etiquette.
●Please frequently wash your hands with soap and water and use hand sanitizers.
●Please keep your distance ( about 2 meters ) from other visitors.
●Please refrain from visiting with a large group of people.
●To avoid congestion, please refrain from using large picnic blankets. ( one side: larger than 2 meters ) .
●Please refrain from visiting with a large group of people.
●Please refrain from jogging in the garden until further notice.
●To prevent heatstroke, please take a proper rest, drink plenty of water and sometimes remove your face mask while you are taking breaks.
Thank you for your understanding and cooperation.
Shinjuku Gyoen Management Office
Closed Days
Mondays (If Monday is a public holiday, then closed the following day. Closed the day(weekday) after in case of consecutive holidays.)
December 29 to January 3

"Shinjuku Gyoen National Garden Audio Guide Service"
Thank you for your visit to Shinjuku Gyoen National Garden.
To enhance your garden experience, we have started Shinjuku Gyoen National Garden audio guide service.
By scanning the QR code posted on signboards in the garden with your mobile devices, you can listen to the garden's audio guides, which provides the garden highlights and history. The audio guide is available in four languages - Japanese, English, Chinese and Korean.
Enjoy and learn more about our garden with the user-friendly guides!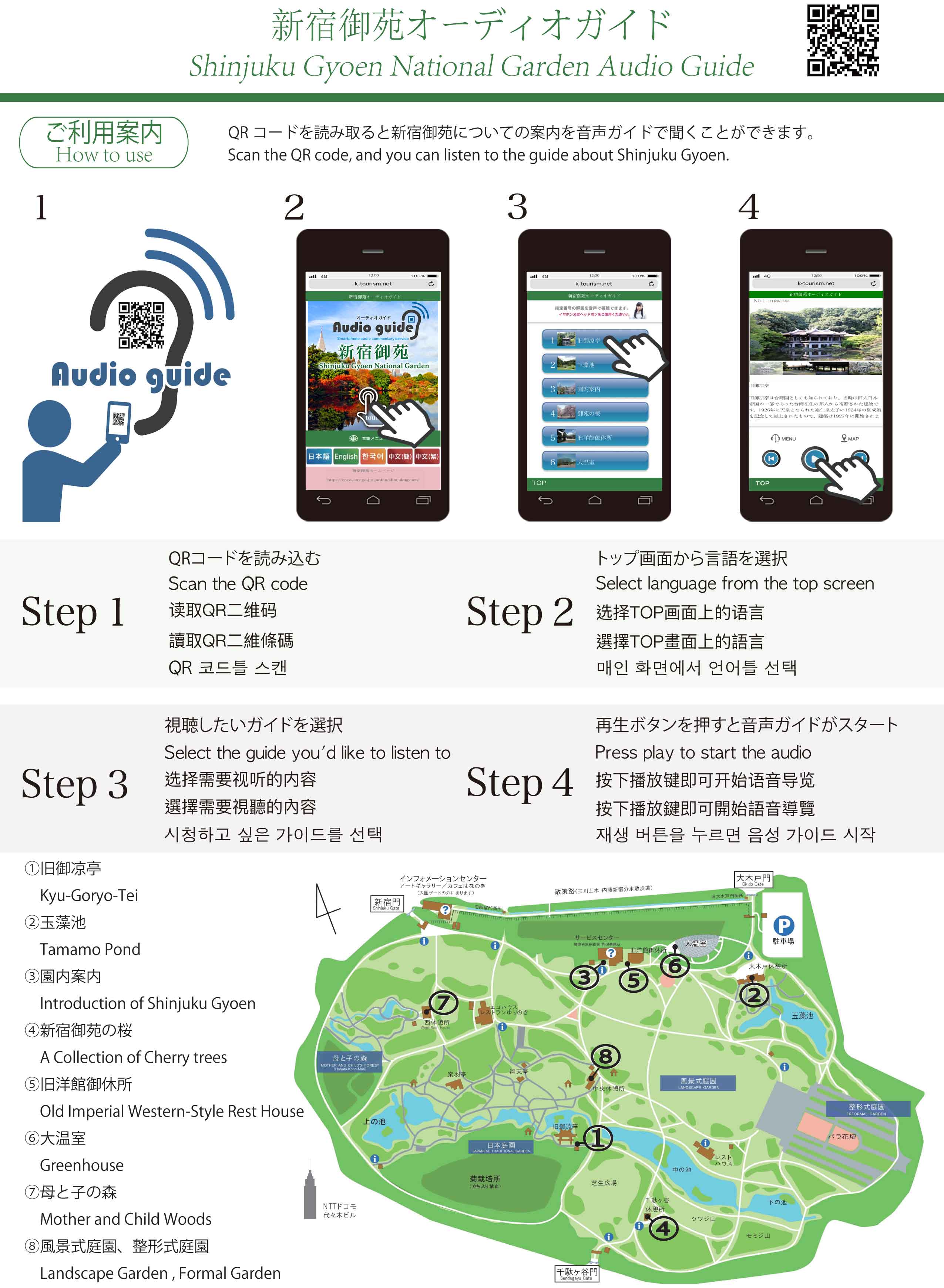 Contact: Shinjuku Gyoen Service Center TEL: 03-3350-0151
Shinjuku Gyoen National Garden, Management Office
To Page Top