NOTICE

The change of the opening hours of Shinjuku Gyoen on Sat. July 17
Opening hours of July 17: from 9:00 to at 2:00 pm (Gates close at 2:30 pm)
We are sorry for any inconvenience this may cause.
The Changes of Opening Hours of Shinjuku Gyoen and the Facilities from July 12, 2021 (Updated Tuesday, July 13)
Shinjuku Gyoen has changed the opening hours of the garden and the facilities from Mon. July 12, in response to the declaration of a state of emergency (from July 12 to August 22). The garden opens with the shortened opening hours, the entry restriction and thorough preventive measures against new coronavirus (COVID-19) infection.
Opening Hours: from 9:00 am to 4:00 pm (Gates close: 4:30 pm)
Entry Restriction
Advance booking of the entrance tickets is not required, however, the number of visitors per hour is limited to 2,000 people. If the number of visitors exceeds 2,000 people per hour, we will temporarily restrict the entry to the garden.
Facilities in the Garden
Greenhouse, Information Center, Central Rest House and Shouten-Tei (Tea House) Kiosk: open
Restaurant Yurinoki, Café Hananoki, Kiosk near Shinjuku Gate and Starbucks Coffee: TO GO ONLY
*Restaurant and café spaces are available for relaxing, eating and drinking.
Rakuu-Tei (Tea House) and Kyu-Gokyu-Sho (Old Imperial Rest House): temporarily closed
Requests to Visitors
For the enjoyable time for all visitors and prevention of the spread of coronavirus infection in Shinjuku Gyoen, please follow the rules below:
・Bringing and drinking alcohol in the garden are strictly prohibited.
・Eating and drinking in large groups of people, except family living together and the group of four people or less, are prohibited in the garden.
・When you have a fever, flu-like symptoms such as coughing or feel sick, please refrain from visiting the garden.
・Please wear a facemask and follow cough etiquette covering your cough or sneeze.
・Please wash your hands often with soap and water.
・Please keep your distance (about 2m) from other visitors.
・Please refrain from running in the garden.
EARLY OPENING at Shinjuku Gyoen from Sat. June 26, 2021 (Updated Saturday, June 26 )
Shinjuku Gyoen starts EARLY OPENING from Sat. June 26, 2021, which was started in 2019 as one of the approaches to make Shinjuku Gyoen more attractive.
Also, with the EARLY OPENING, "7-9 PARK" starts from Sat. June 26, a program which provides the activities to promote our health under the current circumstances many people work from home.
PERIODS: From Sat. June 26 to Sun. October 31 2021 on ONLY Saturdays, Sundays and National Holidays and from Sat. March 5 to Sun. March 13, 2022 on ONLY Saturdays and Sundays
*No Early Opening on weekdays.
TIME: Open at 7:00 am
ADMISSION FEE: Usual as below:
Adults \500 (Group discount \400)
Seniors (65 and over) and Students (with valid ID) \250
Children (junior high school students / 15 and under) FREE
*Visitors can enter with the annual passport. (CANNOT BE ISSUED from 7:00 am to 9:00 am)
ENTRY: From 7:00 am to 9:00 am: Only Shinjuku Gate and Sendagaya Gate
After 9:00 am: ALL GATES
RUNNING ONLY during EARLY OPENING Hours:
Visitors can enjoy running during the early opening hours. Please check the blue colored course on the map below, which is available for running. Please keep distance at least 2 m from other visitors. To prevent heatstroke, you can take off your face mask while you keep enough space (more than 2 m) from others.
"7-9PARK"
7-9PARK is a program which visitors enjoy and experience several activities such as morning yoga, morning running, or English conversation lessons during the early opening hours registering the application platform. Please check the introduction below.
About 7-9PARK (Only available in Japanese)
Running Course during Early Opening Hours
Parking Discount for Electric Vehicle (EV) and Fuel Cell Vehicle (FCV) drivers visiting Shinjuku Gyoen, from April 1, 2021
To promote the use of electric vehicles (EV) and fuel cell vehicles (FCV) for decarbonization in the transport sector, two hours of free parking is available for electric vehicle and fuel cell vehicle drivers who visit Shinjuku Gyoen by showing the vehicle inspection certificate, entrance ticket and parking ticket at the parking management office from April 1, 2021.
*Regarding the vehicle inspection certificate, we need to confirm whether the type of fuel of your EV or FCV vehicle is electricity or compressed hydrogen.
Thank you for your understanding and cooperation.

Closed Days
Mondays (If Monday is a public holiday, then closed the following day. Closed the day(weekday) after in case of consecutive holidays.)
December 29 to January 3

"Shinjuku Gyoen National Garden Audio Guide Service"
Thank you for your visit to Shinjuku Gyoen National Garden.
To enhance your garden experience, we have started Shinjuku Gyoen National Garden audio guide service.
By scanning the QR code posted on signboards in the garden with your mobile devices, you can listen to the garden's audio guides, which provides the garden highlights and history. The audio guide is available in four languages - Japanese, English, Chinese and Korean.
Enjoy and learn more about our garden with the user-friendly guides!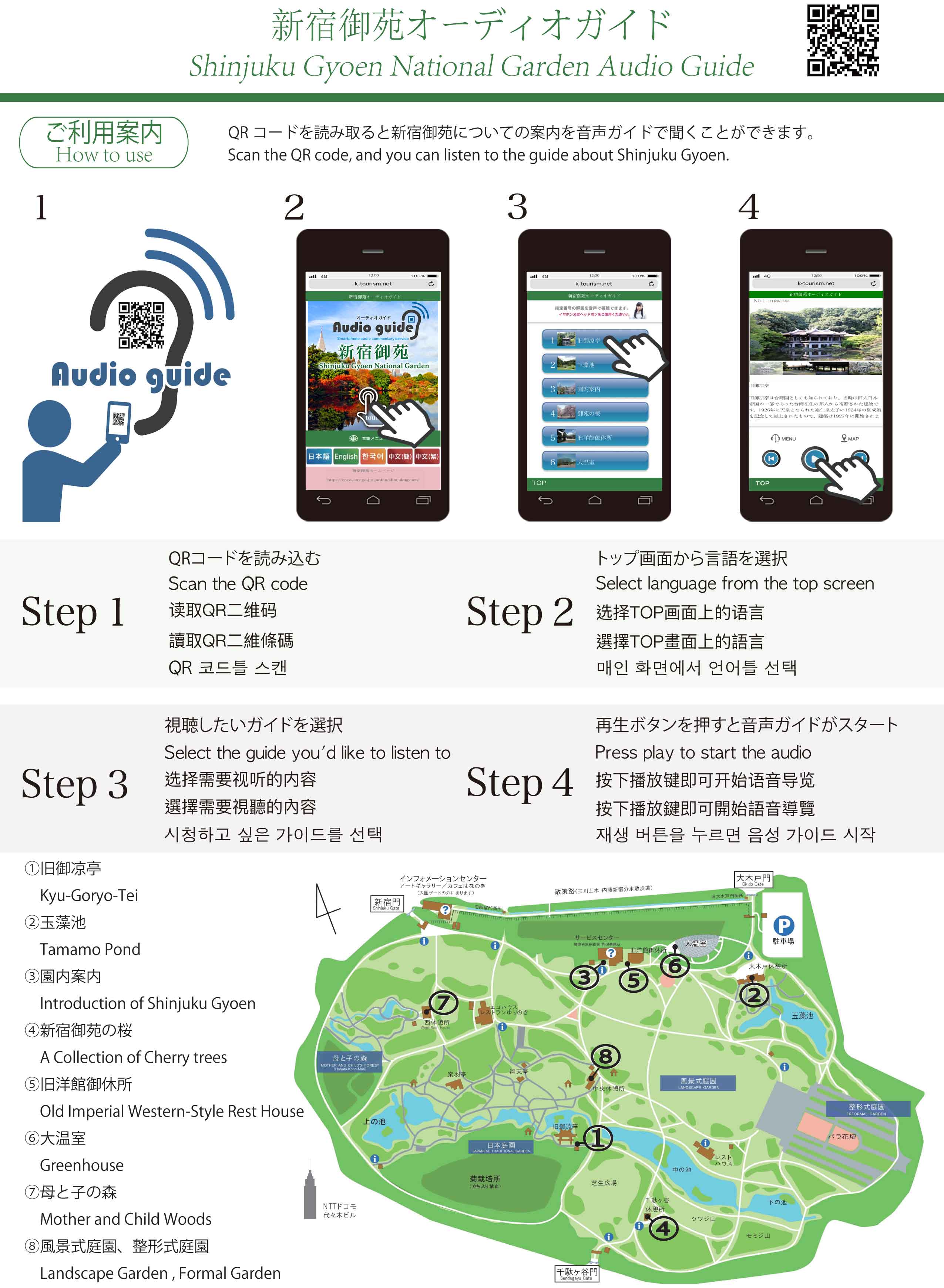 Contact: Shinjuku Gyoen Service Center TEL: 03-3350-0151
Shinjuku Gyoen National Garden, Management Office
To Page Top