The PaSTI-Viet Nam Online Training Course was held.
Hanoi, Viet Nam and Tokyo, Japan / March 2021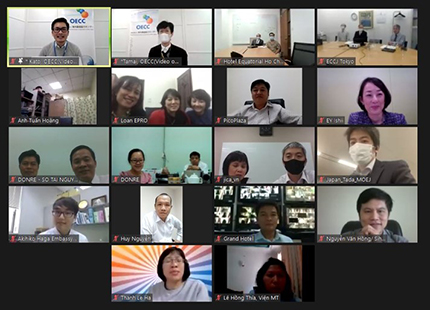 On March 3rd, 2021, the first PaSTI-Viet Nam online training course "Demonstration of carbon reporting in the building sector in Viet Nam" was successfully completed jointly by the Ministry of Natural Resources and Environment (MONRE) and the Ministry of the Environment, Japan (MOEJ). Under the environmental protection law revised in 2020, reporting of energy consumption and GHG emissions by business sector will be mandated in order to achieve the greenhouse gas reduction target set by the national plan called "Nationally Determined Contribution (NDC)" . Energy-saving diagnosis, which is enabled through data collection activities, is expected to play a key role to achieve the GHG reduction target in Viet Nam, while it would also be useful for reducing the energy costs for the private sector and energy demand at the national level. The reporting system for the energy usage, which seeks measurements of similar data sets for the energy-saving diagnosis is already institutionalized in Ho Chi Minh City. The following contents were prepared for the half-day online training course in order to support Viet Nam's both national and city level initiatives.
Introduction of the schedule for the legalization and the contents of the decree and other relevant legal documents under the Revised Environmental Protection Law
Presentation on the experience of the GHG reporting system and energy audit for the private sector in Japan
Knowledge sharing on energy consumptions in the past several years and their efforts on energy savings by the participants from hotel and shopping mall industries 
Demonstration of the energy-saving diagnosis by the Japanese experts 
Information on the development of GHG reporting system in the City based on the existing reporting system for the energy usage.
About 70 individuals of the relevant private sector in the City, administration offices at the City and at the national levels, and research institutes participated in this online training course.