ASEAN M&R Guidelines revealed at COP27!
Sharm el-Sheikh, Egypt / November 2022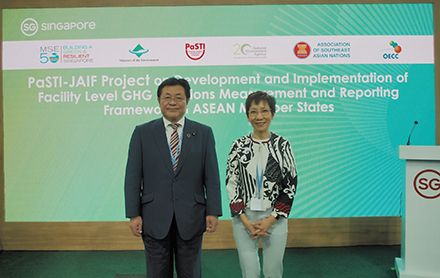 The Semi-final Version of "the ASEAN Guidelines on Facility-level GHG Measurement and Reporting", which had been in progress since 2019, was unveiled at the Singapore Pavilion at COP27 in Sharm el-Sheikh, Egypt.
In the side-event "PaSTI-JAIF Project on development and implementation of facility level GHG emissions Measurement and Reporting framework in ASEAN member states", H.E. Ms. Grace Fu, Minister of Sustainability and the Environment, Singapore, H.E. Mr. Nishimura Akihiro, Minister of the Environment, Japan, and H.E. Mr. Ekkaphab Phanthavong, Deputy Secretary General, ASEAN Socio-Cultural Community, ASEAN Secretariat gave remarks and welcomed the outcome.
This regional guidelines had been formed in the second phase of the PaSTI-JAIF Project based on "Roadmap for Designing Facility Level GHG M&R Guideline for ASEAN Region" published as an outcome of the first phase in 2021, through detailed study and deliberate discussions by ASEAN member states.
The semi-final draft guidelines will be finalised through the public comments.