The PaSTI-Philippines Online Seminar was conducted.
March, 2022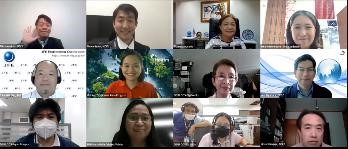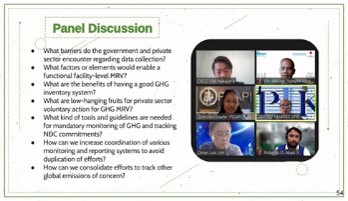 Two workshops for the PaSTI Workshop Series Phase 2 on Capacity Building on Measurement, Reporting and Verification (MRV) of Climate Change Mitigation were co-organized by the MOEJ and the DENR-EMB and held in January and March 2022.
In the first workshop, titled as "MRV 201: How to measure facility level GHG emissions," two Japanese companies were invited to introduce their data collection measures on GHG emissions measurement to comply for the Japanese Mandatory GHG Accounting and Reporting System or for the JCM project and shared their basic knowledge on GHG emissions MRVs. A local company in the cement sector was also invited to showcase their climate transparency activities in the Philippines.
The second workshop was titled as "PaSTI Public-Private Sector Dialogue on MRV," and was organized as one of the official seminar of the First Japan-Philippines Climate Week. In this workshop panelists with knowledge and experiences on MRV system were invited from the waste sector and other private sectors in the Philippines. They to exchanged opinions and needs with government officials on how to organize the public-private cooperation for efforts to establish MRV systems that ensures incentives for their actions.
For more details, please visit PaSTI Official Youtube Channel
The first PaSTI-workshop series of Capacity Building on MRV System was completed.
Manila, the Philippines and Tokyo, Japan/ 2020-2021
The first virtual PaSTI workshop -MRV 101: Understanding and Appreciating MRV- was held successfully.
The second virtual PaSTI workshop -Development and Designing of an MRV System- was held with success.
The third online workshop on Overview of the Mitigation Measures of the IPPU and Waste sectors  was held.
The first bilateral dialogue on PaSTI between Japan and the Philippines was held.
Manila, Philippines / November 2019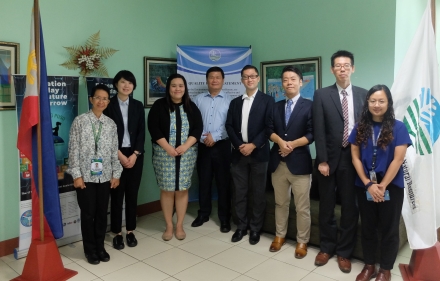 Following a letter issued by Department of Environment and Natural Resources (DENR) to the Ministry of the Environment, Japan in September 2019 indicating its interest in bilateral cooperation under PaSTI, a stakeholder meeting was held on November 6th.
Participants shared information on transparency systems in Japan and the current status of climate change initiatives in the Philippines. They confirmed through the discussion that PaSTI will leverage existing reporting platforms in the Philippines and enhance climate change actions and measurement, reporting and verification (MRV) system especially in industrial process and product use (IPPU) sector and waste sector.
The both parties have agreed to continue the dialogue and work with the private sector as well to promote the PaSTI project.