Under the climate of high temperature and heavy rainfall influenced by the Japan Current, the vegetation ranges from the warm-temperate zone to the cold-temperate zone. A stretch of the coast has a wide distribution of warm-temperate evergreen forests and is scattered with a pure forest of Quercus phillyraeoides. The forest area is populated by Goodyera and Tripterospermum japonicum, as well as the Mitrastemonaceae parasites in the roots of Castanopsis sieboldii, whose name was derived from a footman of olden times.
Also, the periphery of Cape Ashizuri is populated by the subtropical plants Livistona chinensis, Alocasia odora, Marattiaceae, and Ficus superba (Miq.) Miq. var. japonica Miq., as well as Camellia japonica, which are the symbol of Cape Ashizuri, bearing an abundance of red flowers.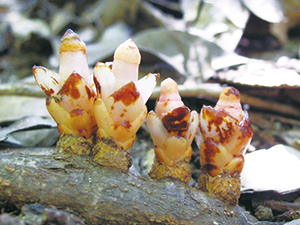 The shore is adorned with Cirsium maritimum makino, green leopard plants, and Chrysanthemum japonense plants, while the communities of succulent Orostachys japonica grow on the cliffs.
In the inland area, there is a riparian forest of Quercus salicina and a mixed forest of Machilus thunbergii, Fagus crenata Blume, Abies firma, and Acer trees in Nametoko Gorge, as well as Sciadopitys verticillata, giant trees of Picea torano and the communities of Rhododendron pentaphyllum var. shikokianum at the summit of Mt. Sasayama.