Highlights of Sanriku Fukko (reconstruction) National Park

Tanesashi Natural Lawn
Mt. Hashikamidake
Kosode Coast
Japanese Rose
Michinoku Coastal Trail
Kitayamazaki Cliff
Peregrine Falcon
Thunberg Lily
Jodogahama Beach
Tsunami Memorial Park NAKANOHAMA
Sappa Boat
Black-tailed Gull
Ohakozaki Senjojiki
Miracle Lone Pine Tree
A Beach Seine Experience at Oshima
Kamiwarizaki
Mt. Dairokuten
Kinkasan Island
Tanesashi Coast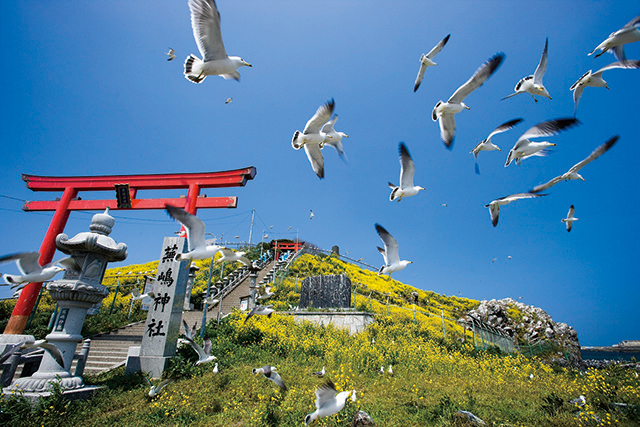 Tanesashi Coast
The coast is full of variety with coastal reefs, grass meadows, sandy beaches, and pine forests. A footpath is maintained here and visitors can enjoy the various flowers that bloom with each season, the singing sand beach, and the vast grass meadows.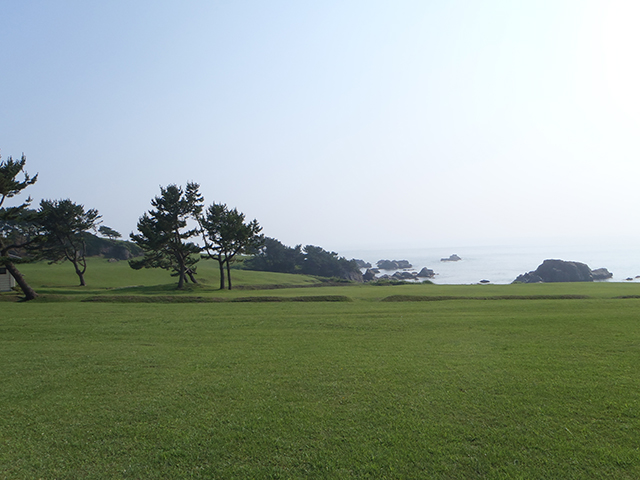 Mt. Hashikamidake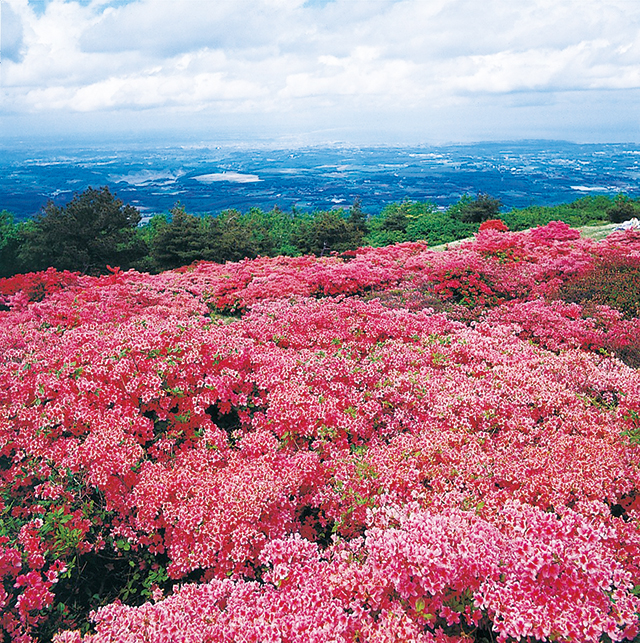 Mt. Hashikamidake
This is the northernmost mountain of the Mt. Kitakami where visitors can enjoy mountain climbing. From the peak you can enjoy a view of the Pacific. Natural Yamatsutsuji (Rhododendron) grows in the higher altitudes and the reddish purple color stands out against the blue skies in early June.
Kosode Coast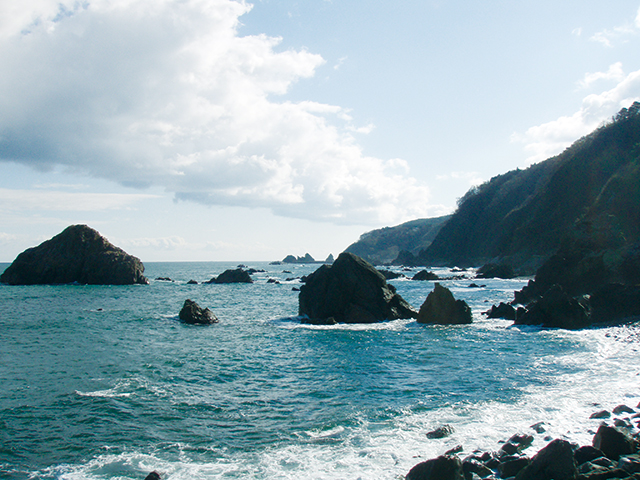 Kosode Coast
Visitors can see rock formations such as the Tsuriganedo Cave and numerous copper reefs. This region is famous for the Hokugen no Ama (female divers) and visitors can see traditional fishing scenes.
Tofugaura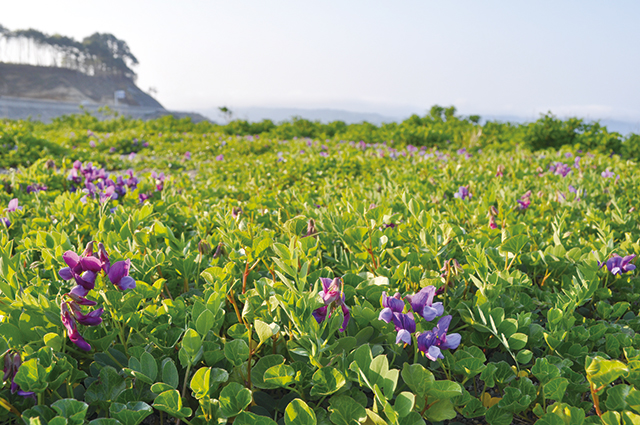 Tofugaura
This is a long and wide sandy beach which is rare on the Sanriku Coast, and it is a famous location that appears in Japanese poetry from ancient times. There are communities of Japanese rose and Hamaendo (beach pea) in the area, making this a colorful shore.
Kurosaki Viewpoint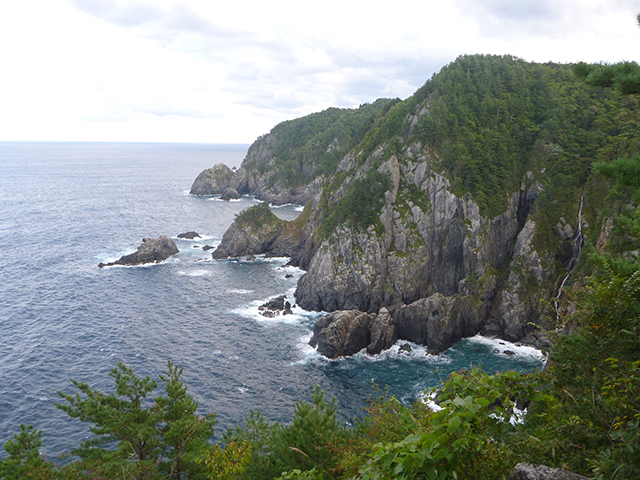 Kurosaki Viewpoint
The Kurosaki Viewpoint is situated more than 100 m from the ocean surface, giving visitors a view of Fudaihama, Noda and Kuji. This is also the starting point for the nature trail where visitors can thoroughly enjoy nature.
Kitayamazaki Cliff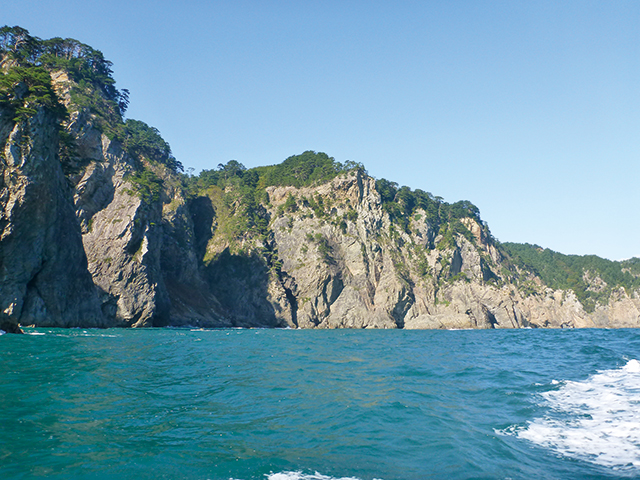 Kitayamazaki Cliff
One of the representative scenic views of Sanriku, this shore is lined with cliffs that are 200 m high. You can enjoy dynamic views from the footpath. There are also programs for marine sightseeing using small fishing boats (Sappa boats).
Kumanohana Viewpoint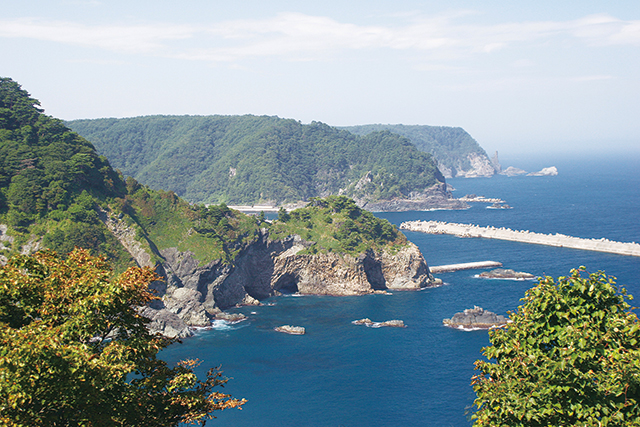 Kumanohana Viewpoint
The Kumanohana Viewpoint provides visitors with an excellent view of coast of sea cliff, and you can see a peninsula, which is like a bear's head and nose shape.
Tsunami Memorial Park NAKANOHAMA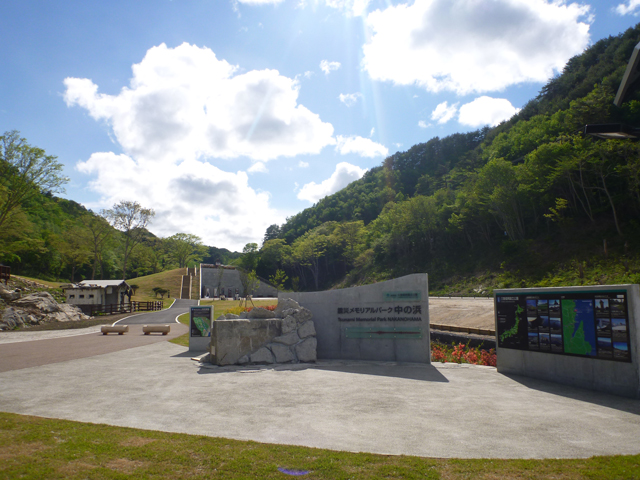 Tsunami Memorial Park NAKANOHAMA
Areas that were previously campsites are now preserved as memories of the awesome power of nature, and some of the facilities damaged by the tsunami are preserved as remnants of the earthquake disaster and used together with facilities employing wreckage of the disaster.
Jodogahama Beach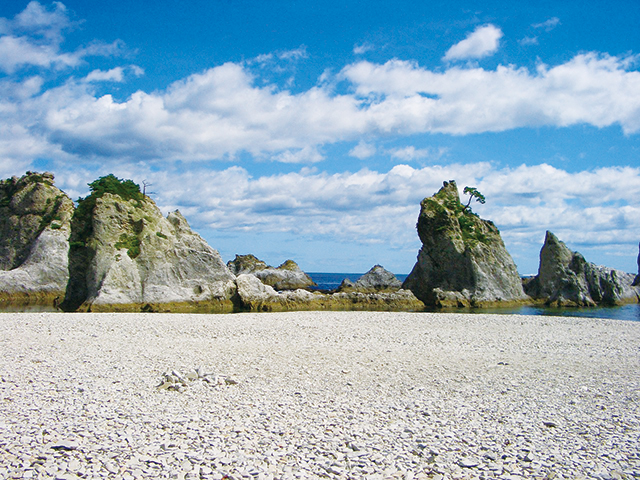 Jodogahama Beach
You can enjoy the striking contrast of the sharply pointed white rocks, the green of the pine trees and the blue of the ocean on this beach. In the summer, many people come to swim in the ocean, and visitors can observe the seasonal plants and flowers around the nature trail.
Yamada Bay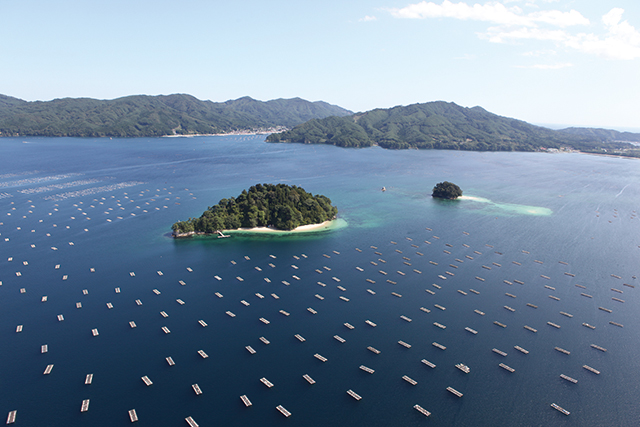 Yamada Bay
Surrounded by a peninsula, farming rafts for oysters float on Yamada Bay and visitors can enjoy this beautiful scenery. When oysters are in season, you can enjoy fresh oysters at the Kakigoya (Oyster Huts) along the coast.
Houraijima Island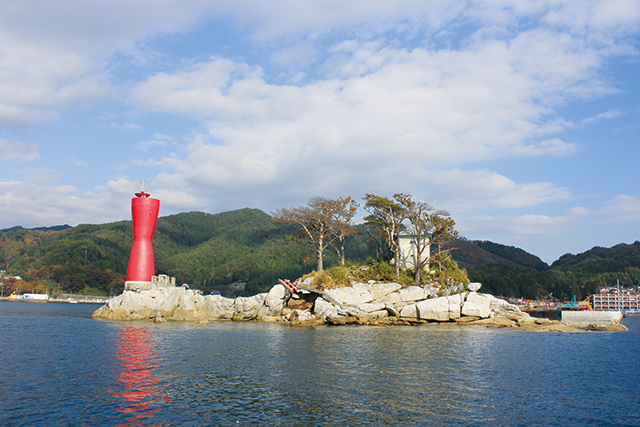 Houraijima Island
This island is said to have been the model for the puppet play Hyokkori Hyotan Jima and is a symbol of Otsuchi Town . From the coast, you can see Houraijima Island in Otsuchi Bay.
Ohakozaki Senjojiki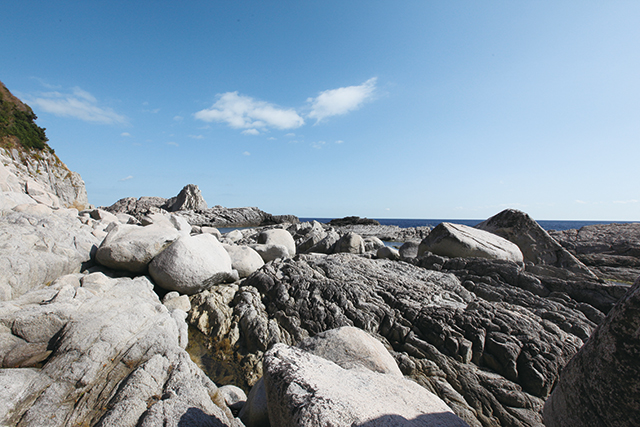 Ohakozaki Senjojiki
At the tip of Hakozaki Peninsula is a Senjojiki rock formation created from layers of giant slabs of granite and this is a famous landscape of Kamaishi City . A footpath is maintained from Hakozaki Shirahama.
Goishi Coast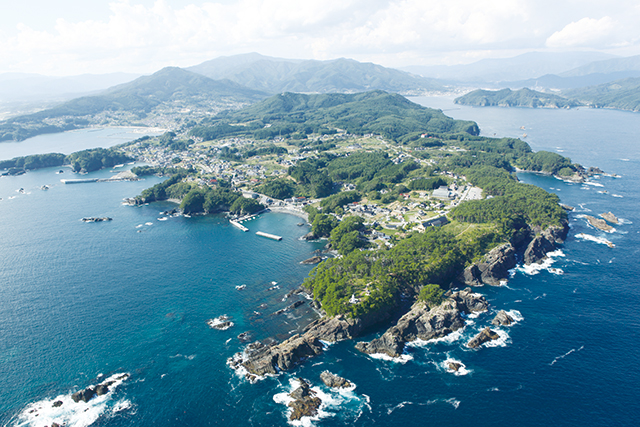 Goishi Coast
A footpath is maintained, so visitors can enjoy their walk while viewing the landscape of Rambouya Valley and Kaminariiwa Rock. Visitors can take the sightseeing boat and pass through the rock formation protruding out of the ocean called "Anatooshi-iso."
Hirota Peninsula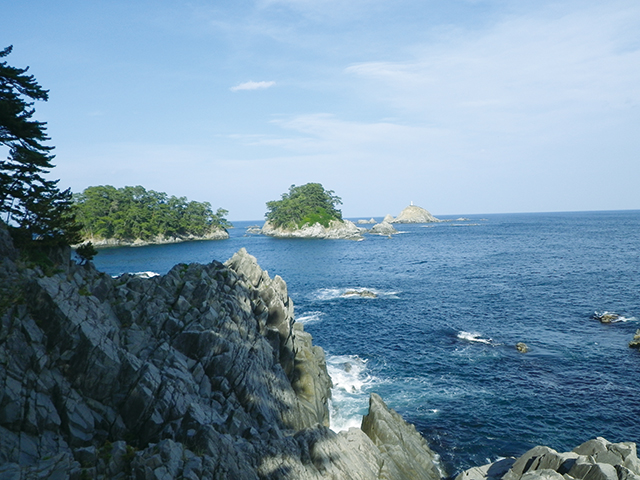 Hirota Peninsula
A footpath is maintained along the coast and visitors can enjoy coastal seasonal plants and views. Hirotasaki has beautiful white granite coast, and Kurosaki has the Kurosaki Senkyo Onsen (hot springs).
Miracle Lone Pine Tree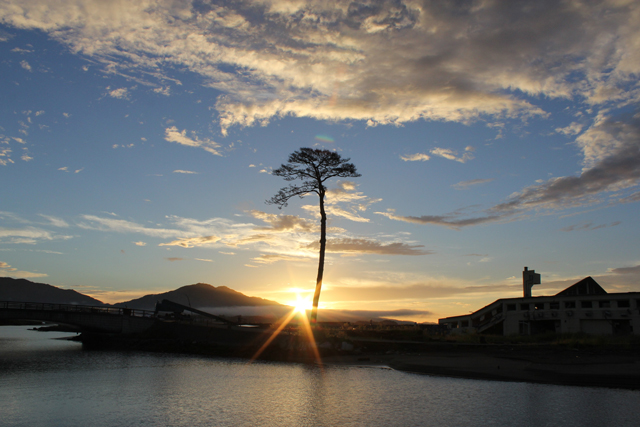 Miracle Lone Pine Tree
Rikuzentakata City in Iwate Prefecture previously noted for a pine forest of 70,000 trees referred to as 'Takatamatsubara.' Many of the trees were destroyed by the tsunami of the Tohoku earthquake; however, one tree remained ('the miracle lone pine tree'). It later withered and died; however, it is preserved as a monument to the disaster.
Kesennuma Oshima Island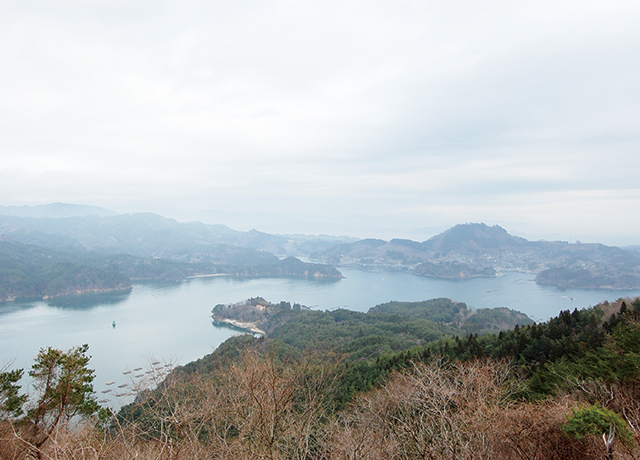 Kesennuma Oshima Island
Kodanohama Beach was selected as special choice for Japan's Best Beach 100 and Kugunari Beach is famous for its singing sand, and from the summit of Mt.Kameyama, you can see a panorama of the ria coast.
Kamiwarizaki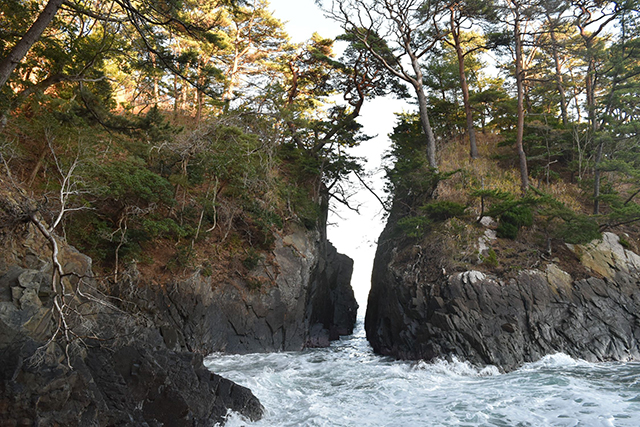 Kamiwarizaki
Legend says that the gods split a cliff into two at this scenic spot. From nearby campgrounds, visitors can enjoy the sight of the ocean appearing above the expanses of grass.
Mt. Dairokuten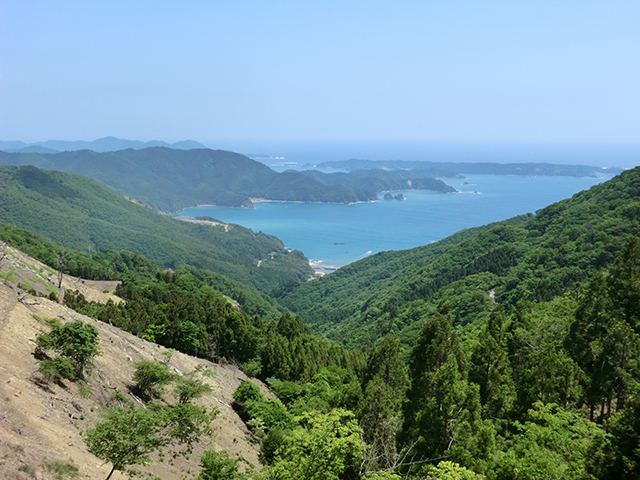 Mt. Dairokuten
This mountain is situated at the base of the Oshika Peninsula. From its summit 439 meters above sea level, visitors can take in the view of Onagawa Bay.
Kinkasan Island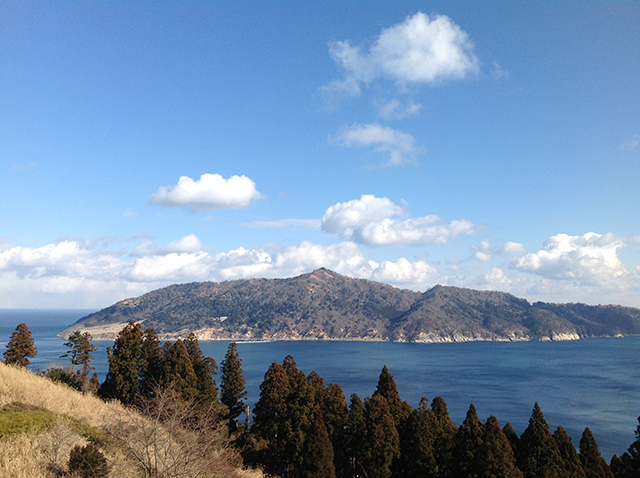 Kinkasan Island
An island in the bay off Ishinomaki City in Miyagi Prefecture. Mt. Osore and Dewa-Sanzan are considered as sacred in the Oshu area, and characterized by an untouched, pristine natural environment. Deer are protected as divine messengers.
Wildlife & Plants
Japanese Rose (Rosa rugosa Thumb)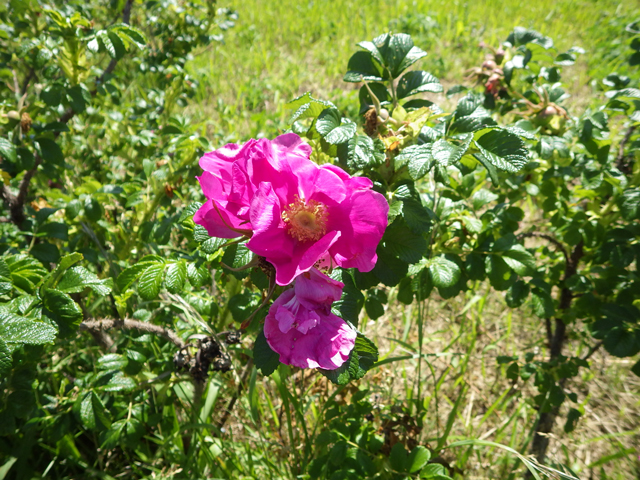 Japanese Rose (Rosa rugosa Thumb)
Found in sandy coastal areas. It blooms through May to August with a pink flower.
Black-tailed Gull (Larus crassirostris)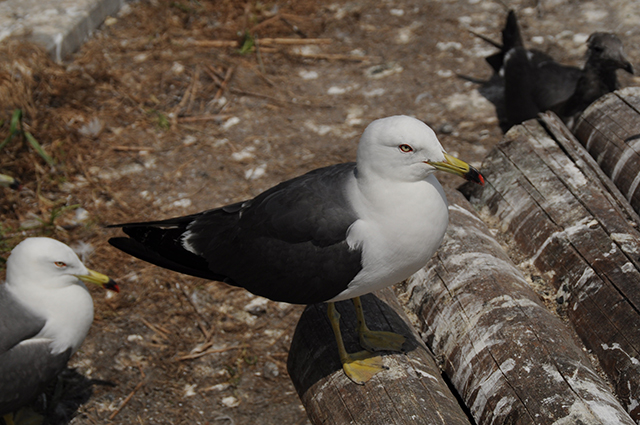 Black-tailed Gull (Larus crassirostris)
A species of seagull found in Japan's coastal areas, river mouths, and tidalflats. Tens of thousands of Black-tailed gulls reproduce at Kabushima Island in Hachinohe City, Aomori Prefecture.
Thunberg Lily (Lilium maculatum Thumb var. maculatum)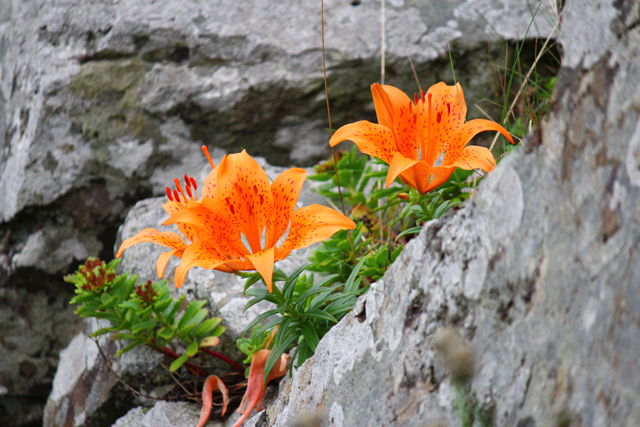 Thunberg Lily (Lilium maculatum Thumb var. maculatum)
A perennial found on the sand and gravel areas, and cliffs, of the coasts north of the central region of Japan. Blooms in July and August in the Sanriku Fukko National Park. A flower symbolizing summer.
Peregrine Falcon (Falco peregrinus japoensis)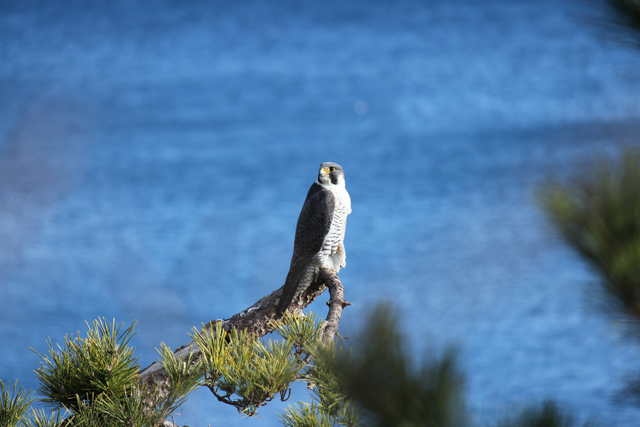 Peregrine Falcon (Falco peregrinus japoensis)
A bird of prey found in rivers, lakes, and coasts. Found on coastal cliffs, rocky shores, and isolated islands.
Activities
Trekking (Michinoku Coastal Trail)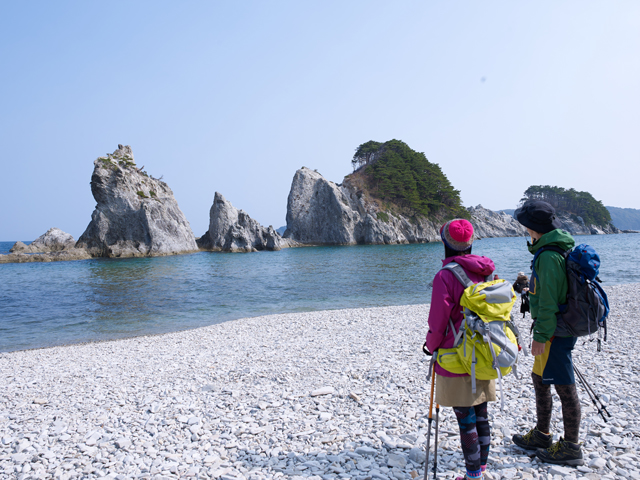 Trekking (Michinoku Coastal Trail)
The 'Michinoku Coastal Trail' is a long distance footpath extends from Hachinohe City in Aomori Prefecture to Soma City in Fukushima Prefecture. Experience the warmth of this trail yourself.
Sappa Boat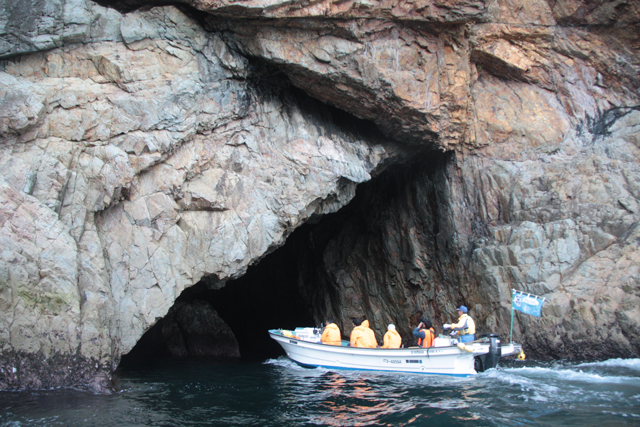 Sappa Boat
Small fishing boats carrying 4 - 5 persons appear as bamboo leaves (sappa) on the sea, and are referred to 'sappa' boats in the coastal areas of the Tohoku region. Sappa boat tours are available in Tanohata Village and Kuji City in Iwate Prefecture.
A Beach Seine Experience at Oshima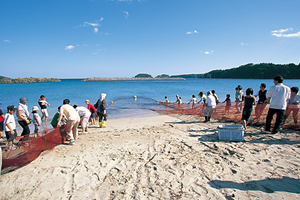 A Beach Seine Experience at Oshima
Oshima Island is the largest outlying island in the Tohoku region. It is located at the bay off Kesennuma City. A seine net is spread by large numbers of people to catch fish, then they have a barbeque on the beach.