A diverse range of plants is distributed through the park due to vigorous volcanic activity, repeated climatic changes in the past, differences in altitude ranging from sea level to mountain peaks rising 1,700 m above sea level, the Kuroshio Current--a warm ocean current that is one of the largest ocean currents in the world--and abundant rainfall in mountain areas said to reach as much as 4,000 mm per year. In high altitude areas, there are solfatara formations (open vegetation that has adapted to a solfatara environment) that have been impacted by volcanic activity as well as colonies of Rhododendron kiusianum. Moreover, in medium altitude areas there are broadleaf deciduous forests of Beech, etc., temperate coniferous forests of Fir, etc., and broadleaf evergreen forests of Castanopsis and Oak, etc.; and in low altitude areas, there are subtropical forests of Banyan and other trees. Thus there is rich variation in vegetation, and the ecosystem functions based on this.
Also, in places that have been impacted in the past by volcanic eruptions, such as the remains of lava flows, there are plants whose transitional stages differ for each eruption period, making the area a valuable place in terms of research where ecosystem changes can be observed.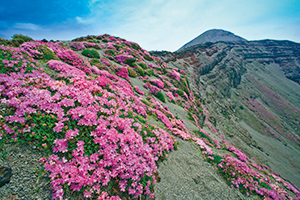 A wide variety of plants grow in the Kirishima area, enabling observation of a diversity of flowers in each season. Early spring is the time to view, Japanese Witch Hazel, and Gentiana thunbergii; early summer is the season for Wisteria brachybotrys, Magnolia sieboldii ssp. japonica, and Schizocodon soldanelloides; summer is the time for viewing Japanese stuartia and Conandron ramondioides; and autumn is the season for Patrinia scabiosifolia and Swertia japonica. There are also many plants whose Japanese names include the word "Kirishima", including Miyamakirishima (Rhododendron kiusianum), Kirishimamizuki (fragrant witch hazel), Kirishimagumi (Elaeagnus epitricha momiyama), and Kirishimahikodai (Saussurea scaposa).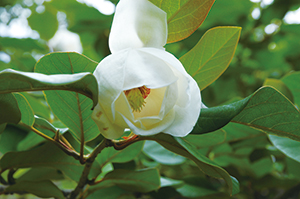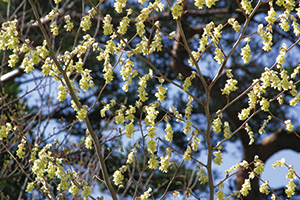 A diverse range of plants that can also be seen in the Kinkowan Bay area, including Balanophora tobiracola, Veratrum linnaeus, Corn Lilies, the Fern Palm, and the Banyan Tree; in Cape Sata-misaki there are also Crateva religiosa and Livistona chinensis, and in the cloud belt around the peak of Mt. Kaimon grow Liparis auriculata and Calanthe reflexa. In the Ibusuki area in particular, both northern species such as Vicia amurensis oetting, Cimicifuga japonica, and Viola chaerophylloides forma sieboldiana and southern species such as the fern palm and seaside morning glory can be observed.