Efforts
Promotion of Park Usage that Considers the Environment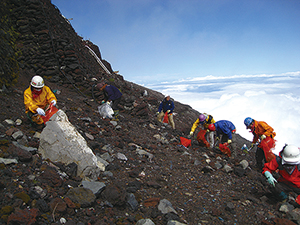 With the aim of promoting safe usage of the Mt. Fuji area that is considerate of the environment, Ministry of the Environment, Shizuoka Prefecture, Yamanashi Prefecture, related municipalities, and mountain lodges are working together to implement the following environmental measures.
• Provision of information and diffusion of education regarding environmental considerations and preparations to ensure safe mountain climbing
• Provision and maintenance of public and mountain lodge toilets that are environmentally considerate
• Private car regulations to starting points of mountain trails
Maintenance of Landscapes
Since man-made structures impact natural landscapes, there are regulations regarding the size, color, and shape of man-made structures within the national park. For example, in the Hakone Area, signs are to uniformly have white lettering on a brown background as a general rule so as to blend in with the landscape.
Park Volunteer Activities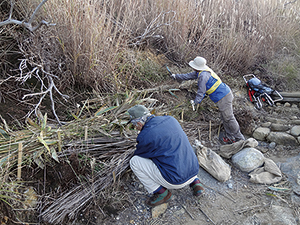 In the Hakone Area, there are park volunteers who provide nature commentaries aimed at promoting conservation and use of the natural environment; on a daily basis, these volunteers carry out such activities as collecting/spreading nature information, beautification and clean-up activities, safety checks of mountain trails and minor maintenance/repair, and surveys.
Coordination with Geopark Activities
Within the Fuji-Hakone-Izu National Park are three of Japanese Geoparks: Hakone, Izu Peninsula, and Izu Oshima Island. Through nature observation societies using geo resources and the implementation of diffusion and educational activities, collaborative activities aimed at preserving the natural environment are carried out.