Target Technology Fields
Organic wastewater treatment technology field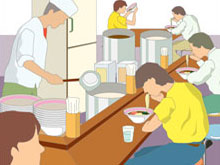 kitchens, restaurants, food processing plants and others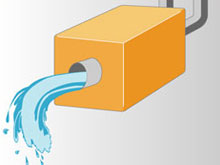 Treatment of wastewater from food processing plants and others


Outline of Technologies
The relevant technologies include wastewater treatment technologies designed to remove specific pollutants and sludge treatment technologies in addition to integrated wastewater treatment technologies to properly treat organic wastewater. Wastewater treatment technologies are largely classified into biological treatment technologies and physiochemical treatment technologies as well as hybrid methods combining these two types of technology.

Example of Target Technology
The target technologies (equipment and plant) include those to properly treat organic wastewater from kitchens, restaurants, food processing plants and others. Especially it is targeted equipment, which can be retrofitted, low cost, compact, easy to maintain, and commercially available, such as a prefabricated plant.

Reference Materials
For users
The water quality of Japan's water areas has much improved over the years, but enclosed water areas, such as inland seas, inner bays, lakes and reservoirs and small urban rivers, has not still improved very well.
For this reason, wastewater from plants and workplaces is subject to certain statutory regulations (Water Pollution Control Act) and some progress has been made. However, there are many small workplaces which are not covered by such regulations. These include small restaurants and food processing plants.
For further improvement of the water quality, we hope the voluntary efforts of small workplaces by introducing the low cost, compact and easy to maintain wastewater treatment technologies which can be adopted by small workplaces.
The ETV Program assists the selection of technologies suitable for the needs of users by means of disclosing the results of technology verification tests conducted by third party organizations and providing various types of information required to judge the effectiveness of individual technologies.
Reference: What are wastewater regulations?
Based on the Water Pollution Control Act, the government has set forth effluent standards for wastewater discharged from plants and workplaces which have a facility to discharge wastewater into a public water area (stipulated as "a specified facility" by a cabinet order). There are water areas, however, where achievement of the environmental standards based on the national uniform effluent standards is difficult due to a concentration of water pollution sources. In regard to these water areas, prefectural governments are allowed to introduce more stringent standards (enhanced standards) than the uniform standards by a prefectural ordinance. When enhanced standards are established, the regulations of the Water Pollution Control Act adopt the reference values of the enhanced standards. These enhanced standards are set forth to reflect the actual conditions of the target areas in individual prefectures.
For verification applicants
An ETV survey targeting local governments throughout Japan has found that actually needs exist, but wastewater treatment technologies have not yet been widely used. There are several reasons for this matter, including the difficulty to recognize instantly the positive effects of technologies and the preference for inexpensive technologies (equipment or plant).
The ETV Program assists the dissemination and wider use of useful technologies of verification applicants by means of bringing out the potential needs of users through the introduction of usable environmental technologies to users, disclosure of the results of technology verification tests conducted by third party organizations and provision of various types of information required by users to select technologies.
A questionnaire survey with verification applicants in the past received such replies as "The number of enquiries about the technology has increased since verification" and "There have been certain positive effects on sales promotion and technological development activities". Another reply concerning the issued logo was that "The logo has been attached to the product pamphlet, technical reports, company brochure, and company website".