Relay Column
Towards the spread of the Waste-to-Energy (WtE)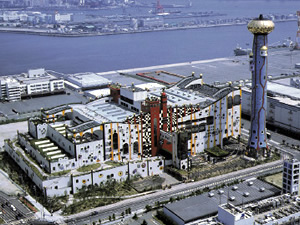 Osaka City Maishima WtE Plant constructed by our corporation

Waste incineration power plant, recently called Waste-to-Energy (WtE), uses the process of generating energy in the form of electricity and/or heat in conjunction with the primary hygienic treatment of waste.
Hitachi Zosen Corporation has constructed over 840 WtE plants around the world so far since 1959, when the group's first one was constructed in Germany. In 1965 we constructed the first waste incineration power plant in Japan and 76 plants up to now, which enables to generate about 0.42 million kilowatts per year and to reduce about 1.92 million tons of CO2 per year.
We aim to disseminate the WtE plant, which treats waste hygienically and generates energy, particularly to the areas where waste is disposed of to landfill site. Especially in Southeast Asia, waste is not disposed of hygienically and the environmental pollution to the surroundings is sometimes serious. Therefore realization of waste treatment business is desired. We not only provide the technologies, but also develop a business model through a dialogue on the basis of local culture and sense of value.

Construct a sustainable society from local communities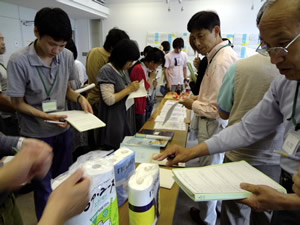 The Green-consumer shopping game gaining popularity

The Citizens Environmental Foundation (CEF) was established in Kyoto in 1992. We are engaged in activities for realization of sustainable rich society and life as a vision.
By conducting practical activities in a local community, with a view to global scale environmental problems, we are supporting local governments, citizens and companies trying to create a sustainable local community. Under the partnership with such groups we are developing activities as an environmental NGO that can propose a strategic action plan.
After we organized 'The Eco-Capital Contest in Japan' with NGOs/NPOs throughout the country for a decade, we built 'The National Eco-City Contest Network'. It was attended by autonomous communities, environmental NGOs/NPOs and research institutions. We carry out cooperative activities, implementations, sustainable and specific studies.
We addressed the green consumer movement for the first time in Japan and we are engaging them through their shopping habits to influence companies, to change the environment, the economy, to promote a sustainable society. We further developed our activities. In January 2016 we established 'The citizen's sustainable consumer network' with 33 NGOs and organizations that have various expertise and experiences throughout the country. We are working to realize one of the goal of the new Sustainable Development Goals (SDGs) that is 'Enabling of the sustainable Consumers'. We intend to provide research and company ranking. We also provide useful information to allow citizens to make informed decisions when purchasing goods.
Education for sustainable development (ESD) and environmental education are also important activities.