Feature
The Outcome of G7 Toyama Environment Ministers' Meeting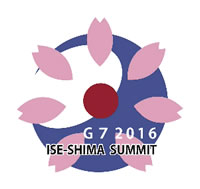 The year 2015 saw significant progress in environmental policies including the adoption of the 2030 Agenda for Sustainable Development (2030 Agenda) and the Paris Agreement on climate change. The year 2016 is "the first year for implementation and action" to ensure implementation of these important instruments. G7 Toyama Environment Ministers' Meeting, which is the first in seven years, was held in Toyama, a widely known area of outstanding natural beauty and implements innovative environmental measures like compact city strategy, including Light Rail Transit (LRT).
Seven themes were discussed, namely the 2030 Agenda, Resource Efficiency and the 3Rs ("Reduce", "Reuse" and "Recycle"), Biodiversity, Climate Change and Related Measures, Chemicals Management, the Role of Cities, and Marine Litter. In the meeting, strong intention of G7 members to find solutions to address these challenges we face and need for empowering international joint action was emphasized.
Because of the characteristics of environmental policies and the changing role of ministries responsible for the environment in G7 members, the need for integration of policies with other sectors was emphasized. In particular, the need for economic valuation system for environmental protection effort was agreed.
It is important for each country to promote domestic implementation of environmental policies according to the outcome of this meeting. For example, the 2030 Agenda applies universally to all countries regardless of their level of development and aims to implement concrete policies to achieve the Sustainable Development Goals (SDGs). It was agreed that G7 members will collaborate each other to implement the environmental dimension of SDGs.
Japan will promote environmental cooperation including support by city-to-city collaboration to help developing countries to implement such policies. Prior to G7 Ise-Shima Summit, Japan launched the SDGs Promotion Headquarters headed by Prime Minister Abe with all cabinet ministers on board to promote implementation of SDGs. In addition, for implementing the environmental dimension, which is one of the three dimensions that SDGs integrates, Ministry of the Environment of Japan will establish a stakeholders' meeting as a mechanism to exchange information and acknowledge actions by its first movers, such as private businesses, civil society, academia and ministries, to involve observers into the effort. We promote implementation of environmental dimension of SDGs by those activities.
We are delighted with the successful conclusion of this meeting for the first time in seven years. We intend to go beyond the success of this meeting and continue to pursue necessary efforts for building the low-carbon, resilient and sustainable society based on this significant achievement. The next G7 summit will be hosted by Italy next year, and we are looking forward to next Environment Ministers' Meeting to be held there.