National Parks of Japan
Sagaribana (Common Putat), the flower said to lead people to happiness: Iriomote-Ishigaki National Park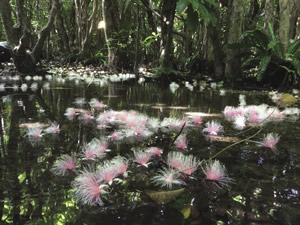 Fallen flowers floating on the water surface of the Hirakubo Common Putat Colony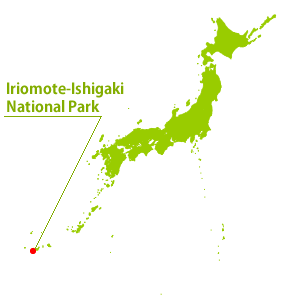 Iriomote-Ishigaki National Park has attracted attention because the whole area of Iriomote-Island was designated as a national park in spring this year. There is also a remarkable thing on Ishigaki-Island. Hirakubo Peninsula in the north of Ishigaki-Island has been designated as a national park to protect the Common Putat plant which grows wild in this area. Common Putat is a mysterious plant. The flowers bloom at night in early summer and they fall off in the morning. Common Putat is found only in two areas in Japan, on Iriomote-Island and Ishigaki-Island, but in these places it grows in great abundance. The decision to designate the area as a national park is the culmination of the discovery ten years ago of an old Common Putat. After this discovery more plants were found around the original tree. The local volunteer groups undertook conservation activities for them. The public and private sectors worked cooperatively and this eventually led to official designation as a national park. In the language of flower of Common Putat is 'It will bring you luck.' We work together with local community. Common Putat will bring Ishigaki-Island luck as a symbol of conservation and economic development in the area.
Common Putat (

Barringtonia racemosa

)
Common Putat is a tropical flower or a sub-tropical flower and it is found in coastal swamp forests such as Mangrove River in Japan. The flowers give off a sweet fragrance. The best time to view Common Putat is from the end of June to late July in Japan.