Current Topics
Results of the 18th Tripartite Environment Ministers Meeting Among Korea, China and Japan (TEMM18)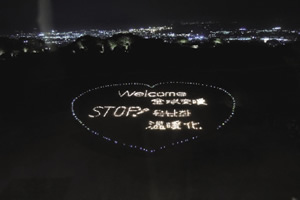 A view from Nihondaira Hotel: Lighting candles at the public event of CO2 reduction

The 18th Tripartite Environment Ministers Meeting among Korea, China and Japan (TEMM18) was held in Shizuoka city in April 2016.
The outcome of the meeting is as follows.
The Ministers reviewed the progress of the Tripartite Joint Action Plan on Environmental Cooperation 2015-2019 adopted at TEMM17 last year. They confirmed the progress of the tripartite cooperative projects under the nine priority areas contained in the Plan, and committed to continue the cooperative efforts among the three countries.
The Ministers welcomed the adoption of the two important international frameworks, "the 2030 Agenda for Sustainable Development" and "the Paris Agreement," which were finalized in the relevant meetings of the United Nations last year, and recognized that the implementation of policies and measures from this year is important to achieve their goals and targets.
The Ministers agreed to share experiences and policies on measures for waste generated by disasters such as major earthquakes.
As one of the major developments in individual areas, the Ministers recently launched "Tripartite Cooperation Network for Environmental Pollution Prevention and Control Technologies" among the three countries to promote matching needs for environmental technologies such as in China with environmental technologies possessed by countries like Japan.
The Network could be utilized as a possible platform for technical assistance in various environmental fields to diffuse advanced environmental technologies.
The three countries reaffirmed the importance of sustainable development, and will make concerted efforts to realize sustainable development and transform our world by balancing economic development, social integration and environmental protection, based on global solidarity and shared responsibility.