The Ministry of the Environment is involved in various activities to build the foundation for boosting environmental cooperation.
The Ministry of the Environment prepares and provides textbooks, manuals, videos, and technology databases in English and local languages, for sharing Japanese pollution experiences, transfer of environmental conservation technology, and environmental education.
--> see more...
In order to boost access to various information developed by Japan and environmental information held by developing countries and to invigorate international information exchanges, information networks are being developed, including ECO ASIA NET and AP-NET.
(See Links)

ECO ASIA Website

up
---
Research and Technology Development
The Ministry of the Environment and National Institute for Environmental Studies (NIES) conduct studies on environmental conservation technologies corresponding to the conditions of nature and society in developing countries and provide support for research on global environmental conservation, including fellowships for young researchers, though the Environment Research Fund. Moreover, the Ministry conducts studies on various countries and regions for assessing conditions in developing countries, etc. and analyzing their environmental cooperation needs, and further studies on the directions of environmental cooperation.
Global environmental conservation requires the accumulation of scientific knowledge and planning of actions based on it. Based on the Comprehensive Promotion Program for Global Environmental Research, Monitoring and Technology Development, the Japanese government has been conducting research on these issues by participating in and collaborating with international research programs such as the International Geosphere-Biosphere Program (IGBP), World Climate Research Program (WCRP), and International Human Dimensions Programme on Global Environmental Change (IHDP), etc.
Scientific Capacity Building/Enhancement for Sustainable Development (CAPaBLE) has been promoted under the framework of the Asia-Pacific Network for Global Change Research (APN) in order to develop and enhance scientific capacity in developing countries. The Ministry of the Environment also positively supports the activities of the Institute for Global Environmental Strategies (IGES) which conducts policy research and provides policy recommendations aiming to realize a sustainable society in the Asia-Pacific region.
Studies on ecosystem management in tropical landscapes,
funded by Global Environment Research Fund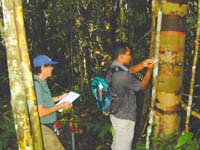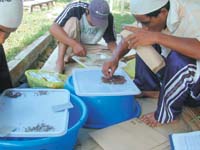 up

The Asia-Pacific Network for Global Change Research (APN)
The APN is an inter-governmental network whose mission is to foster global change research in the Asia-Pacific region, increase developing countriesf participation in that research, and strengthen interactions between the scientific community and policy makers. Support for global change research is provided through funding of research projects, co-organizing of scoping workshops and co-sponsoring of international experts meetings.
As of March 2005, 21 countries including China, India, Japan, and the United States are members of the APN. In order to intensify its work, the APN Center was established in Kobe City, Japan as the secretariat for APN in August 1999. Furthermore, to strengthen the foundation of the APN the secretariat has been operating under the administrative umbrella of IGES since April 2004.
APN Training Workshop on the Effects of Global Warming
in the Himalayan Mountains (2003, Nepal)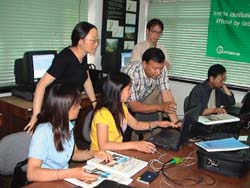 Institute for Global Environmental Strategies (IGES)
The Institute for Global Environmental Strategies (IGES), established in 1998, is an international research institute that conducts pragmatic and innovative strategic policy research to support sustainable development in the Asia-Pacific region, which is experiencing rapid population growth and expanding economic activity. At present, IGES is conducting six research projects and one programme: Climate Policy Project, Forest Conservation Project, Urban Environmental Management Project, Freshwater Resources Management Project, Business for Sustainable Society Project, Long-term Perspective and Policy Integration Project and Clean Development Mechanism (CDM) Programme.
IGES collaborates with a broad range of stakeholders, such as international organizations, national and local governments, non-governmental organizations, businesses and citizensf groups, to carry out research and conduct outreach activities, aiming to ensure that the results are reflected both in the policy-making process and in the activities of businesses and citizens.
IGES