Environmental cooperation requires the involvement not only of central governments but also of local governments, private businesses, NGOs, and all parties. The Ministry of the Environment supports the promotion of environmental cooperation involving those various parties.

---
The role of local government, which is the closest to citizens, is vital in implementing detailed measures adapted to local characteristics for sustainable development.
Some local governments have already implemented their own international environmental cooperation projects. The Ministry of the Environment supports such activities through information provision, and prepared the International Environmental Cooperation Guidebook in 2004.
In addition, the Ministry is bolstering support and cooperative ties with local governments which establish specialized organizations or hubs for international environmental cooperation.

---
Facilitation of Efforts by Private Businesses
To boost environmental action by Japanese businesses expanding overseas, the Ministry of the Environment supplies information on environmental regulations in various countries and environmental activities of Japanese overseas business entities.

@
---
Support for NGOs Environment Cooperation
The Japan Fund for Global Environment (JFGE) was established in 1993. The Fund provides financial support to domestic and overseas NGOs for their environmental projects in developing areas, such as information dissemination, awareness building, study and research, capacity training and others.


In FY2003, 74 projects in developing areas received a total of 322 million yen financial support from the Fund. Examples of funded projects include environmental education, study of pollution impacts on the environment, environmental conservation seminars, reforestation, and prevention of desertification.

Japan Fund for Global Environment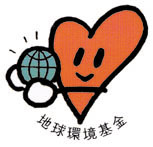 @
Forest conservation and tree/grass planting activities supported by the JFGE