Efforts
Measures to Combat Invasive Species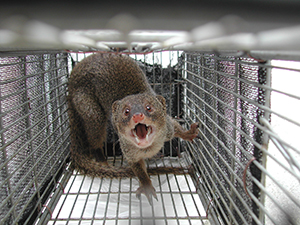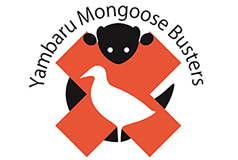 Many invasive species have appeared in the Yambaru region, creating concerns over their effect on the ecosystem. Mongooses, which were brought to the southern part of Okinawa Island in 1910 to exterminate Okinawa Habu vipers and field mice, have invaded the forests of Yambaru from the 1990s. As the creatures living in Yambaru do not have defenses against predators, the ecosystem is being thrown out of balance at an alarming speed. Measures to combat this are needed. In response, a group of experts known as the Yambaru Mongoose Busters has come together to perform pest control aimed at eradicating the mongoose from the Yambaru region. These efforts are steadily achieving results.
Protected Breeding of Rare Wildlife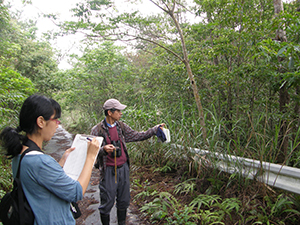 The Okinawa rail, Okinawa woodpecker, and Yanbaru long-armed scarab beetle are the subject of habitat surveys and other actions in accordance with the Programs for the Rehabilitation of Natural Habitats and Maintenance of Viable Populations. We are also undertaking initiatives aimed at establishing breeding technology for Okinawa rails under care.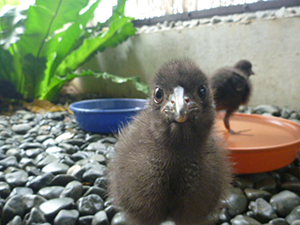 Measures to Combat Road Kill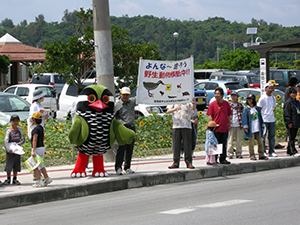 The Okinawa rail and many other animals in the Yambaru region often meet with traffic accidents. Road kill (i.e., wildlife that comes in contact with traffic and injuries to animals from other causes resulting in death) is particularly frequent on the winding mountain roads of Prefectural Road Route 2 and Route 70. We are running an accident prevention campaign, calling for animal-friendly driving speeds that allow drivers to avoid animals that emerge suddenly. We also perform rescue and other care for injured animals in cooperation with related organizations and groups.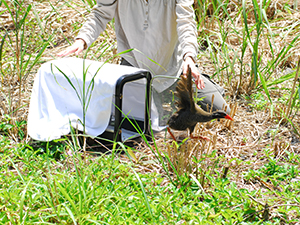 Patrols to Prevent Poaching and Illegal Digging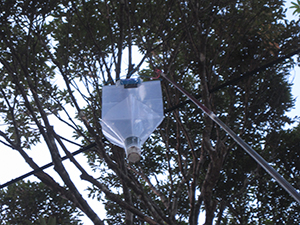 The Yanbaru long-armed scarab beetle, Neolucanus okinawanus, rare orchids, and many other plants and animals are poached, illegally dug up, or taken in excess numbers by enthusiasts. These include species that for which capture and gathering are prohibited by law. Even when not illegal, casual gathering and removal can accumulate to have a major impact on the species. To prevent poaching and illegal digging, we conduct patrols of forest paths in cooperation with local residents.