main body
Efforts
Shiretoko: the 100 Square Meter Movement
In order to save reclamation sites within the national park from the danger of overdevelopment, in 1977--ahead of the Japan National Trust movement--Shari Town launched the "100 Square Meter Forest Planting Movement." Today, under the catch phrase "Won't you buy a dream in Shiretoko?" the land that has been acquired is being reforested.
Visiting Brown Bears in Their Home
Shiretoko has formulated a "Basic Plan" and "Knowledge for Use" that detail the town's basic thinking regarding using the forests as if "visiting the brown bears in their homes," a concept rooted in humility and awe/reverence for nature.
Two Ways to Walk Around the Shiretoko Goko Lakes (Five Lakes)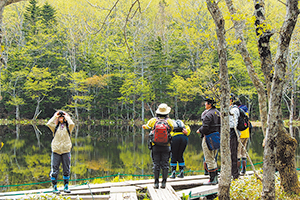 With the aim of preserving vegetation and resolving discord between humans and brown bears, a use control system has been introduced at the Shiretoko Goko Lakes (Five Lakes). Currently, two ways of walking around the area are provided: elevated boardwalks that are barrier-free, enabling anyone to use them freely and safely; and ground-level footpaths which, depending on the season, can only be used if accompanied by a guide and after attending a safety lecture.