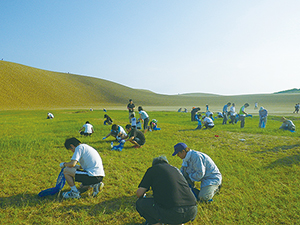 Due to the weakening of sand movement, there has been a noticeable influx of non-native plants into the Tottori Sand Dunes area. This has led to even greater restrictions on sand movement, and the fact that the wind ripples typical of sand dunes are disappearing demonstrates how the unique sand dune landscape is being damaged. To counter this trend, efforts led by Tottori City and Tottori Prefecture to weed the sand dunes are being carried out. Nowadays, sand movement is reviving and literally "living sand dunes" are slowly returning.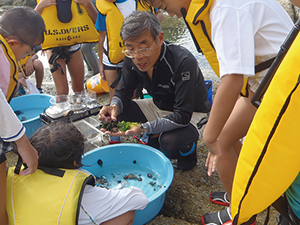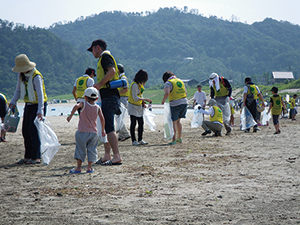 The Ministry of the Environment registers people who wish to proactively participate in various national park activities--such as providing commentaries for nature observation meetings, beautification and clean-up activities, and simple maintenance and repair or park facilities--as park volunteers.
At San'inkaigan National Park, park volunteer activities are mainly based around the Takeno Snorkeling Center, with volunteers providing nature commentaries for snorkeling and beach wildlife observation meetings, etc. Volunteers also carry out beach clean-up, gather information about nature, and conduct habitat surveys, conveying the appeal of San'inkaigan National Park to visitors.