main body
Efforts
Maintenance of Park Facilities and Conservation of the Natural Environment
To enable visitors to Oze to experience the natural environment safely and enjoyably, facilities for using the park such as picnic grounds, camping grounds, wooden footpaths, and public toilets have been provided in accordance with park plans. Furthermore, in order to conserve the natural landscape and protect the park's rich biodiversity, measures such as animal and plant protection, landscape conservation, and surveys are being carried out.
Appropriate Usage of the Park
In order to protect the precious and delicate natural environment and pass it down to future generations, methods for achieving appropriate use of the park are being considered based on the current usage situation, while at the same time survey research is being carried out regarding measures for ensuring the park's safe and appropriate use. As a part of these efforts, restrictions have been placed on the use of private cars between Miike and Numayama Pass in Fukushima Prefecture; between Tsunaki Bridge and Hatomachi Pass ; and between Oshimizu and Ichinose. These measures have avoided vehicle congestion when accessing the national park and reduced the effect of exhaust gasses on the natural environment.
Japanese Deer Countermeasures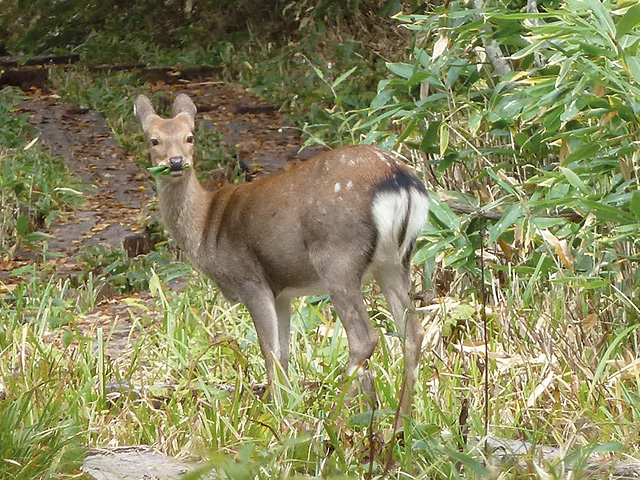 In recent years, the number of Japanese deer has increased, causing problems in various regions. In Oze, since the mid-1990s, when Japanese deer were confirmed to be living in the park, disturbances to vegetation in marsh and other areas have grown noticeable, and there is concern that the deer could exert such an impact on the original ecosystem that restoration would be impossible. The Ministry of the Environment collaborated with related organizations have been formulated the Oze National Park Deer Management Policy. The group of organization is working together to control deer population around Oze area as well as carry out various surveys in order to formulate more effective countermeasures.