main body
Efforts
Park Volunteer Activity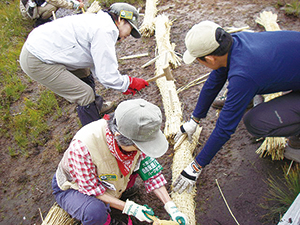 In Daisetsuzan National Park, park volunteers support wide-ranging projects promoted by the Ministry of the Environment, including nature commentary activities, clean-up/beautification activities, prevention and extermination of invasive species, prevention and patrol of poaching, and illegal digging of rare flora and fauna, as well as maintenance and repair of mountain trails and signs.
Collaborative Maintenance and Management Activities of Mountain Trails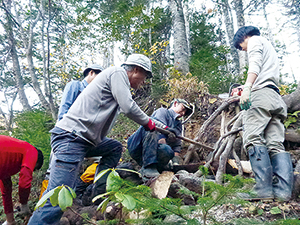 Daisetsuzan National Park has been facing the problems of erosion and the scouring of mountain trails and the devastation of vegetation by trampling from climbers and flowing water. To preserve the sustainable natural environment and to promote utilization of the vast mountainous area, concerned administrative authorities mountaineering clubs and other mountaineering groups, volunteers, and a wide range of relevant parties work in concert to promote the preparation of the system for maintenance and management activities of mountain trails.
The Regulation of Private Cars
During the foliage season from early September to early October, Daisetsuzan National Park aims to ease traffic congestion and protect the natural environment from exhaust fumes caused by the use of private cars by implementing traffic regulations to the private cars traveling to Daisetsu Kogen Onsen and Ginsendai. During the period of traffic regulations, visitors can take a shuttle bus to reach these destinations.