Efforts
Kagamiganaru Natural Environment Conservation Act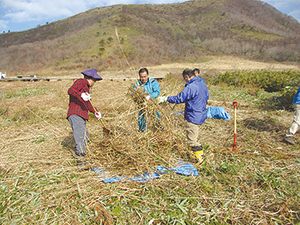 The foothills of Mt. Zoyama, situated on the north side of Kagamiganaru, constitute a large field of encompass Japanese pampas grass and mountainous marshland that were previously a pastureland and meadow.
In order to preserve the natural environment, maintenance operations and surveys have been in place with the cooperation of the investigative commission consisting of persons with relevant knowledge and experience and related organizations, municipalitiess and local conservation groups and bodies.
The protection activity of Melitaea Protomedia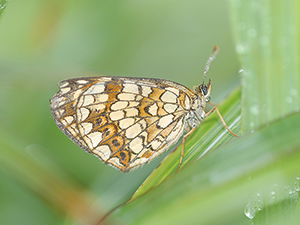 Melitaea protomedia is a butterfly native to a grassy plain, which is listed by the Ministry of the Environment as an Endangered Species IA Class on its Red List, meaning it is at extremely high risk of extinction in the near future.
For the preservation of the Melitaea Protomedia, major efforts have been made to maintain the grassland in the periphery of Mt. Kenashi and Mt. Sanbe, which is their habitat environment, by conducting mowing and other conservation activities in cooperation with local people.
Collaboration with the Oki Islands Global Geoparks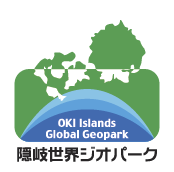 In Oki, the local residents are proactively supporting the Geoparks, and the Ministry of the Environment is pursuing initiatives to preserve the excellent natural environment and culture of Oki and ensure their sustainable use in cooperation with the Geoparks through events and lectures to interact with nature, extermination of invasive plants, creation of environmental education programs and the installation of information signs.