Pregnancy and Birth Survey: What Has Become Clear (2/2)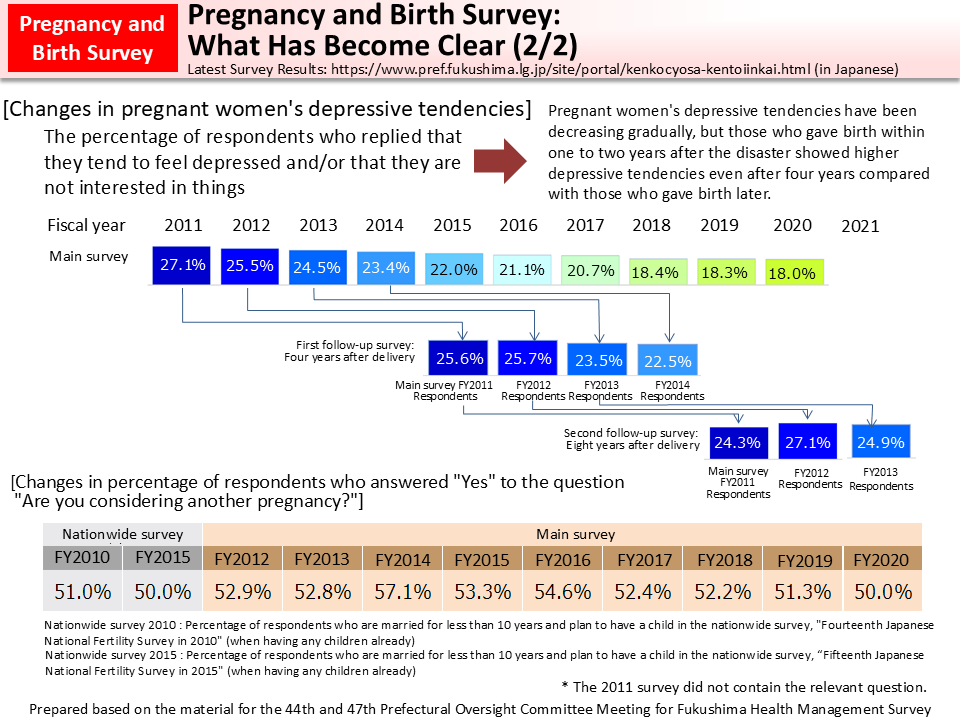 For questions concerning pregnant women's depressive tendencies, respondents who replied that they tend to feel depressed and/or that they are not interested in things have been decreasing but such tendencies are still strong.
According to the "Healthy Parents and Children 21" (a national campaign to promote improvement of health standards of mothers and children), the percentage of postnatal depression evaluated using the Edinburgh Postnatal Depression Scale was 9.0% in 2013. On the other hand, that percentage using the same scale and calculated from the results of the FY2016 Pregnancy and Birth Survey (provisional values) was 11.2%, higher than the national average.
The FY2016 Pregnancy and Birth Survey (provisional values) also revealed that respondents considering another pregnancy accounted for 53.3%. Since the FY2012 survey, more than half of the respondents wish to have more children. For reference, according to the Fourteenth Japanese National Fertility Survey in 2010, respondents who are married for less than ten years and plan to have a child accounted for 58% (or 51% among those who already have any children).
Included in this reference material on March 31, 2015
Updated on December 1, 2017