Pregnancy and Birth Survey: What Has Become Clear (1/2)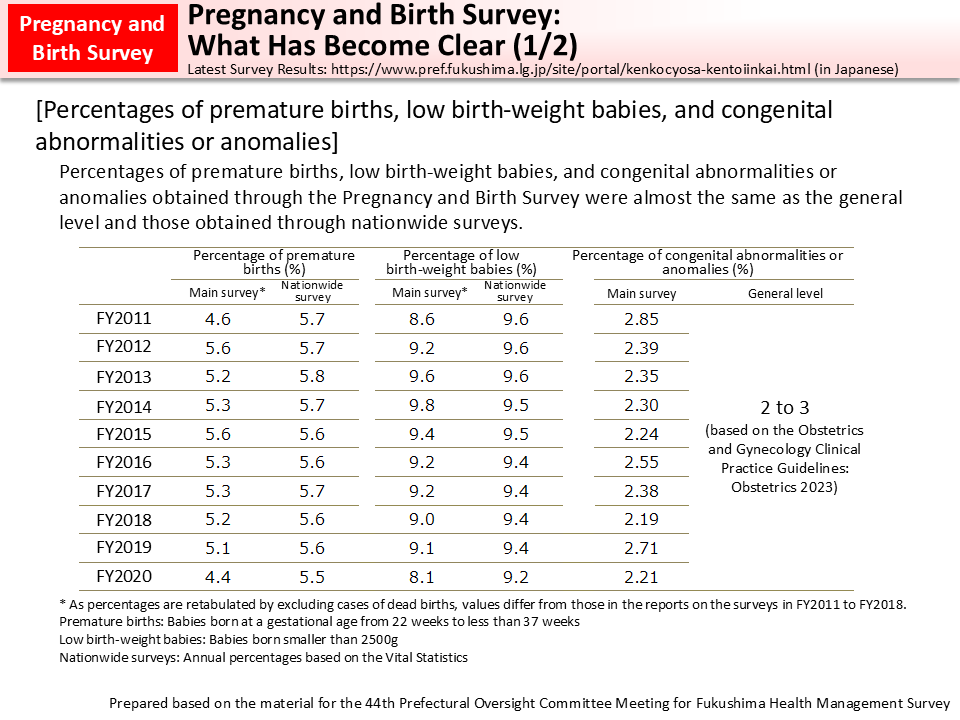 The number of babies born in Fukushima Prefecture decreased temporarily after the earthquake, but the number increased in FY2013 and FY2014 compared with FY2012.
Radiation effects on newborn babies had been worried about, but percentages of premature births, low birth-weight babies, and congenital abnormalities or anomalies in Fukushima Prefecture after the earthquake were found to be almost the same as generally available data, including Vital Statistics collected nationally.
A report of a FY2013 Ministry of Health, Labour and Welfare (MHLW) Grant Research, "Research on the Incidence of Congenital Anomalies in Japan and Effect Factors (Including Effects of Radiation Exposure and Prenatal Diagnoses) through Monitoring Analysis," states that the incidence of congenital anomalies detected among 17,773 babies born at 36 maternity hospitals in Fukushima Prefecture after the earthquake shows similar outcomes to nationwide surveys, with no notably higher outlying events when compared with other prefectures.
Included in this reference material on March 31, 2015
Updated on December 1, 2017