Changes in Ambient Dose Rates in Forests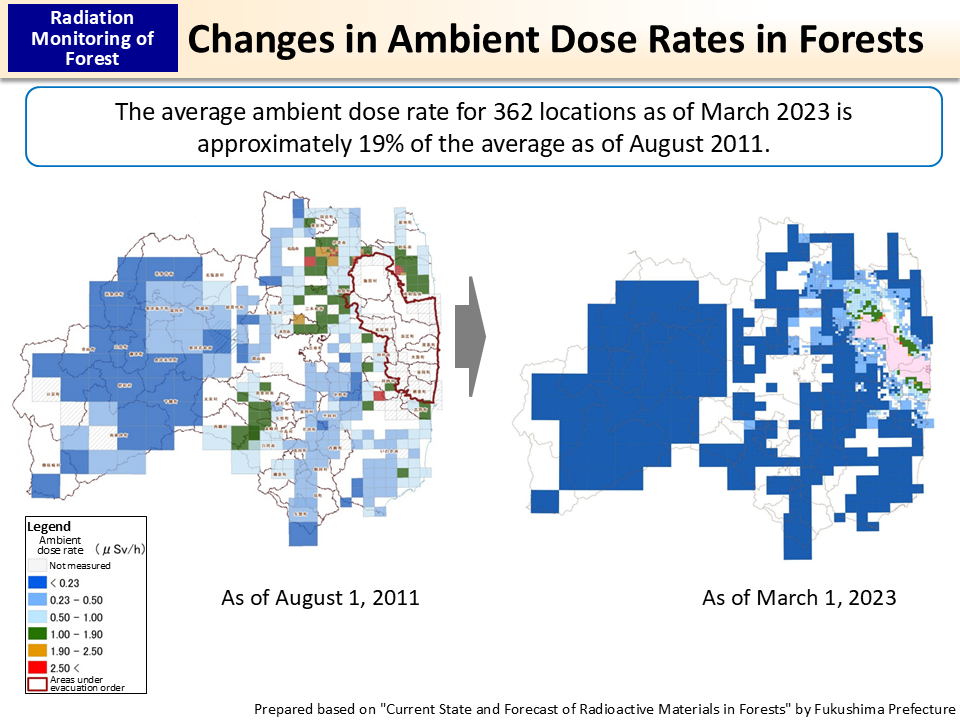 Fukushima Prefecture has been conducting monitoring of ambient dose rates in forests within the prefecture every year since FY2011. The monitoring targeted 362 locations in FY2011 but gradually expanded the coverage to target 1,300 locations in FY2018.
For the 362 locations, where monitoring has been continued from the beginning, the average ambient dose rate was 0.20 μSv/h as of March 2020, approximately 22% of the average as of August 2011 (0.91 μSv/h).
Measurement results by region as of March 2020 (minimum value - maximum value) are as follows.
* Ken-poku (northern pref.) (361 locations): 0.05 - 1.44 μSv/h
* Ken-chu (central pref.) (122 locations): 0.04 - 0.42 μSv/h
* Ken-nan (southern pref.) (38 locations): 0.05 - 0.24 μSv/h
* Aizu (33 locations): 0.03 - 0.08 μSv/h
* Minamiaizu (22 locations): 0.03 - 0.09 μSv/h
* Soso (653 locations): 0.10 - 3.30 μSv/h
* Iwaki (71 locations): 0.04 - 1.07 μSv/h
(Related to p.185 of Vol. 1, "Distribution of Radioactive Materials in Forests")
Included in this reference material on March 31, 2019
Updated on March 31, 2021