Prior to and during the Meeting, a wide variety of side events were held with the support of the local authorities, industries and relevant institutions. These events presented not only Kobe's great charm but also Japan's environmental technologies and its beautiful nature to all delegates and media participated in the Kobe Meeting. It was also a superb opportunity to raise awareness of the importance of addressing environmental measures to the citizens.
The outcome of certain side events were delivered to the ministers and helped accelerate the discussion at the Meeting.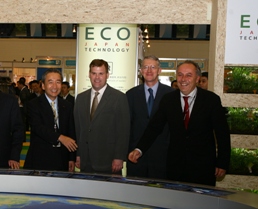 Exhibits by more than 80 businesses from all parts of Japan presented their cutting-edge environmental technologies attracting over 30 thousand visitors to the fair. Ministers representatives and other participants in the Kobe Meeting also visited the exhibition on the 25th as an official programme of the Meeting.
・Date 5/23 ~ 5/26
・Venue Kobe Central Gymnasium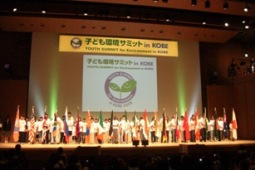 Children from 21 countries/region gathered to discuss environmental issues from the viewpoint of the future generation. The outcome of the Youth Summit was delivered by children themselves to the ministers at the Meeting.
・Date 5/22 ~ 5/24
・Venue Art Center of Kobe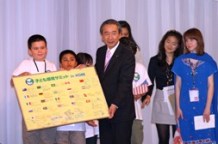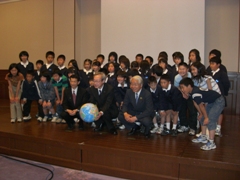 Panel discussion was held on environmental initiatives by the local communities in Japan and around the world.
・Date 5/22
・Venue Hyogo House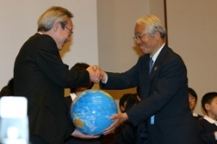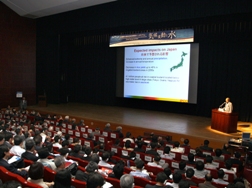 Extensive discussion focusing on climate change and water was held among various stakeholders and its outcome was delivered to the Meeting.
・Date 5/23
・Venue Kobe International Conference Center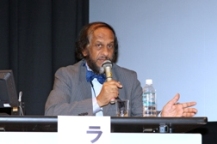 "Side Events"
Date

Title

Venue

Contact

May 16, 2008

Exquisite and Well-conserved Waters Summit "Kobe"

Environmental Conservation Guidance Division Environment Bureau Kobe City Office
Tel +81.(0)78.322.5309

May 17-18, 2008

Eco Car World 2008 in Kobe

May 22-24, 2008

YOUTH SUMMIT for Environment in KOBE 2008

Office of Environmental Education, Environmental Policy Bureau, Ministry of the Environment, Japan
Tel +81.(0)3.5521.8231

May 23, 2008

Special Symposium in Commemoration of the G8 Environment Ministers Meeting in Kobe -Climate Change and Water-