National Parks of Japan
A Pond in Towada-Hachimantai National Park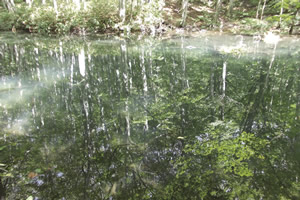 Mirror-like surface of a placid pond in Tsuta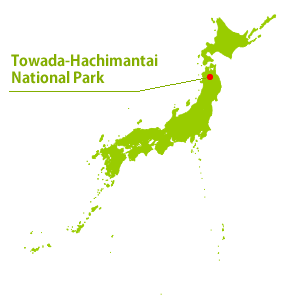 A tranquil pond reflects trees under the warm sunshine. You can hear birds singing in their paradise along the pond edge.
The pond in Towada-Hachimantai National Park is located in the Tsuta region of Aomori Prefecture, the northernmost of Honshu Island. The region has long been well known for hot-spring cure at Tsuta Hot Spa deeply loved by many visitors including famous literary figures. Around a total of seven placid ponds, you can enjoy seasonal changes including fresh green in early summer and colored leaves in fall.
In February this year, Towada-Hachimantai celebrated the 80th anniversary of its designation as one of the nation's national parks. In addition to the Tsuta region, the national park preserves natural beauty from time immemorial at Towada Lake with its high transparency, the Oirase Mountain Stream shielded with deep green of trees, the Hakkoda Mountain Range with its expansiveness, etc.
From Tokyo, it takes about three hours by train and then about an hour by car. By air, it takes a bit over an hour plus a car-ride of about an hour. Come and relish indigenous charms of nature, hot spas and history that are so unique to Towada-Hachimantai National Park.