Relay Column
Net Zero Energy Buildings Help Realize a Low-Carbon Society

Technology and Innovation Center in Settsu city, Osaka

Daikin Industries, Ltd. has established the Technology and Innovation Center (TIC) in Osaka, Japan. With operations starting on November 25, 2015, the new facility will function as the core base for technology development of the globally expanding Daikin Group. We are building the world's No. 1 technology in core technologies that include inverters, heat pumps, and fluorochemicals through the collaborative creation of innovation inside and outside the company and will also leverage new and advanced technologies to expand business with differentiated products and create new value and business opportunities.
TIC is a building that combines Daikin's advanced low-carbon technologies to achieve zero energy buildings (ZEB). With the completion of TIC, Daikin will aim for 85% reduction in energy consumption by air-conditioning and ventilation and 100% energy savings including energy creation in the future by updating facilities as a solution model for development and verification of each new energy technology. Specifically, TIC will introduce energy-saving technologies such as; a) Individual control of temperature and humidity by multi-split air conditioners, b) Peak shift by thermal storage and heating by using renewable energy (e.g., geothermal or solar power heat pumps), c) Optimum setting of the overall system by Building and Energy Management System and d) Solar panels with tracking mounts to improve power generation efficiency.
Daikin promotes further technology developments in TIC and pursues a low-carbon society in the world.

Efforts to Prevent Our Extinction with "Fossil-fuel" Dinosaur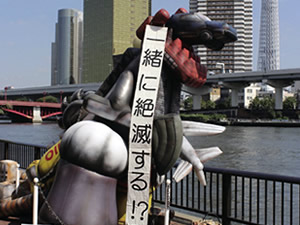 Fossil-fuel dinosaur appears at the Sumida River Terrace: "Do you want to go extinct together?"

With a goal to attain a fundamental solution to various current environmental and social problems that Japan is related to, Friends of the Earth Japan is involved in activities to correct our social system through studies and proposals to influence the government, corporations, and residents.
While the areas of our interest encompass broad fields: countermeasures for climate change and global warming, deforestation/forest degradation, environmental impacts from large-scale development projects, our critical approach with a perspective as citizens and bottom-up remains the same. We listen to the voices of the people who are directly affected by issues to identify the root cause of the problem. We then make proposals to solve or alleviate the problem, and organize protests if necessary.
Since 2011, we have been working to minimize the radioactivity damage caused by the nuclear accident, through lobbying and negotiation with the government. This is all done to produce appropriate response to the voices from the people we serve. Prior to the United Nations Framework Convention on Climate Change held at the end of 2015 (COP21), we took action to widely inform the seriousness of this issue on climate-change/global-warming, which had failed previously to attract much interest from society.
For us, humankind, not to go extinct with the dinosaur of "fossil-fuel" energy source, but to build and maintain a sustainable environment and society in which we can live peacefully on earth indefinitely, we will continue our endeavor.