Towada-Hakkoda Area
Lake Towada
A stunning landscape weaving together the tranquil surface of a lake surrounded by an outer ring of lava domes, the distinctive forms of the Nakayama and Mikura peninsulas, and thick woods that grow to the lakeshore, draw visitors to Lake Towada.
Zones that can serve as bases for use lie near the water's edge. In particular, the Yasumiya zone is an area situated around the base of the Nakayama Peninsula. It features a visitors' center where the natural environment of Lake Towada is introduced as well as nature trails, a sightseeing boat dock, lodgings, and other facilities designed to help people come in closer contact with nature. A famous work of art known as The Statue of Maidens (by Kotaro Takamura) stands serenely in Omaegahama. Take advantage of early-morning guided nature tours (free of charge) that are conducted daily by local guides between spring and autumn to enjoy a refreshing, casual morning stroll.
A campground can be found in the Oide zone, nature trails extend along the west coast of the lake, and an observatory offering spectacular views has been built by the lakeside road. Harness each of these facilities according to your objectives to savor the natural setting at Lake Towada.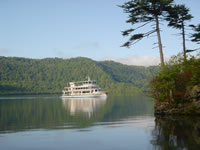 [Sightseeing boat]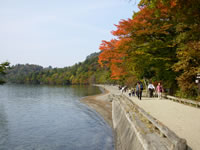 [Lakeside walking trail]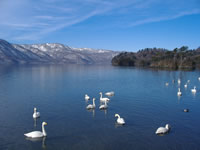 [Swans at Lake Towada]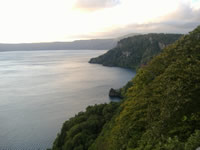 [ View from the observatory
(Kankodai)]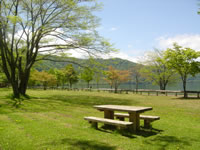 [Taiyo Hiroba Park Are]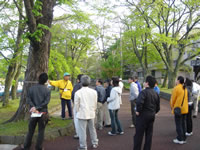 [Early-morning nature guided tour]
Oirase Mountain Stream
Originating in Nenokuchi on Lake Towada, the Oirase Mountain Stream flows fourteen kilometers downstream through an expanse of natural woods consisting of beech, katsura, horse chestnut, and other varieties of trees.
Walk at a leisurely pace on a nature trail set up by the side of this mountain stream to grasp first-hand the workings of an ancient natural environment as you become immersed in a world of constantly changing water flow, moss-covered rocks, rotting wood, new life burgeoning above, the descent of numerous falls from cliffs on both banks, and the singing of birds emanating from the space in between trees.
Keigetsu Omachi, an author and poet who introduced the virtues of his beloved Lake Towada and the Oirase Mountain Stream to readers nationwide, wrote of the delight there is to be had in hiking along this mountain stream: "If to dwell, in Japan/ If to have fun, in Towada/ If to stroll take a three and a half ri walk in Oirase."
Built along the side of this mountain stream are the Oirase Stream Museum, rest stops, washroom facilities, and more.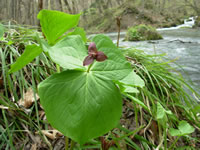 [Wake-robins]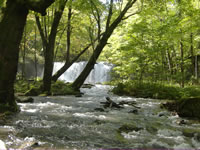 [Choshi-Otaki Falls]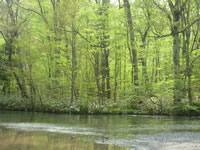 [Keihanrin Forest ]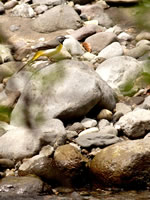 [Grey wagtail]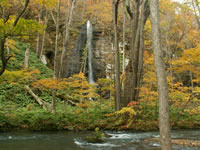 [Shirakinu-no-Taki Falls]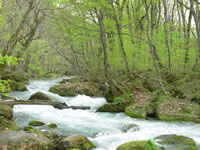 [Beautiful mountain stream]
Mt. Hakkoda
Rather than constituting a single peak, Mt. Hakkoda is the name collectively given to the North Hakkoda Mountain Range and the South Hakkoda Mountain Range. Carpeted by dense forests of beech and Maries' fir trees, the area is famous for the simultaneous blooming of such alpine vegetation on gently inclined slopes at the beginning of summer as Aleutian avens and Narthecium asiaticum plants. Visitors can also enjoy a natural landscape that varies greatly with the seasons, thanks to the presence of lakes, ponds, and other wetlands that dot the area, "snow monsters" consisting of trees glazed with ice in winter, and so much more.
A ropeway extending from the base of this area, mountaineering trails, nature trails, and other facilities have been built around Mt. Hakkoda to allow visitors to gain first-hand experience of the natural setting of Hakkoda according to their objectives and physical abilities. Such winter sports as alpine skiing and snowshoe walks are also popular.
An information center providing information on the natural environment, mountain-climbing routes, and other helpful tips, as well as campgrounds and other facilities can be found in the Sukayu area, which is the primary base of tourism operations in the area.
The Tsuta Onsen zone, which is dotted with vast beech forests and tranquil ponds, has been designated a Tsuta Wild Bird Sanctuary Forest by the national government. Take a nature stroll and explore the ponds and wild birds that inhabit this area.
At the foot of Mt. Hakkoda can be found a number of onsen districts, including Sukayu and Tsuta, where travelers can immerse themselves in the ambience of rustic therapeutic hot-spring baths.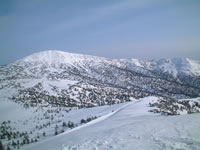 [Hakkoda in winter]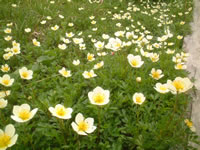 [Aleutian avens]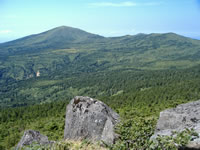 [Kushigamine]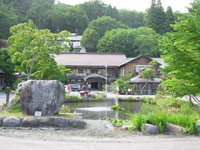 [Tsuta Onsen]

[Red-flanked bluetail]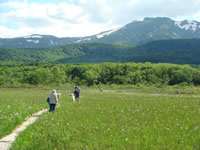 [Tashirodaira Marsh]
Hachimantai Area
A high moor and Hachiman-numa Pond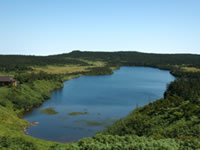 [Hachiman-numa Pond]Depart from the parking lot at the Mikaeri Pass and proceed along the walking trail set up at this location. Before long, you will able to see a quintessential example of a high moor in the Hachimantai area. Due to the high elevation, frigid climate, and significant water content of this spot, peat moss and other plant residue decompose at a slower rate, which leads to an accumulation of peat layers resembling lenses when seen from the side. In the center of this wetland lies Hachiman-numa Pond, which measures 600 meters from east to west and 200 meters from north to south. This body of water was created from a build-up of water flowing from the surrounding wetland into a number of craters that were formed through phreatic explosions in the past.
This route is the ideal exploratory trail from which to observe various alpine plants belonging to this habitat.
Goshogake Nature Trail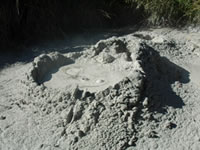 [Mud Volcano]Spend approximately 40 minutes to complete a circuit of this promenade built from a starting point in front of Goshogake Onsen and witness various rare phenomena attributed to geothermal activity. These phenomena include the emissions of gas and hot water known as "Oname-Motome"; Oyunuma, a body of water that ended up swallowing a walking trail after shifting continuously due to extensive geothermal activity; and Mud Volcano touted as the largest of its kind in Japan. Various species of plants that are strongly associated with volcanic belts due to their high tolerance to sulfur gases--including Ledum palustre var. diversipilosum and Carex angustisquama Franch--can be found here.
Onuma Nature Trail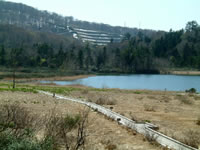 [Onuma]A large pond measuring 200 meters from east to west and 500 meters from north to south situated in front of the Hachimantai Visitor Center is said to be a fault lake created when water filled the vestige of a subsidence in the ground caused by the intersecting of two faults at one time in the past. A wetland area came to be formed in the vicinity to such an extent that visitors can now spot plenty of wetland vegetation, including skunk cabbage and cotton grass. In the surrounding transition zone between an alpine zone and subalpine zone stands a captivating landscape that varies with the seasons and that consists of conifers (Maries' fir and Japanese white pine trees), broad-leaved trees (including beech and Tamushiba Magnolia salicifolia trees), and Japanese ash and other species of trees that favor moist environments.
Mt. Yake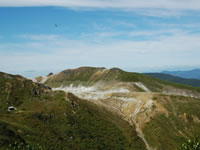 [Mt. Yake]Situated in the western part of the Hachimantai area, Mt. Yake (1,366 meters above sea level) remains an active volcano to this day.
Mt. Yake is a double-fold volcano positioned atop the vast Tamagawa Caldera. Visitors can survey the Onigajo lava dome and a crater lake brimming with cobalt-blue water. While the surroundings are desolate and bare due to the terrestrial heat and high acidity of the ground, there is evidence that wavy hairgrass and other pioneer species of plants have gradually begun to establish a presence in this area.
Akita-Komagatake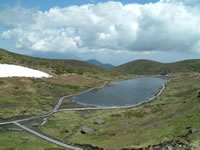 [Akita-Komagatake and
Amida-ike Pond]Akita-Komagatake is the name given to a collection of peaks situated at the southern tip of Towada-Hachimantai encompassing an outer ring of lava domes and caldera volcanic cones, including Mt. Oname-dake (the highest peak in the area at 1,637 meters above sea level), Mt. O-dake, Mt. Yoko-dake, and Mt. Me-dake. Famous as the habitat of an extensive array of alpine plant species, the area around the summit of the mountain is rigidly protected as a National Park Special Protection Zone and has been designated a natural monument by the state. Particularly spectacular are huge colonies of dicentra and Viola crassa Makino plants that grow in this location.
Mt. Nyuto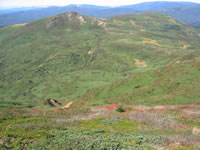 [Looking in the direction of
Mt. Nyuto from Mt. Zarumori]Mt. Nyuto is also referred to as "Eboshi-dake" ("eboshi" is a type of formal headwear worn by court nobles) based on its shape as seen from the Iwate side of the peak. While standing only 1,478 meters above sea level, the mountain affords a fantastic view of the surrounding landscape from its summit. Climbers can obtain distant views of an expanse of land stretching from Akita-Komagatake to Mt. Iwate and the undulating form of the Hachimantai area beyond the Ura-Iwate Longitudinal Course. Tashirotai Marsh and Senshogahara Marsh are precious wetland areas located in the northwest section and southeast section, respectively, of the mountain base. Climbers can use the distinctive Nyuto Onsen district as a mountaineering base and select different approaches according to individual physical ability.
Tamagawa Onsen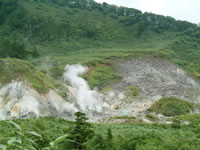 [Tamagawa Onsen]Tamagawa Onsen is fed by a wellspring of strongly acidic 98-degree Celsius hot-spring water with a pH level of 1.1 and boasts a greater discharge volume at 9,000 cubic meters per minute than anywhere else in Japan. A nature trail extends from a position in front of the hot spring to allow visitors to closely observe gas fumaroles with yellow openings attributed to sulfur deposits. Persons in search of hot-spring cures can also be seen arriving to take advantage of bedrock baths in the vicinity. This area is also famous as a site where hokutolite, a rare mineral containing radium, was once discovered.
Mt. Iwate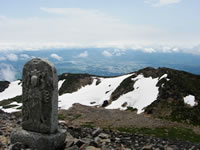 [Mt. Iwate]Mt. Iwate is sometimes referred to as "Nanbu Kata-Fuji" since Yakushi-dake, a graceful-looking peak on one side of the mountain, towers over the steep volcanic eastern part of the mountain when seen from the direction of Morioka. Stand on the summit of Mt. Iwate to experience a 360-degree panoramic view of Akita-Komagatake, the Hachimantai area, and Mt. Hayachine, as well as Mt. Chokai in the distance. Sixty-three statues of Kannon have been placed in a ring around the crater wall at the summit of this mountain. These statues serve to remind climbers of the fact that Mt. Iwate has historically been considered a sacred mountain used as a place of worship.
Due to its long history of geological formation and its complex topography, Mt. Iwate is home to a wide variety of alpine plants that are impressively in bloom during the peak season from June to August.
Page top