Current topics
The Sixth Meeting of the Regional 3R Forum in Asia and the Pacific

High-level participants' group photo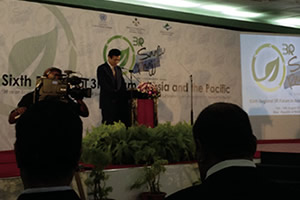 Opening address by State Minister Ozato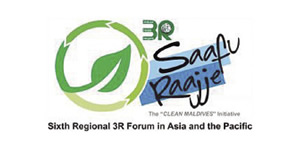 The Ministry of the Environment of Japan (MOEJ) co-hosted "the Sixth Meeting of the Regional 3R Forum in Asia and the Pacific" with the Republic of Maldives and the UN Center for Regional Development (UNCRD) from August 16 to 19 in Male, Maldives. In November 2009, the Forum was established by the proposal offered by the Japanese Government and aims to serve as a collaboration platform for a broad range of concerned parties, in order to build a Sound Material-Cycle Society in Asia and the Pacific through the promotion of 3Rs. The meeting was attended by over 300 participants who were 39 representatives of governments including Ministers or State Ministers, international organizations, aid agencies, private sectors, research institutions and NGOs, mainly from the Asia-Pacific region. From Japan, Mr. Yasuhiro Ozato, the State Minister of the Environment, attended the meeting with his staffs.
On the theme of "3Rs as an Economic Industry," the meeting discussed:
Evolving 3Rs trends and development in Asia and the Pacific
Enabling 3Rs science-policy-business interface towards sustainable cities and communities
Sustainable tourism developments in Small Islands Developing States (SIDS)
Extended producer responsibility (EPR) and industry ecology grants for sustainable resource management
Reports from field-specific round-table dialogues on harnessing economic opportunities through 3Rs, main accomplishments by country on implementing the Hanoi 3Rs Declaration, and country-specific group meetings
Waste and freshwater nexus
"State of 3Rs in Asia and the Pacific"
The Chairs' Summary was adopted on the last day of the forum.
The next meeting is scheduled to take place in Australia next year.

Reach Out to the World: JAPAN Water Style

MOEJ Proposes a New Way to Approach Water Resources for Future Water Cycle System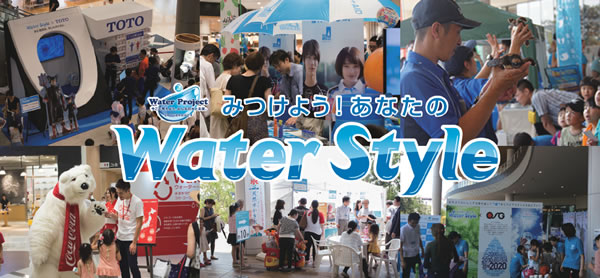 Think about the importance of water, "Water Day FESTIVAL"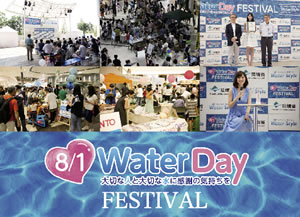 Water Day FESTIVAL

Based on the "Basic Act on Water Cycle" enforced in July 2014, the Ministry of Environment of Japan (MOEJ) launched, in August the same year, a public-private collaborative project which aims to promote maintaining and recovering a sound water cycle. This "Water Project" was founded to build a public-private collaboration platform to promote initiative and self-motivated approaches from private sectors, with the goals that achieve sound water cycle maintenance/recovery, and water environment preservation. Its current participants total over 100 diverse organizations including national and municipal governmental agencies, private corporations, and private organizations such as NPOs.
Since June 2015, this concept has been proposed to corporations and local public organizations as "JAPAN Water Style," a vision that advocates public-private cooperation to firmly support our water cycle in view for the future. Supporting companies of this Vision will recommend "Water Style" as a new approach towards water resource, to the citizens of Japan who form a critical part of this water cycle. "Water Style" is presented by individual companies through their products and services, to heighten awareness for water-conscious lifestyles.
Water is a theme, which is fundamental to our life, with close link to many aspects of our lives, products, and what we eat. As people recognize such intimate, important connections, they will start to choose their personal styles that suit them most among a wide range of suggested options.
We will continue developing our project to lead us to promote preservation of Japan's water cycle and water environment through the promotion of "Water Style".

Project: Connecting and Supporting Forests, the Countryside, Rivers, and the Sea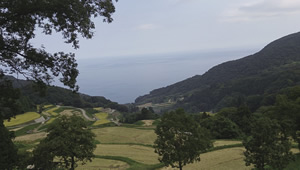 Terraced paddy fields (tanada) of Iwakubi Shoryu, Sado city, Niigata Prefecture
Our life is supported by nature's bounty that is represented in forests, the countryside, rivers, and the sea. Clean air, plentiful fresh water, food and resources, natural protective force from disasters, and culture and recreation based on natural surroundings--such bountiful, countless benefits we enjoy come from the natural world.
Yet, we have observed negative impact such as fragmentation of ecosystem, and quality degradation, from excessive, unsustainable development, or inadequate use and management due to decreasing or aging population. Changes in local communities and people's lifestyles have also disconnected the linkages between people and nature. We find ourselves not having time to appreciate nature's bounty, and fewer children have opportunities to freely play in it.
Such awareness is the background of a new project team established at the Ministry of the Environment of Japan (MOEJ) in December 2014, "Connecting and Supporting Forests, the Countryside, Rivers and the Sea." Based on dialogues and discussions at seven study group meetings with experts, we compiled and published an interim report in June this year. The report outlines our study, from how to manage sustainable environment for future generations, ways to create a nationwide support system to conserve and enhance nature's bounty through enforced partnership between the countryside and the cities. The two parties long had an unbalanced relationship; the countryside being the sole protector and giver of such blessings, and the cities being only the taker, or beneficiary.
The MOEJ will continue its studies, as it hosts symposiums and meetings to encourage national level dialogues, to develop more specific ways to build an effective system based on thorough discussions with a broad range of parties involved.