National Parks of Japan
Large Expansion of the Yoshino-Kumano National Park
Tenjinzaki where the National Trust movement began in Japan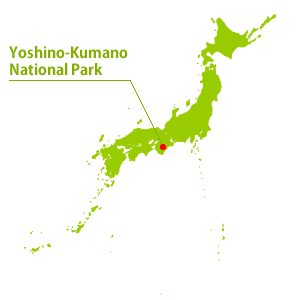 There are mystical and tranquil mountains, deep valleys and the Nankai Sea where the Kuroshio (Black) Current flows. The rich history and culture have been nurtured by the nature in the Kii Peninsula, the largest peninsula in Japan.
The National Park established in February 1936 encompasses areas registered as World Cultural Heritage, BR, and Japanese Geoparks Network sites. The Park, which is endowed with nature and culture welcomes and never fails to delight its visitors. In September 2015, its designated area expanded greatly when coastal waters around the Kii Peninsula have also been integrated. It was a new step forward to enforce marine conservation in the region.
The extended area boasts nature's gems; Tenjinzaki where the National Trust movement began in Japan, diverse geographic features in the coastline including internationally-recognized rare fold that looks like a phoenix, and in the sea, the northernmost coral community in the world and the fluorescent colored sea anemone called "ookawariginchaku," which only lives in Japan.
It takes 2 hours by train from Osaka or 1 hour from Tokyo by airplane to get here. We warmly invite you to visit the Yoshino-Kumano National Park once, and enjoy all the unique natural wonders in Japan that this place can offer.