Relay Column
Achieving Co-benefits on Regional and Global Environment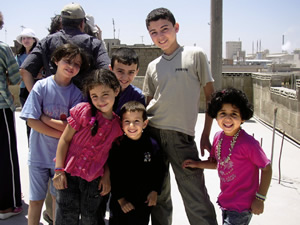 Children gathered to see our air pollution survey in Syria (These local children were seen here at a JICA-assisted meteorological observation device installation point near a comprehensive chemical fertilizer plant (General Fertilizer Company: GFC) in Qattinah village, Homs City, Syria. The plant affects them severely depending on wind direction.)

Osumi Co., Ltd. has specialized in measuring and analyzing pollution prevention in Japan since its foundation in 1968 under a mission "to keep providing a 'safe' and 'secure' environment for people on earth." Our extensive expertise in environmental issues from regional to global scales has helped continue expanding our business.
Our past accomplishments involve JICA projects to improve environmental management competency in Syria, and to enforce countermeasures on air pollution in Ulan Bator, Mongolia. We are currently working to achieve co-benefits, of both GHG reductions and regional environmental improvements.
The following list describes some examples from the 12 JCM co-benefit projects with which we have been involved.
Higher-efficiency boilers for heating in Mongolia
Energy saving and CO2 emission reduction measures such as introducing fly-ash mixed cement, and improving coal-fired power plants in Mongolia
Utilization of agricultural biomass in cement burning as a fossil fuel alternative method in Laos
Ongoing JCM project building through inter-city cooperation of Da-Nang city and Yokohama city
Other related co-benefit projects are the promotion and demonstration projects of JICA-supported energy-saving business currently being carried out in Da-Nang City, Vietnam.
My future goals are to produce results with the application of concentrated expertise, along with support from related organizations.

Developing Biodiversity Conservation Educational Materials in Bangladesh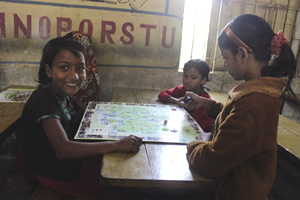 Elementary students enjoy learning about environment using our board-game style material.

JEEF, for the sustainable coexistence of people and nature in and out of Japan, conducts environmental education activities featuring hands-on learning. Our overseas initiatives have extended their international environmental education efforts, mainly in Asian countries such as Bangladesh, Indonesia, Bhutan, and Thailand, working with local partner organizations. Since January 2013, JEEF in cooperation with a local NGO, Bangladesh Environment and Development Society (BEDS), developed educational materials (text books, card game, board game, etc.) on biodiversity conservation based on the only world natural heritage site in Bangladesh "the Sundarbans region," which is also registered under the Ramsar Convention. Our approach to region-centered activity in this case entailed providing the materials to students in 50 elementary schools in the vicinity and their families, and establishing a professional training program for teachers to improve their teaching skills in environmental education. We aim to develop this program into an education model for biodiversity conservation in Bangladesh in the future for official accreditation and implementation in elementary schools nationwide as supplemental educational materials. Currently, pilot classes are being held in 82 grade schools all over the country.