Current topics
Outcomes from the Fourth Global Conference of the International Partnership for the SATOYAMA Initiative (IPSI)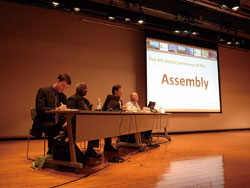 The Venue
The Fourth Global Conference of the International Partnership for the Satoyama Initiative (IPSI-4) took place in Fukui City, Fukui Prefecture from September 12th to 14th. Satoyama is a Japanese term for a mosaic of different ecosystem types such as secondary forest and agricultural land.Satoyama-like ecosystem exists around the world. A general IPSI assembly and a public forum were held under the theme "Implementing ISPI strategies towards realizing biodiversity conservation and a human lifestyle of prosperity".
The general assembly was attended by approximately 120 members, and Senior Vice-Minister of the Environment Tanaka and Fukui Governor Nishikawa headed the opening speeches. A 5-year "IPSI Action Plan" to was agreed upon.
Approximately 140 members attended the public forum, where Director-General Hoshino of the Nature Conservation Bureau welcomed the attendees.
Also, Fukui Prefecture officially appointed the week from September 8th to 14th as "SATOYAMA International Conference 2013 in Fukui", and organized various events associated with Satoyama. At the general IPSI meeting, participants enjoyed a visit to the Satoyama of Fukui Prefecture for the first time, and a vibrant discussion discussing topics such as Fukui Prefecture's efforts was carried out. All in all, the week proved to be a success with positive reviews from both Japanese and visiting participants.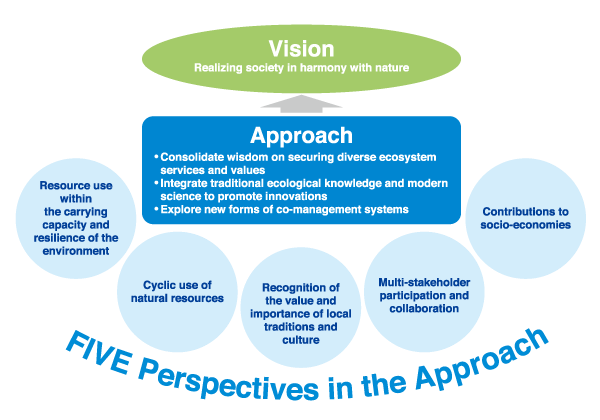 The First Japan-UNEP Policy Dialogue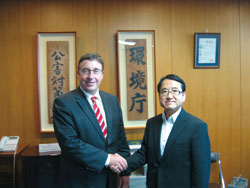 Mr. Steiner, Executive Director of UNEP and Dr. Yatsu, Vice-Minister of the Environment
The United Nations Environment Programme (UNEP) was established in 1972 as an organization to put into effect the Declaration on the Human Environment and the Action Plan for Human Environment which were adopted in the same year's Stockholm Conference on Human Environment, and carries out general coordination regarding environmental conservation within the UN system.
Japan has actively supported the UNEP's activities. For example, UNEP International Environmental Technology Centre (IETC) which operates in Osaka is mainly supported by the government of Japan. Japan also became a member of the bureau of the UNEP Governing Council in February 2013.
On October 8th, the first UNEP policy dialogue was held in Tokyo to discuss further strengthening of collaboration between Japan and the UNEP. Mr. Steiner, Executive Director, and other delegates attended from UNEP, and Mr. Ryutaro Yatsu, Vice-Minister of the Environment, and other officials attended from Japan.
During the policy dialogue, discussions were held over collaboration and cooperation in new action fields such as improving and strengthening IETC activities, along with its relationship with "Climate and Clean Air Coalition (CCAC)". They also discussed strengthening "Global Adaptation Network (GAN)" which promotes adaptation to climate change, based on the successful activities of "Asia Pacific Adaptation Network (APAN)". It was also agreed that the actions of UNEP Regional Office for Asia Pacific would also be strengthened to tackle air pollution issues in Asia.
United Nations Environment Assembly of the UNEP (UNEA)
President :
Mr. Hassan Hilal (Sudan)
Vice Presidents :
Mr. Ryutaro Yatsu (Japan)
Ms. Idunn Eidheim (Norway)
Mr. Manuel Pulgar-Vidal Otaróla (Peru)
Rapporteur:
Ms. Beata Jaczewska (Poland)
Members:
In 2013, the UNEP Governing Council consisting of 58 members was renamed as UNEA, consisting of all countries.
United Nations Environment Programme (UNEP)
Headquarter (Nairobi)
Executive Director


Mr. Achim Schteiner
Regional Offices
Europe


(Geneva)

Asia and Pacific


(Bangkok)

North America


(Washington DC)

Africa


(Nairobi)

West Asia


(Manama)

Latin America & Caribbean


(Panama City)

Seminar Held on Introducing Low Carbon Cities in Asia-Pacific

Japan's Support to Realize "Leapfrog" Low Carbon Development in Asia-Pacific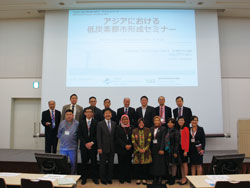 Member's photo to let Cities in Asia-Pacific "Leapfrog" Low Carbon Development
Seventeen Environmentally Sustainable Cities (ESC) feasibility studies using Japan's Joint Crediting Mechanism (JCM) have been conducted. Kick off meetings were held in noted project sites, Surabaya, Indonesia, Ho Chi Minh City, Vietnam and Iskandar, Malaysia in July. Similar meetings were also held for other projects. ESC feasibility studies using JCM aimed at developing a low carbon society as "Whole City" or "Whole Region" base and combined feasibility studies where fields studied were in water purification, sanitation, waste management and transportation systems. The studies were supported by the Japanese central government and the Intercity Relationship/Cooperation between local municipalities in Japan and participating countries.
A seminar introducing "Low Carbon Cities in Asia-Pacific" was held at Pacifico Yokohama on 22 October 2013, was attended by officials from participating municipalities and regions where we are conducting ESC feasibility studies using JCM.
Studies of Intercity Relationship/Cooperation in Kitakyushu and Surabaya, Osaka and Ho Chi Minh cities were introduced as the successful cases.
An active and insightful debate was held in the latter half of the seminar, where attendees shared the idea that cities in Asia-Pacific region must address issues of global climate change in addition to local environmental issues. They highlighted that it is important to approach the development of low carbon societies by receiving financial support from the Japanese government, with Intercity Relationship/Cooperation and community capacity building using JCM as the comprehensive manner.
The launch of the website shown below was announced in the seminar for further assistance to develop the Low Carbon Societies in Asia-Pacific.
http://www.env.go.jp/earth/coop/lowcarbon-asia/
The above web-site is currently only in Japanese. An English language site will be available soon.
17 ESC Feasibility Studies using JCM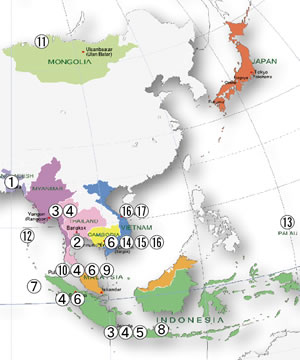 No.
Country
Area
Projects
1
Bangladesh
Dhaka
Low carbon & safe water supplies in rural areas: CO2 free & green water supply project
2
Cambodia
Phnom Penh City
Quantification of GHG reduction effect of countermeasures in water supply sector and study of MRV methodology
3
Indonesia
Jakarta
Feasibility study of dissemination of Japanese standard digital tachometer and unification of regional standard for the traffic pollution countermeasures in ASEAN metropolis
Thailand
Bangkok
4
Indonesia
Jakarta
Strategic promotion of recovery and destruction of fluorocarbons
Malaysia
Iskandar and Penang
Thailand
Bangkok
5
Indonesia
Jakarta
Feasibility study on financing scheme development project for promoting energy efficiency equipment installation
6
Indonesia
Medan
Eco-friendly water supply system in ASEAN countries: CO2 half water supply project
Malaysia
Iskandar
Vietnam
Ho Chi Minh
7
Indonesia
North Sumatra province
Project for leapfrog development in waste and wastewater management sector
8
Indonesia
 Surabaya
Technical assistance for designing a low-carbon city plan
9
Malaysia
Iskandar
The feasibility study for large-scale formation of greenhouse gas emission reduction projects
10
Malaysia
Penang and Seberang Perai
Project for developing a low carbon society through "Waste to Energy technology"
11
Mongolia
Ulaanbaatar City
Efficiency improvement of energy supply side and demand side
12
Myanmar
Yangon
Supporting low-carbon city through Joint Crediting Mechanism(JCM) project formulation
13
South-Pacific Island Countries
Integration of GHG mitigation and adaptation measures
14
Vietnam
Ho Chi Minh
HCMC-Osaka city cooperation project towards development of a low carbon city
15
Vietnam
Ho Chi Minh
Wide scale project formulation feasibility study under JCM through diffusion of water saving equipment and energy saving equipment
16
Vietnam
Ho Chi Minh City and Da Nang City
Feasibility study on low carbon community development project by promoting and motor bikes
17
Vietnam
Da Nang City
Introduction, issue identification and evaluation of Japanese technologies of waste management and processing