Voice of MOE's Staff in foreign country
Under heavy guard in Brussels !?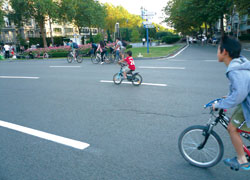 "What a huge road!"
In the early morning of one frosty Sunday in mid-September, a drove of police officers stormed into Brussels and blocked off all the main roads between the central areas of the city. Even the street in front of my local supermarket next to the motorway exit was blocked off and guarded by two officers, prohibiting any vehicles from entry. For a VIP visit ? Non. But actually, Brussels, the capital of Belgium and so-called "capital of Europe" because of various EU institutions, was holding its annual "Car Free Day".
"Car Free Day" in Brussels is conducted very seriously. Even emergency vehicles must abide the limit of 30km/h and all ordinary vehicles are prohibited from driving. (2 years ago, I was strictly prohibited by an officer and I had to wait in the supermarket's car park until 7pm, the end of the "day".) Meanwhile, the roads are filled with countless bicycles ! Even the huge four lane roundabout in Montgomery which I usually try to avoid driving into could be ridden around with glee by my sons. My dear sons, do you understand precisely what "Car Free Day" means ?