Relay Column
OECC dispatched an Environmental Mission to Myanmar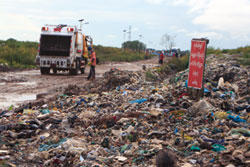 Htein Bin Waste Disposal Site in Yangon City
Myanmar is a developing country and expected to expand in the field of environmental cooperation.
To respond to the high interests of OECC members towards this country, Technical Committee of OECC formed a research group to collect Myanmar's basic information on environment and dispatched a one-week Mission to Myanmar from 29 September, 2013.
The Mission visited ministries related to environmental management including Ministry of Environmental Conservation and Forestry (MoECAF) and donor organizations such as ADB, WB and UNDP to exchange opinions, and inspected waste disposal sites as well as sewage treatment facilities.
In cooperation with MoECAF, OECC held a one-day seminar in Nay Pyi Taw on the theme of environmental policies and measures of Japan and Myanmar. In the seminar, Ministry of the Environment, Japan made a presentation on "Japan's Experience in overcoming environmental pollution," along with other presentations on the role of regional government bodies (City of Kitakyushu), countermeasures against water pollution (Techno Chubu Co., Ltd.), air pollution and climate change countermeasures (Suuri-Keikaku Co., Ltd.), waste disposal management (Yachiyo Engineering Co., Ltd.), environmental monitoring system (Horiba Ltd.), nature conservation (IDEA Consultants Inc.) among others. The city development committees of Yangon and Mandalay presented their environmental problems, situation and policies. The seminar was attended by 50 participants, including delegates from related ministries.

Working as a Network to Solve Environmental Issues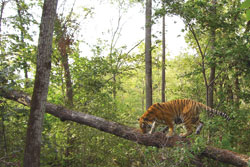 The boreal forest, home of the Amur tigers
The Global Environmental Forum (GEF) is a nonprofit environmental organization dealing with scientific research and studies on global environmental issues, the publication and advocacy of these works, as well as policy advice. They collaborate and cooperate with governments, corporations, NPO/NGOs as well as the media, form networks and work across various fields in an effort to solve a broad range of global environmental issues such as climate change, deforestation and desertification and to build a sustainable society.
For example, in a Taiga Forum campaign, together with organizations and companies such as FoE Japan, Ricoh and Patagonia Japan, they produced a film "Message from Taiga" with the aim to preserve the wild forests of Russian Far East. The film was created with help from the region's native people, and the film is currently being shown in Japan to raise awareness about the issue. The organization is also supporting economic independence of those people by buying and selling their honey through fair trade. This example shows how GEF works to solve global environmental issues through working together with other environmental groups and corporations.