Wadakura Fountain Park
Visit
Wadakura Fountain Park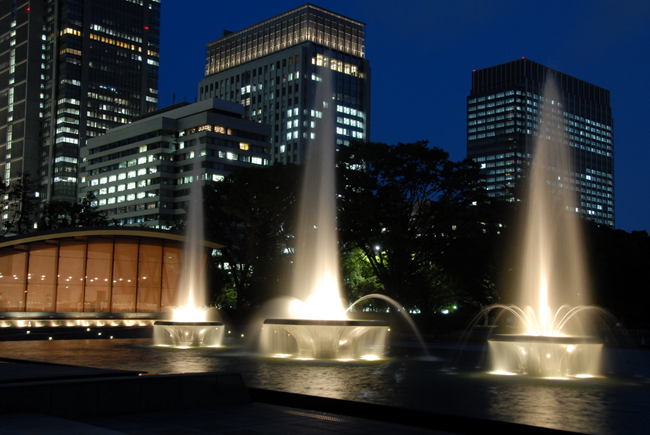 Wadakura Fountain Park was built in 1961 to commemorate the wedding of Heisei Emperor Emeritus (r. 1989-2019), the abdicated former Emperor. It was renovated in 1995 for the marriage of the Emperor (r.2019-).
The original fountain park and the main fountain (a fountain trio) were designed by renowned landscape architect Tamura Tsuyoshi. The jets of the fountain trio form the design of a chrysanthemum--the flower of the Imperial crest--and its buds. The elegant champagne-gold color of the underwater LED lighting displays in the evening creates a romantic ambience.
Kokyo Gaien's edifices are unmistakable images of its Edo-period (1603-1867) past. Tatsumi Watchtower makes a dramatic backdrop to photos taken from the park's glass bridge. Towards the back of the fountain park, an imposing Edo-period stone wall leads the way to Wadakurabashi Bridge, an original wooden bridge.
The park was renovated in 1995 with "continuity and new development" the key theme. An emphasis was placed on preserving the original design while adding modern elements. Additions include a waterfall fountain and globe water feature, rest area, and a glass bridge over the park's various water channels.
To Page Top