Nijubashi Bridge
Point of Interest in
Kokyogaien National Gardens
Nijubashi Bridge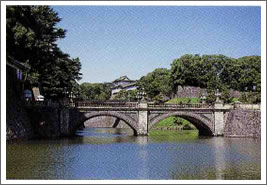 Nijubashi(which means the "Dobule Bridge") is one of the most well-known bridges in Japan. If you are looking at the bridge from the front, the two separate bridges appear as a single two storied bridge.
The correct name for bridge in the foreground is "Stone Bridge of the Main Gate" and the bridge in the background is called "Steel Bridge of the Main Gate". The well-known "Nijubashi" usally indicates this "Steel Bridge of the Main Gate". The name "Nijubashi" derives from the fact that in the olden days, this Steel Bridge was made of wood and was further reinforced with wooden beams, thus creating a so-called double bridge. This is why people began to call the bridge the "Double Bridge"(Nijubashi). The present bridge was re-constructed in 1964.
Nijubashi bridge is only opened on special occasions such as for official state guests and for holding formal ceremonies at the Imperial Palace. Also twice a year, people are allowed to enter from the Nijubashi Bridge to the East Plaza(Totei) of the Imperial Palace. The first occasions is on the 2nd of January, which is called "People's visit to the Palace for New Year Greetings" and the other occasion is on the 23rd of December, which is the Emperor's Official Birthday.