White Paper
Quality of the Environment in Japan 1994
  However, as was pointed out in Chapter 1, Section 3, qualitative changes in environmental problems as well as the spread of environmental problems on a global scale, has led people around the world to place the foundation of their economic activities on the environment, which is our "stock". At the same time, people have come to realize that a burden is being place on the environment and have also become aware of the importance of protecting the environment, which is the foundation for sustaining the existence of humankind. In other words, continued development that places a large burden on the environment eventually leads to an accumulated burden, not only on a regional basis but on a global basis. This may have an adverse influence on future generations even if there is no problem at present, with the end result being that we destroy the environment, which provides us with nature' s bounty and serves as the foundation for our continued existence.
  Thus, to sustain this environmental "stock" into the future, there is a growing consensus for the need to change methods of development and to establish a sustainable economic society that places little burden on the environment.
  This thinking, for example, has been integrated into the concept of "sustainable development", which has been the theme of international global summits, and into the basic philosophy of the Environmental Basic Law, which was instituted in Japan in November 1993. In other words, there is a growing awareness of the importance of establishing an economic society where minimal burdens are placed on the environment. This task is not a dilemma of choosing between "either economic growth or environmental protection" or "development or the environment." Rather, it involves rethinking production and consumption patterns to the present and aiming for economic development that places a minimal load on the environment. More specifically, it involves attaining greater efficiency in areas related to resources and energy and placing greater focus on increasing the replenishment and reuse of materials, reviewing such lifestyle customs as the wasteful disposal of materials, and attaining healthy economic development along with these changes in lifestyle.
  The notion of sustainable development and a sustainable economic society is gradually gaining acceptance even in Japan. In Japanese industry, which accounts for the largest portion of the nation' s economic activities, there is an increasing tendency for economic organizations and individual companies to establish philosophies that embody this concept.
  On the international front, the International Chamber of Commerce (ICC) announced its Industrial Charter for Sustainable Development. This charter is composed of 16 principles related to environmental management, which for companies is a crucial aspect of sustainable development. This charter aims to encourage the widest possible range of companies to follow these 16 principles, improve their environmental countermeasures, incorporate these improvement activities into their business operations, measure the degree of progress in these efforts, and announce these results both internally and externally. The charter also aims to induce companies to make environmental management an area of top priority as well as implement environmental impact preassessments; offer environment friendly products and services; develop, design, and operate facilities taking into consideration environmental concerns ; and contribute to technology transfers.
  In Japan, in April 1990, the Tokyo Chamber of Commerce issued a report titled Global Environmental Problems and Corporate Activities. This report contains proposals on the types of responses to environmental problems that should be made by corporations, the government, and individual citizens. In particular, it focuses on responses that should be made by companies, chief among these being to progress with resource and energy conservation efforts, make environmental considerations from an international perspective, train and educate personnel and promote overseas cooperation in environment fields, and carry out activities that deal with and raise the awareness of environmental problems.
  In April 1991, Japan's Federation of Economic Organizations (Keidanren) issued the Keidanren Environmental Charter, which marked the first time this organization clarified concepts and issued specific action guidelines for Japanese companies in dealing with environmental problems. With the aim of converting to a sustainable economic society, this charter focuses on how Japanese industry can coexist harmoniously with citizens and make contributions to the world by aggressively addressing environmental problems not only in Japan, but also on a global basis. Specific action guidelines in this charter included establishing management policies related to environmental problems, appointing a director to be responsible for environmentalrelated matters and setting up a structure for dealing with environmental matters, devising environment-related regulations and implementing one or more internal environmental audits per year, implementing environmental impact assessments and making efforts to reduced the environmental load in all phases of corporate activities, and establish independent standards. The charter also contains 10 articles under Matters Related to Environmental Considerations when Setting Up Overseas Operations.
  The charter has also been highly acclaimed overseas for its contents, which are considered to be very progressive, and because it is the first such charter to be published by Keidanren.
  In May 1992, Keidanren surveyed member companies (948 companies with a response rate of 57.0%) regarding the establishment of in-house charters and guidelines similar to the Keidanren charter. According to this survey, 40.8% of the respondents answered that they established or revised their guidelines or were making preparations to establish or revise their guidelines because of the Keidanren charter, which clearly reveals that the charter was instrumental in prompting companies to further progress with environmental-related measurer (Figure 2-1-2).
Fig. 2-1-2 Establishment of In-house Charter and Guidelines Similar to Keidanren's Global Charter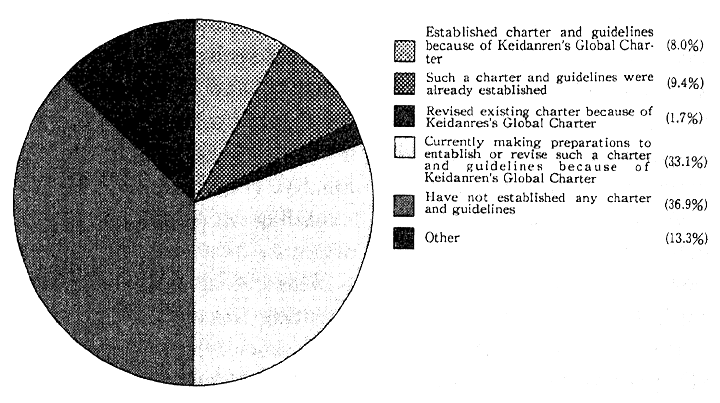 Source: Survey conducted by Keidanren
  In October 1993, the Kansai Economic Federation (Kankeiren issued its "Self Reformation of Corporate Management with an Eve Toward the 21st Century". This proposal expressed hopes that future growth and the structure of growth, both at the corporate and macroeconomic level, are conducive to environmental protection and balanced development of the world economy, and in harmony with the mature values of citizens. Based on this awareness, it proposed that "companies should think of themselves as members of both the local community and of the broadest community of all mankind, carry out appropriate responsibilities as ethical and responsible 'citizens,' while transforming themselves into organizations that are open to society.
  Even individual companies are aggressively expanding their efforts to address environmental problems as they approach the establishment of a sustainable economic society.
  To ascertain the state of companies' environmental-protection activities, the Environment Agency of the Government of Japan implemented its Survey of Environmentally Friendly Corporate Activities beginning in 1991. According to its 1993 survey (a survey of 2,080 listed companies with a response rate of 26.8%) more than half the companies, or 54.3%, said that they had already implemented or were in the process of implementing environment-related management policies. This included 47.8% of companies that said they had already implemented management policies and 6.5% that planned to implement such policies during 1993. By industry, 59.4% of companies in manufacturing industries had already or were in the process of instituting such policies compared with 52.6% of companies in the service industry, and 50.0% of companies in the construction industry. By amount of sales, a large proportion (82%) of companies with sales exceeding ¥1 trillion had already implemented environment-related management policies. (Figure 2-1-3)
  As can be seen from the preceding examples of charters by Japanese and overseas economic organizations and the management policies of individual companies, a clear-cut acceptance is emerging among industries of the idea of integrating the environment and economy ; this involves building an economic society capable of sustainable growth, placing limited burdens on the environment, and incorporating environmental considerations into economic activities. This philosophy became particularly ingrained in Japanese industry during the period that corresponded with the implosion of Japan's economic bubble, as industries reflected on the folly of solely pursuing the quantitative expansion that characterized the economic bubble. At the same time, industry became increasingly aware of the importance of establishing a sustainable economic society.
Fig. 2-1-3 Management Policies Related to the Environment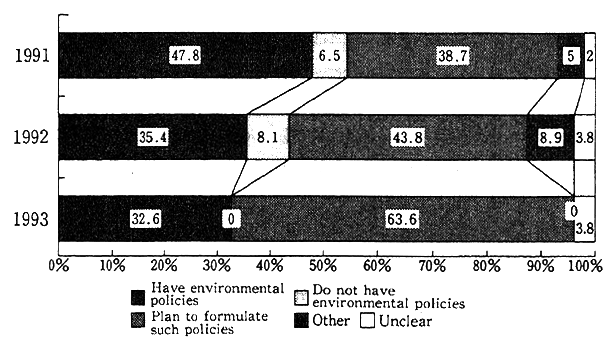 Source: Environment Agency
2-1-2 Relationships of Environmental Investments and the Economy
  Next, we would like to look at the relationship between the economy and environmental investments, which is the key to integrating the environment with the economy. In November and December 1993, the Environment Agency of the Government of Japan surveyed approximately 600 corporate managers and opinion leaders about environmental investments,, focusing on respondent awareness about the relationship between environmental investments and economic stimulus and job creation. Specifically, it solicited opinions regarding the general view that "from a medium, long-range, and macro perspective, investments in the environment can stimulate the economy while enabling the achievement of both environmental protection and a robust socioeconomy. Although during the 1970s pollution-prevention investments supported the economy, present environmental problems are becoming a problem in all spheres of the socioeconomy, and it is necessary to induce investment from a new perspective. Investments in the environment thus represent a new frontier for stimulating the economy and creating employment." The majority of the respondents either agreed completely. with this view or agreed based on such conditions as "if a consensus among the public can be reached, this can lead to the creation of ecobusinesses", "it is necessary for the government and the public sector to take the lead", and "international cooperation is necessary". On the other hand, there were also such opinions as "on a microeconomic and a short-term basis, increased cost burdens from environmental investments will have a restraining effect on the economy", and "compared with traditional public-works investments (for roads and harbors), investments in the environment have less of a cumulative impact in supporting the economy, but there is a likelihood that these investments will have an effect over the medium and long term.
  As can be seen from these responses, there are many views of the relationship between environmental investments and the economy, and there will be many people who believe that environmental protection and economic development can both be achieved, which -contrasts with the traditional view that environmental protection and economic development were necessarily in conflict.
  In view of these observations, we would now like to examine the relationship between environmental investments and the economy from a long term perspective using a systems dynamics model and from a short-term perspective using an industrial input-output table.
  (1) The long -term relationship between environmental investments and the economy
  The following section focuses first on an examination of the long-term effects of environmental investments on global economic trends. To gain a better understanding of the mutual relationships between the economy and the environment and resources, the National Environment Research Center performed a simulation analysis using a system dynamics model to examine these relationships with a particular emphasis on looking at the interaction of the system's variables, in a dynamic context, and analyzing the ways the variables change. The system dynamics model used in this analysis is a partially upgraded version of World 3 developed by Dennis Meadows and others.
  A particularly useful tool for considering the future state of the economy, World 3 analyzes the long-term interactions of five basic variables: population, industrial production, agricultural productions nonrenewable resources, and pollution. In examining the environment and economic activities, the model shows various relationships, includ-. ing how industrial production is affected by decreases in resource reserves and the depletion of resources caused by the production of industrial goods, as well as how industrial production is restricted when labor supply decreases due to the adverse effects of increased pollution on the population. With regard to environmental pollution, the model links the adverse effects of such factors as atmospheric pollution, PCB and DDT contamination, and other forms of pollution on human health and agricultural production and takes account of the special characteristics of such pollutants, namely that the effects may only be apparent in the long term as they accumulate in the environment and much time elapses before the damage from these pollutants actually emerges. In our analysis, environmental investments are defined as "investments aimed at promoting technologies for resource conservation" (hereafter called resource conservation investments) and "investments to reduce the volume of pollution emissions" (hereafter called pollution prevention investments). To ascertain how the relationship between the environment and economic activities improves when such investments are made, we have upgraded World 3 by adding a new module that shows how improvements in resource conservation technologies resulting from resource conservation investments and how improvements in reducing the volume of pollution emitted as a result of pollution prevention investments affect the outcomes (Figure 2-1-4).
Fig. 2-1-4 The Basic Structure of World 3, Adapted to Estimate Effects of Environmental Investments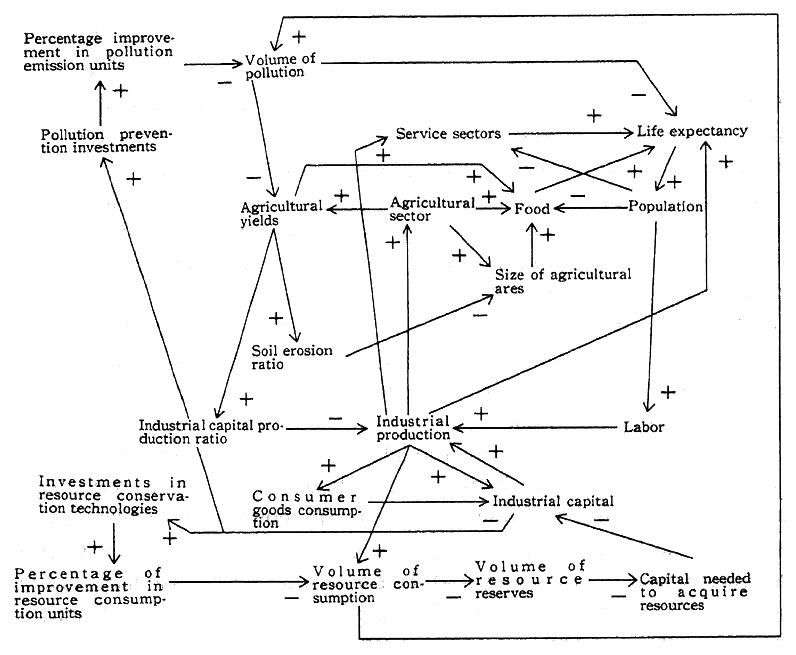 Source : National Environmental Research Center
Note : World 3 is an upgraded version of the World Model, which was used in the Club of Rome's Limits to Growth, to shed light on the limits to growth imposed by resource and environmental restrictions. This book had a tremendous impact worldwide when it was published in 1972. World 3 was used for analytical purposes in Beyond the Limits, one of the authors being Dennis Meadows.
  Specifically, although resource conservation investments result in a short-term decline in capital invested in industrial production and a decline in production activities, such investments yield an improvement in resource consumption units and a decline in resource consumption. Along with this, the rate of the decline in resource reserves slows and the amount of capital needed to acquire resources decreases. These factors ultimately lead to a rise in the amount of capital available for direct investment in industrial production, contributing to an increase in industrial production. Furthermore, as the volume of energy consumed declines, the amount of pollution emitted decreases. Pollution prevention investments also cause a short-term decline in capital invested for industrial production and a decrease in industrial production, but lead to an improvement in pollution emission units. As a result, the volume of pollution emissions drops and pollution decreases, and, along with this, life expectancy rises, the labor supply grows, and industrial production expands. These relationships have been incorporated into the model and are used for our analysis.
  To a certain extent, this model incorporates the impact of technological progress and the diffusion of technology as well as the market supply and demand mechanism, which are believed to work toward restoring the balance of an economic society. However, the effects of completely new technologies and the use of alternative resources are not included. Also, we have used provisional values for difficult-todetermine figures such as those needed to measure the relationship between environmental pollution and life expectancy.
  Using the model, we have set up four scenarios and analyzed projected trends in the relationship between environmental investments and the economy over the next 100 years. These scenarios include scenario A: no environmental investments are made; scenario B: environmental investments as a percentage of industrial investments are low; scenario C: environmental investments as a percentage of industrial investments are high; scenario D: adjustments are made to environmental investments as a percentage of industrial investments to ensure stable increases in industrial production. It should be pointed out that the time periods for variable changes and the rates of change in variables are highly reliant on hypothetical provisional figures used in the model. Also, it cannot be determined which scenario the current situation is in fact close to. Because of these factors, it is important to note that the following descriptions of time periods for variable changes are at the most hypothetical and are in no way intended to be forecasts. Moreover, for scenarios B and C, we have established a fixed percentage of environmental investments to industrial investments after the year 2005, and in all scenarios, we have made an equal 50-50 allocation for resource conservation investments and pollution prevention investments.
  The results of each scenario are shown in (Figure 2-1-5).
  In scenario A, where no environmental investments have been made, industrial production grows rapidly through the first half of the 21st century. Nevertheless, this leads to a depletion of resources, and industrial production falls rapidly after reaching its peak. Moreover, the pollution index rises sharply from around the middle of the 21st century. Per capita service production and consumer goods fall sharply from around the middle of the 21st century and decrease to mid-2Oth century levels by 2100. In scenario B, growth in industrial production is slightly lower than in scenario A as are the peak figures for industrial production. Nonetheless, because of environmental investments, the rate of decrease in resource reserves and the highest figures for the pollution index in scenario B are significantly lower than in scenario A. As a result, the eventual decline in industrial production in scenario B is significantly less than it is in scenario A. This also holds for per capita service production and consumer goods. Although the growth rate for per capita service production and consumer goods decreases in scenario B, the eventual decline is much less severe than that in scenario A. However, if there is an over-allocation of capital for environmental investments, although resource reserves will be abundant and the pollution index figures will be low, industrial production will trend downward throughout the 21st century. Moreover, per capita consumer goods and service production will also decrease precipitously (scenario C). Finally, in scenario D, where the percentage of environmental investments to industrial investments is adjusted every five years to ensure that industrial production does not decline, it is possible for industrial production to continue to rise for the approximately 100-year period to 2100 (Figure 2-1-6). Also, because population will increase in the same manner as industrial production, it is possible to stabilize per capita consumer goods and service production at early 21st century levels (scenario D).
Fig. 2-1-5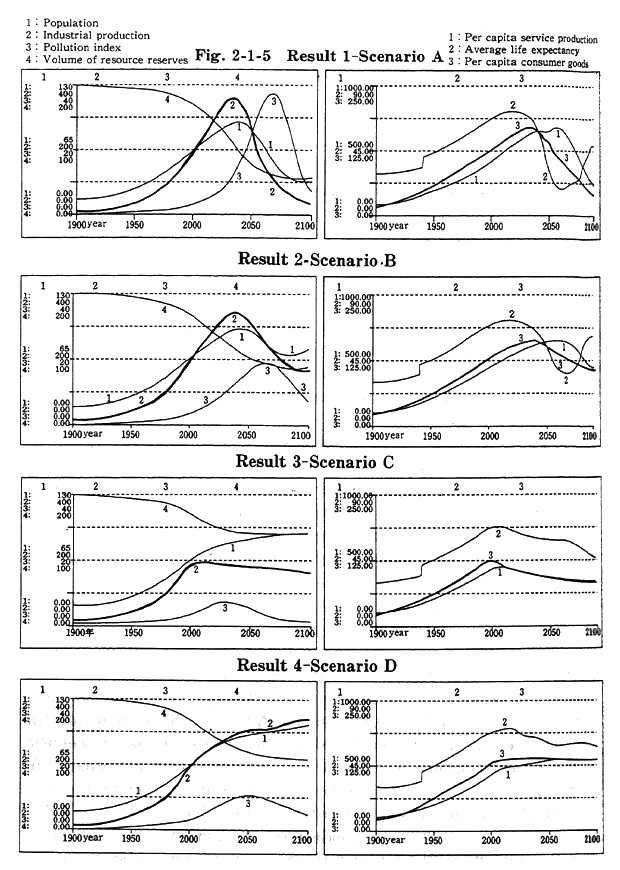 1:Population(100 million people)  1:Per capita service production(US$/year-people)
2:Industrial production(US$10 billion/year)  2:Average life expectancy(years)
3:Pollution index(the value of pollution in 1970 has been set at 1.)  3:Per capita consumer goods(US$/year-people)
4:Resource reserve(Units of resource reserves)
Fig. 2-1-6 Trends in the Percentage of Environmental Investments to Industrial Capital in Scenario D

  The results of the preceding model simulations underscore the importance of making environmental investments from an early stage as one means of achieving sustainable economic development. In other words, as illustrated in scenario D, by making large investments in the early part of the 21st century and then gradually beginning to reduce these investments while investing in industrial production from the middle of the 21st century, it is possible to stabilize production at a relatively high level into the latter half of the 21st century. Specifically, by stabilizing basic units of pollution emissions and resource consumption rates at an early stage, the capital invested for environmental investments up to that point can be redirected toward industrial production. This will not have a large adverse impact on the environment even in the latter half of the 21st century and will enable industrial production to be maintained. More than anything else, our results are based on the hypothesis that once the units of pollution emission and units of resource consumption decrease as a result of environmental investments, these basic units can be maintained at a low level even if no new additional environmental investments are made.
  It can be concluded that, to establish a foundation for sustainable economic development even in the event of future restrictions on resources, rather than continuing to expand industrial production, which would result in relatively large basic units for resource consumption and pollution emissions, it would be better to slightly reduce the rate of increases in industrial production and then, after establishing resource conservation and environmental pollution prevention, to expand industrial production and stabilize per capita consumer goods.
  It is important to note that this analysis was carried out using a simplified model that does not necessarily indicate actual conditions. The large number of factors that remain uncertain make environmental forecasts particularly difficult. Our analysis is no exception ; however, our analysis may be seen as a tool for considering ways the environment and the economy can be integrated on a global scale in the future,
  (2) The short-term production and employment inducement effects of environmental investments
  One effect of environmental protection investments is a decrease in demand caused by rising product prices that result from higher costs. On the other hand, environmental protection investments also create new demand, which has a positive effect on the economy and employment. To ascertain the influence of environmental investments on the economy, the fiscal 1991 Environmental Annual Report focuses on the economic effects of pollution prevention investments by analyzing the state of the Japanese economy from 1965 to 1975, when aggressive investments in pollution prevention were carried out. Calculations were performed on the effects of pollution prevention investments from two perspectives: the impact of rising costs that accompany such investments on real GNP, and the impact of increased demand caused by these investments on real GNP. The results of these calculations show that "just as in the period of high economic growth when concentrated investments to expand and strengthen production were made, when the peak in pollution prevention investments coincided with the recession following the oil crisis, these investments reinvigorated slumping demand and supported capital investment and employment to a certain extent."
  The OECD is conducting surveys in a number of member countries to ascertain the effects of environmental protection investments on employment. According to the OECD, the results of several surveys show that the net job creation effect of environmental protection investments are either positive or, at the very least, neutral over the short term.
  The Environment Agency used an industrial input-output table to analyze the short-term production and employment inducement effects of environmental investments. To analyze the many complex mutual relationships and dependencies among various industry sectors, the input-output table uses a matrix to show how goods produced by specific industries are later used as intermediate goods by other industry sectors. This input-output analysis enables us to learn how demand in a certain industrial sectors spreads to other industry sectors and finally, ascertain the level of production that is induced in all industries. It is important to note that the effects of price increases resulting from higher demand, and the secondary effects stemming from a rise in income occurring with increased employment have been omitted.
  Specifically, we will look at the degree of short-term economic effects, including production and employment inducement effects, of environmental protection investments implemented through public works projects. To do this, an input-output analysis was conducted on four types of environmental protection operations: sewerage-related (installation of sewerage pipes and treatment plants), waste incineration plant-related, environmental research institution survey-related (the construction of monitoring stations, the purchase of equipment, and maintenance), and highway beautification-related. For our analysis, we first made a detailed analysis of the various acquisition costs for each of the previously mentioned four public-works operations. Next, based on the thinking underlying the input-output analysis, input ratios were calculated and arranged into 32 industry sectors. Finally, using the input-output tables, we calculated the value of production induced and the number of jobs created in each of the four types of operations.
  To determine the total value of induced production, we analyzed the degree of production induced in each industry sector based on the assumption that ¥100 billion is used in each of the four environmental protection operations, with the value of induced production being an indicator of the secondary short-term economic effects.
  As can be seen in Figure 2-1-7, the production inducement value from the four environmental protection operations is about ¥197.1 billion, the same as for the construction industry.
  To examine the secondary economic effects from the perspective of short-term employment strategies, we analyzed the number of jobs that would be created in the event that ¥100 billion is invested in each of the four environmental protection operations.
Fig. 2-1-7 The Secondary Economic Effects of Environmental Protection Investments (based on input-output tables)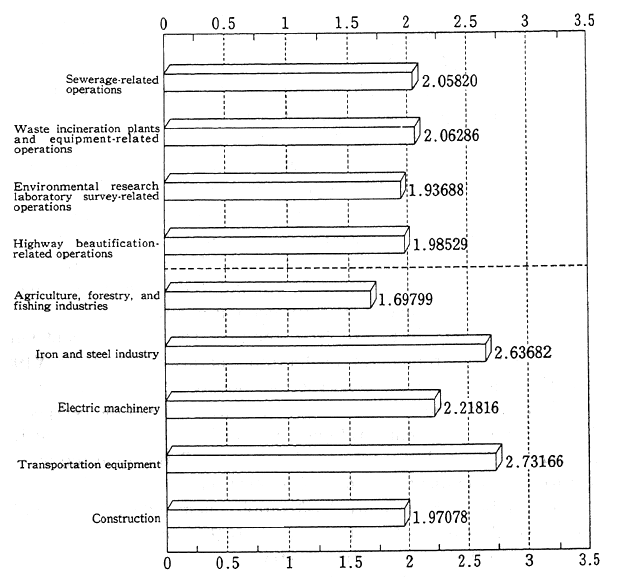 Value of production induced (X¥100 billion)
-Based on the 1990 Input-Output Tables (preliminary) -
Source: Environment Agency
Fig. 2-1-8 The Secondary Economic Effects of Environmental Protection Investments (based on input-output tables)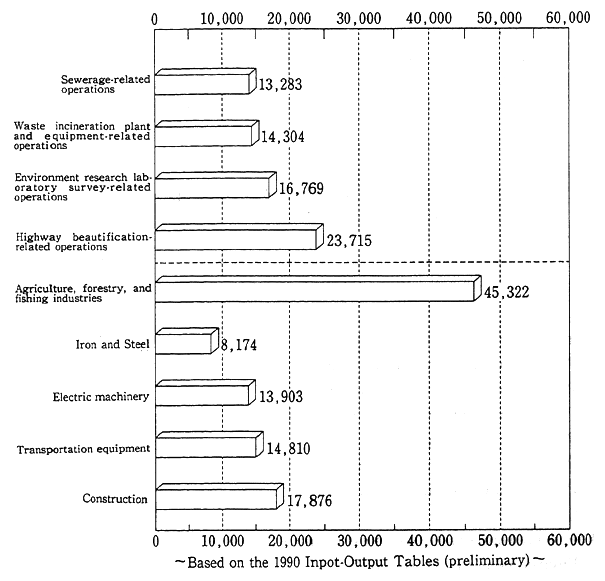 Source: Environment Agency
Note : The calculations of coefficients, however, were based on the 1985 input-output tables (employment tables).
  As can be seen in Figure 2-1-8, employment induced (the number of jobs created) in each of the four sectors is the same as the number of jobs created in the construction industry.
  As borne out by the input-output analysis, although investments in the four types of environment protection operations used as examples do not have any direct effect on long-term improvements in production capabilities, over the short term these investments have the same production and employment inducement effects as investments in the construction sector.
  Furthermore, it is believed that the investments in these environ mental protection operations will help cultivate so-called ecobusinesses, environment-related businesses and activities that have continued to gain prominence in recent years. Against a background of growing corporate and consumer awareness about the importance of environ mental protection, both the size and the sphere of ecobusinesses have continued to expand rapidly, although, as an industry, the ecobusiness sector is still in its infancy. At present, future environmental protection investments are expected to be brisk and the expansion of the ecobusiness sector will have a positive effect on supporting the further development of ecobusinesses. Also, from a long-term perspective, these investments will probably stimulate the economy.
  Furthermore, as was indicated previously, environmental investments either lead to an improvement in or prevent a worsening of environmental problems. Over the long term, environmental investments also yield a combination of important economic benefits, including more stable supplies of labor resources, and energy.
  The short-term economic diffusion effects of environmental investments can be further understood by looking at research surveys carried out in foreign countries. One survey, for example, shows that in the United States in 1992, environmental protection investments were approximately $170 billion (about ¥18.7 trillion) (Table 2-1-1). When including the diffusion effects, these expenditures resulted in sales of approximately $355 billion (about 39.5 trillion) and the creation of employment for about 4 million people (Table 2-1-2), corresponding to about 3% of the workforce.
Table 2-1-1 Environment Protection Investments in the United States (1992)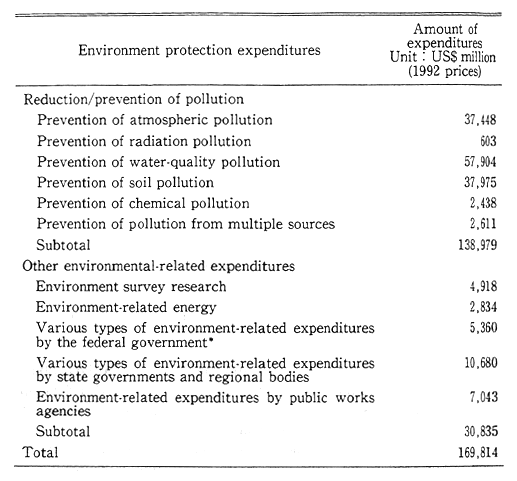 * Excludes expenditures included in the categories of environment expenditures for reduction and prevention of pollution.
Source: Management Information Services, Inc., The Net Impact of Environmental Protection on Jobs and the Economy, Washington, D.C., MISI, March 1993
Table 2-1-2 Number of Employees in Environment-Related Areas in the United States (1992)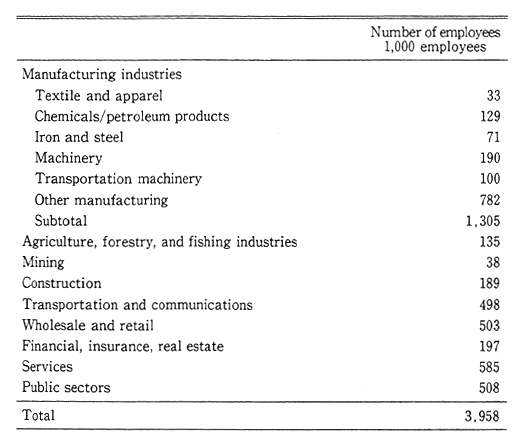 Source : Management Information Services, Inc., The Net Impact of Environmental Protection on Jobs and the Economy, Washington, D.C., MISI March 1993
Notes: Figures that appear in the text for sales and the number of employees were provided by Management Information Services.
  The OECD conducted a survey in the former West Germany to determine the number of jobs created either directly or indirectly by environmental investments in 1980, 1984, and 1990. According to this survey, the number of jobs created by these investments was approximately 433,000 in 1980 and 1984 (accounting for 1.7% of the total labor force) and about 546.000 in 1990 (1.9% of the labor force) (Table 2-1-3).
  The same OECD survey also investigated the net employment creation effect of public spending on environmental protection activities. This investigation revealed that when military expenditures were cut and environmental investments were made, employment was created for 28,000 people in 1980 and 19,000 people in 1985 (Table 2-1-4).
Table 2-1-3 Total Employment Creation Effects of Environmental Investments in the Former West Germany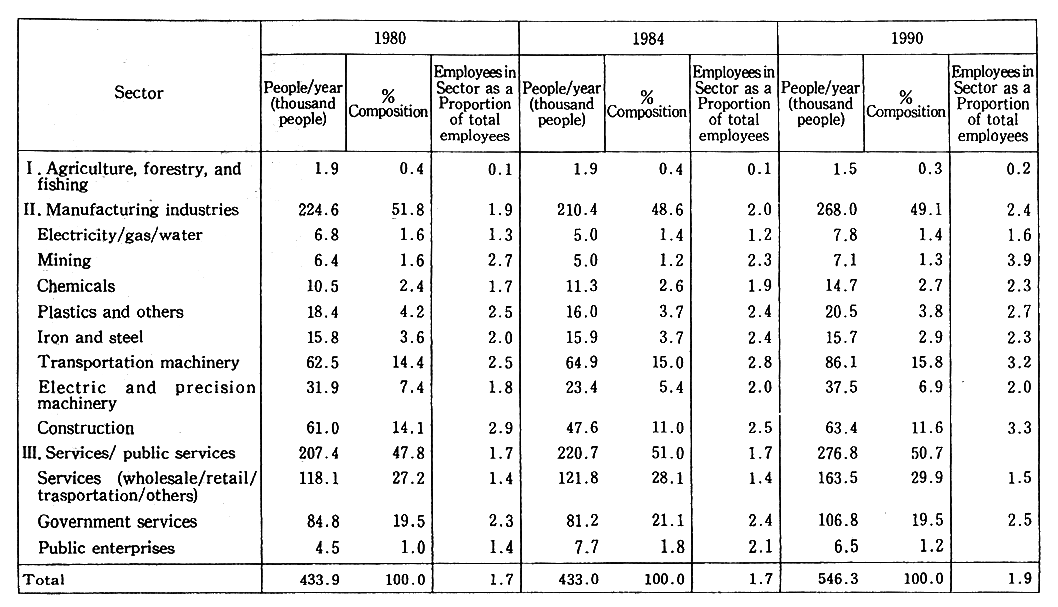 Source : Sprenger (1989) and (1992) and OECD materials
Table 2-1-4 Employment Creation Effects of Public Expenditures Solely for Environmental Protection versus Those for Nonenvironmental Protection Areas in the Former West Germany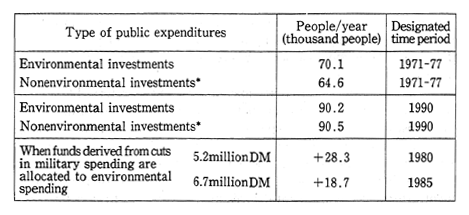 *Prevailing (given) public spending patterns
Source : Sprenger (1979), pp.197-198 ; Kiy and Loebbe (1990), p.359 ; Sprenger (1992), and OECD materials
Fig. 2-1-9 The Secondary Economic Effects of Environmnental Investments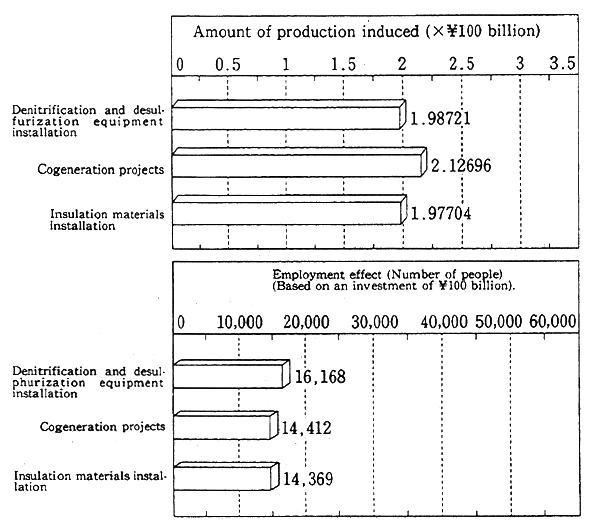 Source: Environment Agency
  We also also focused on environmental investments in three private-sector business areas-denitrification and desulphurization equipment , cogeneration systems, and insulation materials-which are expected to benefit greatly from environmental investments in the future, and examined the short-term secondary economic effects of investments in these sectors by analyzing the value of production induced and the number of new jobs created. The results of this analysis are shown in Figure 2-1-9.
  The private-sector environmental investments referred to are not the net increase in investments but are environmental investments that are substituted for other types of investments (for example, making environmental investments instead of investments to increase, strengthen, or rationalize production). Therefore, it is necessary to keep in mind that there would also be production and employment-inducement effects if environmental investments were substituted for other types of investments in non-environmental fields. For example, the value of production induced and the number of new jobs created by investments in denitrification and desulphurization equipment, cogeneration systems, and insulation materials installation, is about the same as equivalent investments made in the construction industry.
  Over the short term, the previously mentioned investments in the four types of environmental operations have a sufficient production and employment inducement effect. Also, as was shown by the systems dynamics model, over the long-term, continuous environmental investments made in anticipation of environmental restrictions can contribute to the establishment of sustainable economic development with minimal burden on the environment. Moreover, these investments will play a vital role in supporting growth of such new fields as ecobusinesses.
  As discussed, continuing environmental investments are crucial for attaining sustainable economic development. Targets for investment in the private sector are based on the utility of the investments and not macroeconomic effects. The previously mentioned Environment Agency Fiscal 1993 Survey of Environment Friendly Corporate Activities compared changes in corporate budgets for environmental protection investments between fiscal 1992 and fiscal 1993. Of the 166 companies surveyed, 38.0% responded that they increased their budgets for environmental protection, 35.5% maintained their budgets at the same level as the previous year, and 18.1% cut their budgets from the previous year (Figure 2-1-10).
Fig. 2-1-10 Changes in Environmental Protection Budgets from the Previous Year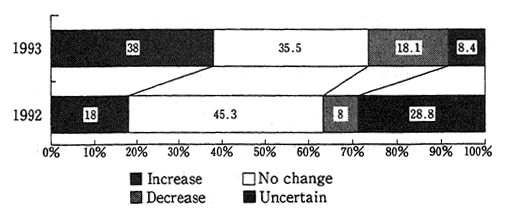 Source: Environment Agency
  In the fiscal 1992 survey, 18.0% of companies increased their environmental protection investment budgets from the previous year,45.3% maintained budgets at the same level as in the previous year, and 8.0% of the companies cut their budgets. Therefore, even amid an economic slowdown, the proportion of companies increasing their budgets (in fiscal 1993?) rose 20 percentage points. On the other hand, the proportion of companies that cut their expenditures also rose, increasing 10.1 percentage points from the previous year. As can be seen from this survey, companies are taking different approaches to making environmental investments. The survey also looked at changes in corporate allocations for environmental-related investments as a percentage of total budgets for fiscal 1992 and fiscal 1993. Of the companies surveyed, 37.3% reported they had increased their environmental investments as a proportion of their total budgets, 41.0% stated that this proportion of environmental investments was virtually unchanged, and 12.7% of companies responded that environmental spending decreased as a proportion of their total budget (Figure 2-1-11).
Fig. 2-1-11 Trends in Environmental Protection Budgest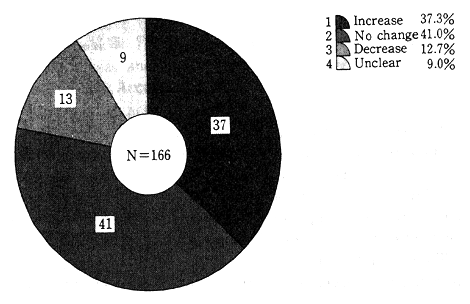 Source: Environmental Agency
  Also, with regard to bearing the burden of environmental protec. tion costs, the largest proportion, or 68.6% (64.6% in fiscal 1992), of the companies responded that they would bear as much of the cost burden as possible as long as this burden did not have a serious adverse effect on performance, 9.0% of the companies (13.3% in fiscal 1992) said they would bear environmental costs regardless of the effect on performance, and 9.9% (10.4% in fiscal 1992) said they believed that it is sufficient to bear the smallest possible burden to ensure that environmental protection standards are met. Reflecting the prolonged economic slump, one-third of the companies that previously said they would bear environmental costs regardless of the effect on performance shifted to the category of bear as much cost burden as possible as long as this did not have a serious adverse effect on performance. (Figure 2-1-12).
Fig. 2-1-12 Opinions Regarding Cost Burdens of Environmen-tal Investments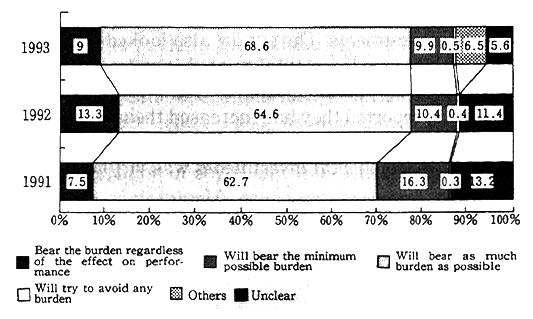 This survey reveals that there are companies that view environmental investments as rising costs and, because of the prolonged economic slump, are striving to reduce these costs. In contrast, along with the growing awareness of the importance of environmental protection, a rising number of companies are aggressively making investments in environmental protection despite the current economic slump.
  To respond to environmental problems, including those on a global scale, it is necessary to make continued environmental investments. Also, companies are making further environmental investments in line with their concerns about the effects of economic activities on the environment. Although it is necessary for various bodies to take a cooperative approach, a principal issue in the future will be the establishment of a social environment that encourages voluntary environmental protection activities similar to those being made by some companies.
2-2 Changes in Industrial Activities to Promote Environmental Preservation
  The first section of this report examined the relationship between economic activities and the environment, economic impact of environmental investments, and independent measures being undertaken by Japanese industry to integrate the environment and the economy. In this section this relationship is viewed from a different angle, using the recent activities of Japanese industry as a backdrop to examine the rapid growth in eco-businesses over recent years.
2-2-1 Initiatives by Japanese Industry
  Japanese industry, in line with the general concept of building a sustainable socioeconomic structure, is promoting environmental reforms that go beyond the conventional means of installing sulfur oxide and nitrogen oxide emission redhuction and other equipment at the end of production processes to include lower resource consumption and energy use. Japanese companies clearly recognize that their own products can be a source of environmental degradation and are taking wide-ranging steps to reduce the ecological impact of resource use, production processes, and product contents, and are striving to promote recycling after use. According to a recent survey by the Environment Agency on corporate activities at the technology and product development stages, 82.4% of Japanese companies work to minimize environmental impact and 48.1% of enterprises emphasize the development of recyclable parts and components at the product-design stage. These figures represent a large increase from the 54.4% and 39.9% recorded in a similar survey conducted in fiscal 19~92 (Figure 2-2-1). At the production stage, 72.6% of companies take action to reduce industrial waste, 62.1% endeavor to decrease energy use and resource consumption, and 61.9% have already switched to production practices that result in low-polluting or nonpolluting byproducts (Figure 2-2-2). These figures indicate substantial improvements over the 62.7%, 50.9%, and 49,3% recorded in the fiscal 1992 survey. Moreover, the proportion of companies that insist on conducting preliminary checks of potential trading partners' records to verify environmental practices or that find themselves having to answer such inquiries was 62.5%, up from 34.8% in fiscal 1992. (Figure 2-2-3)
Fig. 2-2-1 Corporate Environmental Considerations at the Development Stage

Source: Environment Agency
Fig. 2-2-2 Environmental Considerations at the Production Stage

Source: Environment Agency
Fig. 2-2-3 Other Environmental Considerations

Source: Environment Agency
  In addition, companies must work steadily and systematically to reach environmental protection targets as well as sales and profit goals by actually implementing environmental planning concepts. An Environment Agency survey of environment-friendly corporate activities in fiscal 1993 revealed that 36.7% of respondents had implemented business strategies and concrete action plans for reaching specific targets, while 10.9% of companies planned to initiate such programs during fiscal 1993, bringing the total of companies with clearly defined environmental programs to 47.6%. Of these companies, 25.4% started these programs in fiscal 1992 and 55.6% inaugurated such operations in fiscal 1993. A general outline of business strategies and actual goals as of fiscal 1993 is given in Figure 2-2-4. As the results of the survey indicate, Japanese companies are promoting a wide range of activities aimed at preserving the environment.
Fig. 2-2-4 Corporate Development of Concrete Action Plans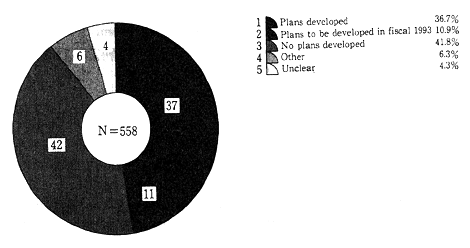 Source: Environment Agency
  The following section illustrates examples of activities undertaken by progressive companies in the construction, production, retail, transportation, service, and agriculture, forestry, and fishery sectors to reform their environmental policies and respond to specific problems in their respective fields.
A. Construction
  The disposal of leftover materials, displaced soil, and other by-products is a particular problem in the construction industry. In line with the Law for Promotion of Utilization of Recyclable Resources passed in fiscal 1991, companies are making diligent efforts to enhance environmental protection by improving disposal methods and promoting greater recycling of soil, concrete and asphalt slab, and wood. For example, in 1989, 282 general contractors formed a company to handle construction waste disposal. This company separates leftover materials for recycling and discard, and properly disposes of waste by-products.
  Also, large-scale construction firms provide know-how and finan. cial assistance to enterprises specializing in construction waste disposal, helping these companies to build facilities and promote the reuse of discarded materials. In line with their environmental management policies, these companies are working to protect the natural environment, recycle materials, use resources and energy more efficiently, and reduce energy consumption. They also issue guidelines on proper construction procedures for construction projects in areas with delicately balanced ecologies and on methods for decreasing the volume of discar. ded materials, recycling by-products, and curtailing energy consumption. The construction industry plans to set up promotion systems for such activities, issue evaluation reports, and establish response systems to apply these measures to overseas projects.
B. Manufacturing
  Manufacturers are introducing energy-saving technologies that address the problem of global warming, discontinuing the use of CFCs and trichloroethane in cleansing and foaming agents for industrial processing, promoting the recycling of products and components, and working to reduce the environmental impact of waste treatment and disposal. With a view toward changing production policies to conform with environment-friendly practices, progressive companies are looking into such issues as how their products are disposed of, what products or components can be recycled, how to minimize environmental impact at the product design stage, and how best to use environment-friendly materials in manufacturing. In their production processes, companies are working to make their facilities more ecologically sound by introducing clean technologies and using raw materials with minimal adverse environmental impact to stop atmospheric contamination and water-quality deterioration. They are also actively promoting environmental management based on comprehensive corporate environmental policies.
  For example, one electronics manufacturer introduced a new corporate structure that facilitates the companywide implementation of environmental policies aimed at reducing the volume of CFCs and trichloroethane used in its production processes. A reduction plan drawn up in 1989 specifically for use within the new corporate structure is now in operation. In line with this plan, the use of CFCs has already been abolished. The current goal is to completely stop the use of trichloroethane in fiscal 1994, and the company is workirig to reduce production in advance of the introduction of stricter international standards (Figure 2-2-5).
Fig. 2-2-5 Trichloroethane Abolition Plan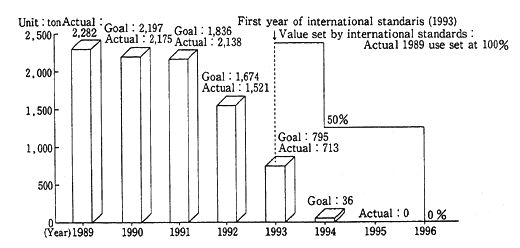 Source: Prepared from imformation of an electronics manufacturer
  Furthermore, to promote an environmental management system, this electronics manufacturer established a basic environmental plan that was adopted by all its domestic and overseas subsidiaries and affiliates. This plan allows the company to factor environmental considerations into all its corporate activities and establishes mechanisms for reducing resource and energy use ; promoting recycling; curtailing waste volume ; implementing environmental surveillance ; increasing support for independent environmental management programs; contributing to community activities; promoting education and increasing publicity to raise employee consciousness; and providing for necessary public disclosure of information on environmental management. Furthermore, the company is establishing monetary goals for waste product disposal and the use of recycled products ; setting up environmental management systems; taking into account environmental considerations in business activities; and establishing concrete promotion policies for product and technological development.
C. Retailing
  The retail industry is introducing improved types of packaging and reducing packaging volume, promoting the recycling of bottles, cans, and other containers, and considering ways to reduce the use of natural resources in light of the problems caused by growing volumes of waste and lack of disposal sites. Retailers have been making efforts to involve consumers directly in these activities for some time. Initiatives to improve packaging center on simpler designs and the use of more environment-friendly materials. Amid greater consumer awareness of the need to recycle, large chain stores and supermarkets are providing sites at their outlets for collecting milk cartons, bottles, aluminum cans, and other containers, and efforts to increase the number of recycling facilities are proving fruitful.
D. Transportation
  In the transportation industry, pollution in urban areas caused by nitrogen oxide emissions from trucks and other diesel-powered vehicles is a particular concern. Although the industry has taken steps to introduce electric, methanol-powered, and other low-polluting vehicles, is striving to promote the use of public transportation facilities and improve transport efficiency, greater cooperation from the automobile manufacturers is required. As an example of such collaboration, one public-transport vehicle manufacturer that had been using electric vehicles on a test basis cooperated with an automaker to develop a more vehicle-efficient electric car, which is now undergoing tests for use as a lelivery vehicle. In addition, the railroad industry is utilizing rolling stock made of lighter, quieter, and energy-saving aluminum alloy.
E. Services
  In the past, the Japanese service industry was relatively unconcerned with directly addressing environmental issues. Recently, however, reflecting the rise in awareness of the environmental impact of a wide range of socioeconomic activities, the service sector has begun working actively to address ecological problems. The finance industry, for example, is enabling customers to contribute to environmentoriented NGOs through its financial products. In the credit-card industry, some companies offer "affinity cards" which, when used, pledge a set amount based on transaction volume to fund groups undertaking environmental preservation activities. Furthermore, service companies are showing increasing interest in environmental management, surveillance, reporting, and other methods that facilitate the implementation of comprehensive environmental policies. Meeting these companies' needs is the growing environmental consulting business, which furnishes information, system design, and other services. Also, the travel industry, in line with the increasing awareness of environmental issues, is promoting trips for volunteers to work at nature sites as well as environmental theme tours.
F. Agriculture, Forestry, and Fishing
  Studies on the use of aquatic resources in line with principles of sustainable development have shown that the agriculture, forestry, and fishing industries are capable of maintaining viable levels of production while making provisions for natural resource renewal. Additionally, the agriculture industry has the skills and know-how to preserve greenery, purify the water used in rice paddies, maintain the quality of underground water, and undertake other environmental preservation activities. However, these industries currently face a large number of problems. In the agriculture industry, for example, the excessive or inappropriate use of chemical fertilizers and other harmful substances and the improper disposal of animal feces and urine have adversely impacted some local ecologies. Issues that the forestry industry needs to address include the allotment of timber resources, water purification and wildlife protection, and the absorbency and fixation of CO2. The rise in the area of badly managed forest lands due to the fall in rural populations and the decrease in the number and aging of personnel working in forestry is also an important issue. Concerning marine resources, particularly important to the traditional Japanese diet, the depletion of bottom fish and other saltwater species is a particular cause for concern. Stannate chemicals (organictic compounds) used in anti-fouling agents on ships' bottoms and for treating fishing nets are also pollution sources.
  To address these problems, the agriculture industry is promoting sustainable production and environmental preservation by encouraging a reduction in the use of chemical fertilizers and other harmful substances and by developing food production systems that better harmonize with local ecosystems. By letting wild ducks eat unwanted grasses instead of using herbicides to eradicate such weeds, for example, rice farmers are reducing their dependence on chemicals. In the fishing industry, action is centered on minimizing environmental damage by developing food-cultivation technologies that protect marine resources, and replacing organic stannate chemical coatings and other chemical substances with less-harmful substitutes.
  Additionally, the cooperation of consumers and other relevant groups is necessary to realize sustainable production in the agriculture, forestry, and fishing industries. As examples of such broad-based collab. oration, primary producers and processors of goods, citizens' groups, consumers, distributors, and other relevant parties frequently hold exhibitions under the theme of protecting forests, oceans, and land, forming cooperative networks, and take other steps to assist in making these industries more environment-friendly.
2-2-2 Eco-business
  Many of today's environmental concerns include such worldwide issues as the depletion of the ozone layer and the deforestation of tropical regions, as well as the more localized matters of air, water and noise pollution which, in turn, contribute to the worldwide problems of the accumulation and disposal of waste and global warming. As industry becomes more concerned about protecting natural surroundings, environmental consultation and financial services are springing up to serve emerging needs. Furthermore, in response to the growing demand from the population as a whole, traditional passive antipollution measures are being replaced by proactive policies that encourage the protection of the natural environment, the improvement of living environments, and the establishment of better public amenities.
  In Japan, the efforts to overcome the problem of industrial pollution have brought great advances in the development of such preventative technologies as anti-air-pollution systems and water purification machinery. The current production value of this type of equipment is estimated to be ¥1.1 trillion (Figure 2-2-6). Although the investment in the preventative technology represents an additional expense for those companies that require it, demand for such systems is prompting the growth of a new field in industry-eco-business.
  The growing awareness within industry toward the problems concerning the environment and diversifying needs for environmental protection are likely to foster growth within the new eco-business sector. In the following section the activities of the companies involved in this burgeoning field will be examined more closely.
Fig. 2-2-6 Production Value of Pollution Prevention Systems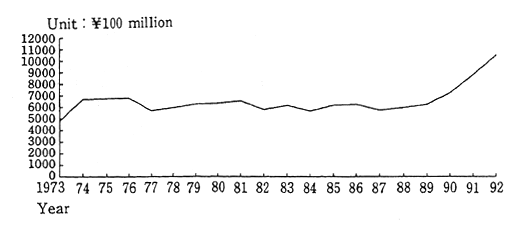 Source: Japan Industrial Machinery Manufacturers' Association
  (1) Trends in eco-business
  Eco-businesses offer products and services that help limit and reduce the burdens on the environment. Serving every industrial sector, companies in the eco-business enable corporations to conduct more environment-friendly activities by promoting a variety of technologies and systems. Eco-businesses are currently enjoying a period of expansion, reflecting changes in environmental problems and increasing and more diverse environmental protection needs.
  Although the roles and classifications of eco-businesses have yet to be clearly defined, for the sake of convenience they have been grouped here into four categories, as shown below and in Table 2-2-1 :
1. Devices to reduce environmental burden
2. Products with less environmental burden
3. Services beneficial for environmental conservation
4. Improvements in social infrastructure
Table 2-2-1 Classification of Eco-business

1) Devices to Reduce Environmental Burden
  Devices to reduce environmental burden encompass technologies that help reduce nitrogen oxide, sulfur oxide and other toxic emissions that are common by-products of industrial production. Other systems include those that improve energy efficiency, such as carbon dioxide fixation and disposal technology as well as cogeneration systems, and alternative power generation systems' which draw on hydroelectric, wind, or other natural sources.
  Japan's air pollution prevention devices, such as those used to control sulfur and nitrate emissions, have helped limit atmospheric pollutants, earning worldwide acclaim for their effectiveness. In particular, sulfur and nitrate reduction systems significantly lower acid rain levels, a benefit which has led to the export of many such systems to Europe and North America-areas that have suffered far more than Japan from acid rain damage-as well as to China and other developing countries where burgeoning industry is increasing the consumption of fossil fuels.
  Advances are being made in the development of technology to fix and decompose artificially-produced carbon dioxide, a greenhouse gas, while research has led to the introduction of inexpensive carbon dioxide separation systems that use such techniques as chemical absorption through amine solutions and film separation with high polymer membranes. Other studies in fixation and disposal technology involve photosynthetic fixing using seaweed and methanol synthesizing.
  Research into Freon gases, supported by bans imposed worldwide in an effort to protect the ozone layer, has led to the introduction of substitutes, as well as the development of recovery and recycling technology for CFC-based automobile coolants, refrigerator coolants, and semiconductor cleaning agents. In addition, new cleaning systems that use pure water are increasingly replacing CFCs.
  In the area of energy-saving equipment and technology, new fuel cells, cogeneration equipment, and super heat pumps all offer good prospects for greater energy efficiency. Fuel cells generate power by releasing hydrogen from such raw materials as gasoline, natural gas, or methanol and forcing it to react with oxygen and other elements in the atmosphere. Compared to commonly used power generation systems, which rely on fossil fuel combustion, fuel cells have the advantage of producing only low levels of nitrogen oxide, sulfur oxide, or other pollutants. At present R&D is being carried out on four different new types of fuel cell: phosphoric acid, fused carbonate, single electrolyte, and single high polymer. Of these, phosphoric acid fuel cells are already technically practicable, and every effort is being made to cut production costs.
  Engines, gas turbines, and fuel cells directly use the heat and kinetic energy of chemical reactions to produce power. In addition to this, cogeneration systems (also known as thermo-electric energy systems) use the waste heat to provide hot water or room heating, improving greatly the energy efficiency and reducing the carbon dioxide emissions. In recent years, cogeneration systems have become increasingly widespread following the development of smaller and more economical units suitable for a variety of power supply purposes. Usage of the systems is likely to become more common as manufacturers strive to develop ever more efficient systems.
  Heat pumps are systems that increase the temperature of liquids through pressure changes, chemical reactions, or absorption processes. Because heat pumps use waste heat, they create no air-polluting toxins. Another merit which is prompting the popularization of heat pumps is that they are usable both for cooling and for heating.
  Although the current heat pump technology is sufficiently advanced to be successfully applied to domestic or automobile air conditioning systems, the current maximum temperature of around 120 degree C is not high enough to satisfy most industrial needs. However, two new super heat pumps are being developed to meet the requirements of the sector; one is twice as efficient as current models, the other produces temperatures of around 300 degree C
  R&D is also being carried out into alternative power generation technologies that create and store energy from inexhaustible natural sources. Wind power, hydroelectric, geothermal, and solar generation systems are being closely examined to establish their potential in terms of output stability and control as well as costs.
  As the problem of waste disposal becomes more acute, the feasibility of power generation systems is also being looked into, and such systems have already been installed. Alongside these, the use of recycling equipment for aluminum, glass, and other valuable materials is also becoming increasingly more widespread.
2) Products with Less Environmental Burden
  Environment-friendly products-wa ste-reducing recycled goods and "green" product substitutes-help ameliorate the harmful effects of pollutants and, by reusing materials, lessen the overall burden on natural resources. Also falling into this category are power-saving appliances, some of which can be used in the home, that draw energy from the sun's heat or light. Many environment-friendly products are identifiable by the well-known ecomark label, which clearly distinguishes approved, or "green," products.
  As the problem concerning waste worsens, recycling technologies are developing in response. Recycling systems have already been designed for aluminum and steel cans, glass (cullets), and waste paper. The higher demand for recycled products and higher collection rates for recycled waste that have resulted from these developments have given value to these worthless materials.
  Plastic waste recycling has traditionally been hampered by a number of factors, including the diversity of plastic materials, product complexity and synthetization, low material costs, high recycling costs, and limited demand for the recycled products themselves. However, with the recent rise of the volume of waste plastic, the problem of its disposal has intensified, increasing the pressure to recycle plastic to make it possible to develop effective technology. In response, retrieval routes have been set up for such plastic containers and packaging as food trays, polyurethane bags, and PET bottles, and research is being carried out into how these items can be recycled into detergent containers, stationery, or recyclable food trays.
  Despite these efforts, however, some experts claim that recycling plastics is not cost effective when the energy expended in collection and recycling is taken into account and that reusing waste plastic as an energy-saving fuel source is actually more viable. Supporters of this theory are investigating the feasibility of deriving such combustible fuels as gasoline and naphtha from waste plastic.
  The automobile industry is continuing to promote R&D on more environment-friendly alternatives to gasoline- and diesel-fueled vehicles. This has resulted in the development of electric-powered, methanol- and natural gas-fueled engines and the introduction of the hybrid autom bile.
  Battery-powered electric vehicles emit no toxic waste and provide far higher levels of energy efficiency than those fueled by gasoline. Furthermore, ever-improving battery performance and lighter bodies allow electric vehicles to cover increasingly longer distances without difficulty. Greater diffusion of electric-powered vehicles in the future will depend on upgrading operational cost-effectiveness, specifically by reducing production and maintenance costs.
  Vehicles that burn methanol-a type of alcohol-instead of standard gasoline or diesel fuel produce far less nitrogen oxide than dieselfueled vehicles and emit little exhaust smoke or other air pollutants. Although these benefits have encouraged manufacturers to step up their R&D efforts, some additional improvements still need to be carried out, such as lowering further the nitrogen oxide levels, upgrading fuel efficiency and parts durability, and reducing the toxic formaldehyde emitted when starting the engine.
  Natural gas-fueled vehicles burn pressurized natural gas, a fuel that produces far lower levels of carbon monoxide, nitrogen oxide, and exhaust smoke than gasoline and other traditional automotive fuels. However, more widespread ownership of natural gas-fueled vehicles appears dependent upon the development of lighter fuel tanks, the reduction of the production costs, and the construction of sufficient natural gas stations.
  The engines of hybrid-powered cars are engaged during ordinary running conditions. Excess power is stored and used either through a generator or hydraulic pressure when stopping and starting. In addition to offering reduced energy consumption, hybrid engines provide the advantage of low nitrogen oxide and smoke emissions. Future R&D programs aimed at downsizing should help to raise hybrid engine diffusion rates.
  Among other anticipated developments in low-polluting transportation systems are solar and hydrogen-powered vehicles.
  Research on new materials has brought numerous green products, including biodegradable plastics, which are no different from the conventional nondegradable plastics in use but decompose naturally once buried. Despite the development of new plastics-including those combining such ingredients as plant-derived macromolecules or decomposable microorganisms, and those to which starch has been added to facilitate decomposition-high production costs have prevented their widespread use. Thus, although the prospects for increased acceptance of biodegradable plastics seem good, lower manufacturing costs must be attained if the materials are to achieve greater success.
  Although the durability of organic tin compounds encouraged the wide use of these compounds in marine paints, the growing awareness of their toxicity has prompted the development of nontin-based paints incorporating such elements as cuprous oxide to replace the noxious compounds. Similarly, environment-friendly detergents, paper products, and other goods that provide quality and performance equal to their nongreen counterparts have been developed. Many of these items are identifiable by the Ecomark label, which was first introduced to the Japanese market in 1989 by Nippon Kankyo Kyokai (The Japan Environment Association). The number of Ecornark-labelled goods has gradually increased year by year and by the end of 1983, 2,599 products representing 57 product category types bore the mark. (See Figure 2-2-7).
Fig. 2-2-7 Product Categories and Products Approved for Ecomark Labelling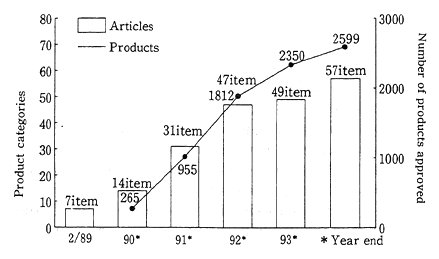 Source: The Japan Environment Association
  The promotion of domestic energy conservation measures has also brought advances in housing-related insulation technology, solar powered generating systems (wide use of which is unfortunately hampered by prohibitively high costs), and energy-saving electrical appliances.
3) Services Beneficial for Environmental Conservation
  Amid rising interest in environmental preservation, more and more companies are conducting environmental assessment at the startup of projects to prevent potential pollution (Figure 2-2-8).
  The rise in the number of companies conducting environmental assessments is attributable to the encouragement of such undertaking by regional governments and public corporations. In recent years, regional and local governments and public corporations have implemented and refined their environmental assessment systems. While
Fig. 2-2-8 Number of Environmental Assessments Conducted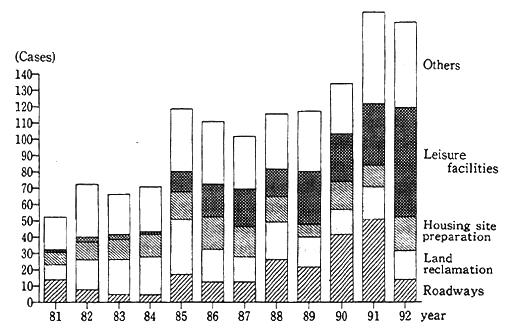 Source; Environment Agency
the national government is concerned with assessing large-scale schemes that fall under the supervision of the Environmental Assessment Enforcement Plan, regional local bodies focus on smaller projects, such as golf courses and resort facilities. Local governments and regional corporations expect to increase the scope of these assessments in the future to cover environmental surveys, estimates, and projects by contract with developers.
  Until recently, the waste recovery business was quite small, with a limited number of companies handling a few small and medium-size projects. Amid a rising consciousness of the problems posed by waste, however, companies are developing new waste disposal and natural resource renewal technologies and gaining experience in the design, installation, and management of waste disposal systemts. They are also cooperating with regional and local governments and public corporations in building waste-incineration power plants, recycling plants, and other infrastructure components. In the United States, one company involved in the waste recovery business achieves sales of some ¥1 trillion annually and employs more than 62,000 workers. Japan is experiencing large investment flows into this sector.
  Also in the United States, rigorous enforcement of the Superfund Law and the tightening of other regulations concerning soil contamination have resulted in rapid growth in the soil pollution cleanup business. Japan is experiencing increasing incidences of such pollution due to the discharge of agents used in the cleansing of semiconductors and of organic chlorine solutions used by dry-cleaning establishments. Many companies are now giving their full attention to this problem by introducing soil contamination cleanup technologies from the United States and other countries and implementing comprehensive antipollution measures. Adopting environmental consulting services is an important first step in addressing the problem of soil contamination, and studies and surveys to determine environmental conditions before a after the occurrence of pollution are becoming increasingly useful. The number of companies that apply advanced imported technologies to create comprehensive environmental services covering all stages from initial surveys to cleanup is also growing. Other businesses are conducting research on technologies to prevent soil contamination. Such research centers on low-temperature heat-treatment technologies, extraction methods using vacuum pumps, organic waste treatment methods that employ bacterial decomposition, and techniques for running high-voltage electric currents through contaminated soil to break up solidified masses of substances released into the soil when molten.
  Also springing up are environmental service companies that supply information on energy-saving and recycling trends, provide environmental surveillance know-how, and cleanup technologies for underground water and soil that has accompanied the rise in environmental activities conducted by corporations in a wide range of business fields. As corporate efforts, to address environmental problems shift from the conceptual to the action stage, a need has arisen for monitoring the activities of corporations using environmental management systems. To meet this need, the companies at the vanguard of the movement and environmental consultants who have studied similar cases in Europe and the United States in detail are working to supply environmental surveillance know-how, and this service is expected to become a high-growth business in the future.
  Rising awareness of the need for environmental preservation also spawned the recent growth of environmental vacation programs in which tourists participate in projects aimed at conserving nature or deepening their understanding of environmental issues. Tour members are often accompanied by specialists who give lectures in their chosen field. Some tours may also include volunteer activities at particular sites. Examples of these include tours for participants in international environmental conferences, excursions in which tourists may attend lectures on local conservation and environmental issues before departure, and tree-planting tours to tropical countries.
  In connection with the greater emphasis on environmental edlucation, businesses are setting up correspondence courses for their employees, establishing environmental study rooms on office premises, and using other means to arouse environmental awareness.
  The number and types of environment preservation-related financial products have grown and become diverse amid rising consumer awareness of the need for environmental preservation. For example, many public charitable trusts that previously funded education and cooperation in international research activities have diversified their activities to include provisions for developing urban and natural public amenities in recent years. Also, many financial products are being created that allocate a portion of earned interest or dividend income or other monetary rewards to NGOs undertaking environmental preservation activities. These "voluntary" financial products give customers the option of contributing to charitable causes through time deposits, regular deposits, and other savings accounts or through trust accounts that specifically provide assistance for nature-conservation or environmental-preservation activities. In addition, credit card companies are initiating secondary services that contribute a certain amount of funds based on the charges to the groups undertaking environmental preservation activities. Third, in the insurance area, policies are being established to compensate for damage caused by pollution. Through these efforts, products that concern environmental problems are being integrated into the financial service industry.
4) Improvements in Social Infrastructure
  In the public sector, changes in the socioeconomic infrastructure to reduce environmental impact include the construction or upgrading of sewerage facilities, public parklands, waste-disposal facilities, and railways and other public transportation facilities. In the private sector, these include the introduction of regional air-conditioning systems, equipment for reprocessing drainage water and utilizing rain water, and buildings with energy-saving mechanisms, as well as investment in other infrastructure components that assist in reducing energy consumption and restoring the use of resources. The establishment of such infrastructure components is intended to promote comprehensive environmental preservation rather than to make efforts to eliminate environmental strains directly from the production processes and products.
  Reflecting the development of a socioeconomic infrastructure built around mass production, consumption, and waste disposal, waste volume has steadily grown. To address this issue, the installation of high-temperature combustion incineration facilities to reduce plastic waste, the establishment of waste-incineration power generation systems, and the development of other technologically innovative wastedisposal methods are being promoted.
  Access to sewerage facilities in Japan was 47% in 1992, which is far lower than those of many other industrialized countries (Table 2-2-2). The provision of sewerage facilities promotes the alleviation of environmental strain on canals and other water bodies, and as the discharge of sewage into wetlands and other still bodies of water has become a large problem, the further promotion of sewerage systems is essential.
  In recent years, with the increased depletion of natural surroundings, a growing need for places of scenic beauty has emerged, and much attention is being paid to the importance of securing such places. The maintenance of national and quasi-national parks with their abundant natural features, observation paths, campsites, public toilets and other basic amenities, nature trails, government-designated historical, cultural, environmental preserves, and other public facilities is being promoted, and further expansion of such facilities is expected in the future.
  A look at per capita parkland in major world cities reveals how far Japan lags behind other nations. Tokyo's 23 wards average 2.6m2 per person, compared to London at 25.6m2 person, and New York at 23.0m person (Table 2-2-2). City parks and green areas are precious green enclaves that provide charming scenery, relief from intensively built-up, urban "heat island" areas, and habitats for wild birds and small animals, while playing an important role in the community. To meet the demands for more places of natural beauty, establishing scenic locales within urban surroundings is an important priority, and policies that actively promote the development of urban parkland will be implemented in the future.
Table 2-2-2 International Comparison of Socioeconomic Infrastructure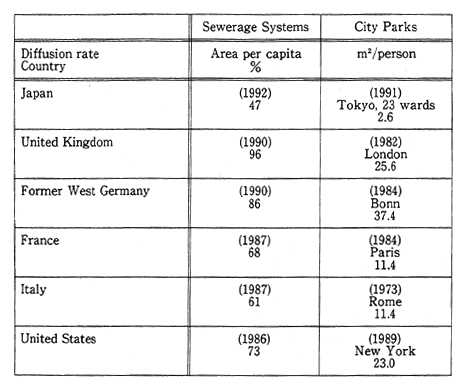 Source : Ministry of Construction
  Scenic highways, expressly built to provide transportation routes while maintaining harmony with the natural environment ,are also under development.
  Furthermore, canals and port areas, which provide pleasant and relaxing waterfront environments, can also provide sites for recreation, nature observation, and other activities that draw people to nature and make life more pleasant. From this view point, the establishment of parks featuring ponds and other bodies of water, and the creation of paths alongside waterfront areas should be further promoted. Further more, research is under way to devise methods to preserve as many natural features as possible during the construction of canals and port facilities.
  In addition to providing natural settings for relaxation and safe, high-quality water supplies, forested areas serve the important role of absorbing and fixing atmospheric CO2. Trees planted along roadsides or around factories help preserve natural beauty. Reflecting these factors, reforestation to ensure the sufficient diversification and preservation of forest resources, suitable allocation of lumbering concessions, and the greening of waterfronts and roadsides are being actively promoted. In the private sector, to make the best use of precious space in urban areas, greenery is being cultivated on rooftops, and to aid this endeavor, lightweight soil, watertight planters, and other items are being further developed. Increases of greenery in urban areas should be effective in preventing the "heat island" phenomenon and alleviating atmospheric pollution and will be further promoted in the future.
  In the private sector, examples of urban infrastructure components that incorporate mechanisms that reduce environmental impact include buildings in which energy-saving devices are incorporated from the designing stage, energy-efficient regional air-conditioning systems, and water-treatment systems that utilize fluids from recycled sewage and industrial effluvium, rainwater, and other miscellaneous sources to supply water for toilets and sprinkler systems, and for other uses where high-quality water is not essential. In cities, where large areas of land are covered with pavement, rainwater runoff could lead to the rapid swelling of canals and result in flooding. By installing absorbent pavement, however, sudden rises in water levels are prevented, and groundwater supplies are replenished.
  A broad range of further technological advances is expected to assist in promoting the establishment and development of the urban infrastructure with minimal environmental impacts in the coming years.
  As has been mentioned in this chapter, eco-business is a new sector serving a broad spectrum of industries. Eco-businesses have already been effective in putting environment-related technologies to practical use, and companies operating in the field are expected to develop more practicable technologies in the future. A report on U.S. environmental export strategies, issued in November 1993, offers some statistical evidence of how eco-businesses are proliferating. The report states that the environmental technology market has strong growth potential, with estimates that the 1993 global market of $20 billion to $30 billion (approximately ¥2.2 trillion to ¥3.2 trillion) will expand to $60 billion (approximately ¥6.6 trillion) by 2000.
  Growth estimates for the Japanese eco-business sector vary according to the source. A 1992 OECD analysis, for example, predicts that Japan will maintain a 6.7% annual growth rate between 1990 and 2000. The Environment Agency calculates that the four categories of eco-business in total-systems to reduce environmental impact environment-friendly products, environmental preservation services and socioeconomic infrastructure investment-will achieve approximately 8% annual growth between 1990 and 2000 and about 7.8% annual expansion between 2000 and 2010.
  Moreover, the Environment Agency's quantitative analysis of the Japanese eco-business sector as of 1990 indicates that the market value including the above four areas, is approximately ¥6 trillion.
  While such figures are merely estimates, demand in the ecobusiness sector continues to grow, underpinned by the rising corporate and consumer consciousness of environmental matters and active moves by businesses to adopt comprehensive environmental preservation policies. In Japan, as a result of steps taken in both the public and private sectors to tackle the growing problem of air pollution caused by automobiles, Japanese automobile makers have implemented effective countermeasures. This episode was the subject of a more detailed report in the 1991 Environmental white paper. However, in order for the new eco-business sector to continue to make a positive impact, corporations must maintain their ongoing investments in new environment-related equipment and technological development, and the government has to provide appropriate support and incentives. Furthermore, consumers must tailor their habits to lessen the environmental impact of their actions and, in doing so, force businesses to step up their own environmental preservation activities. Cooperation between consumers and industry will spur the eco-business sector to grow, which, in turn, will make companies and the whole industry reform their own actions to better promote environmental preservation and inspire the creation of a socioeconomic infrastructure capable of sustainable development with minimal environmental impacts.
2-3 Combining Environmental Awareness with Environmental Action
  The second section of this chapter examined specific corporate activities to help preserve the environment. Rather than merely striving to prevent the emission of polluting substances, companies today are actively seeking solutions to global and other environmental problems. Moreover, ecobusiness has become a growing commercial field, reflecting the more active role corporations are taking as they expand into new areas to solve environmental problems. Despite these positive trends, however, energy use on a quantitative basis is increasing, waste volume continues to rise, and economic circumstances are not conducive to environmental resource sustainability. Although enterprises within the various industrial spheres are working to take greater responsibility for the ecological impact of their activities and implementing corporate environmental action plans, a large number of corporations are uncertain as to how to proceed. Furthermore, it is essential internalize external diseconomies and to provide consumers with the information they need to properly appraise the environmental consequences of companies' actions. Also needed are mechanisms for promoting corporate environmental efforts. This section provides a summary of the measures required by industry on an ongoing basis to maintain a sustainable socioeconomic structure as well as an examination of the economic impact of environmental policies on individual companies.
  As prime instigators of socioeconomic activities, Japanese corporations today are fully aware of their social responsibilities. Even as companies strive to make greater independent efforts toward building a sustainable socioeconomic structure, the public is demanding that these enterprises work more actively to preserve the environment. The Citizen's Conference on Socioeconomics (the name was changed in April 1994 to Socioeconomic Productivity Headquarters) conducted a survey of various enterprises and individuals in May 1992 to assess the ability of companies to undertake environmental-preservation activities on a global scale. The organization sent questionnaires to approximately 2, 000 listed companies and 3,000 adults under the age of 70, recording response ratios of 25.5% and 45.1%, respectively. Only 1.0% of respondents believed that companies were working actively to solve environmental problems, while 8.0% reported that corporations were making noderate efforts in this regard. Another 43.6% of respondents believed hat comp.anies wished to take action but were making no particular concrete efforts, and 27.9% believed that corporate efforts toward solving environmental problems were relatively minimal. In addition, 18. 2% of those answering the survey reported that companies were making no efforts at all (Figure 2-3-1). More than half of respondents stated that companies were already making sufficient efforts in recycling office paper and other refuse material, reducing raw material consumption and energy use in production processes, and lowering production waste volume. Respondents were also asked what they considered to be the main areas in which corporate efforts to preserve the environment should be directed. The most common response was decreasing produc-tion waste volume, while approximately 40% answered reducing raw material consumption and energy use in production processes and some 30% chose developing environment-friendly products. As for environmental policies thought to be of the greatest importance to companies, 51.4% of respondents chose establishing recycling systems for products after use, 40.8% selected decreasing industrial waste, and 36.7% opted for simplifying product packaging and store wrapping- The variations in answers to these questions may be attributed to the fact that individuals, speaking from the perspective of everyday consumers, expect companies to direct efforts toward environmental problems related to products and services, while companies center their environmentalpreservation activities on quantitative impact appraisal, cost effectiveness, and the willingness of customers to buy products. These discrepancies are a prime factor in preventing cooperation between corporations and individual consumers, a collaboration that is essential for solving environmental problems. Overall frameworks for advancing mutually beneficial policies are required to help consumers take into consideration environmental factors in their consumption activities, to assist companies in undertaking environmental-friendly production and other activities, and to promote environmental activism from a broadbased perspective.
Fig. 2-3-1 Consuniers' Appraisal of Corporate Efforts to Solve Global Environmental Problems

Source: Socioeconomic Productivity Headquarters
Building Frameworks for Independent Environmental Management
  Companies are increasingly recognizing the importance of independently implementing policies rather than merely obeying laws and regulations to adequately respond and seek solutions to global environmental problems. Because corporate activities are generally dictated by market principles in which companies compete with rivals and work to increase profits, however, environmental-preservation policies witho~.it any clear connection to profitability usually take low precedent in comparison to business activities that directly generate earnings. Therefore, the wholehearted adoption of environmental-preservation policies cannot be realized without common recognition of the needs of corporations. It is thus necessary to decide how to build frameworks for promoting independent corporate environmental-preservation policies. Environmental management serves as one such framework. Undertaking independent environmental management generally entails gaining an understanding of the environmental impact of corporate activities, evaluating operations, establishing environmental business policies and corporate action plans, clarifying the mechanisms for attaching responsibility to particular parties for achieving the goals and realizing the plans, verifying that plans are properly implemented and the goals are reached, and revising companywide administrative systems.
  The movement to apply global standards to these environmental management procedures is gaining momentum. In March 1992, the United Kingdom established the Environmental Management System, which applies uniform standards to all business organizations in the public and private sectors. The system includes providing guidance for environmental policy, organizations, and personnel ; evaluating and making records of environmental impact ; establishing aims and goals ; planning and documenting management of operations ; undertaking surveillance; and performing overall reviews.
  The International Organization for Standardization (ISO) began full-scale preparations to apply international standards for environmental management of businesses in June 1993. ISO's TC207 Committee set up six subcommittees to devise international standards for environmental management systems-for relevant surveys; labeling; performance appraisal ; life-cycle assessment ; and terminology and definitions, respectively. These subcommittees are working actively to develop standards in their respective areas.
  Accompanying this trend toward standardization, measures that recognize and commend businesses undertaking activities to fulfill certain important environment-related functions are also being promoted. The EC Committee adopted the Regulations on Environmental Management and Surveillance Schemes Based on Independent Participation at the end of June 1993. These regulations call for the provision of special logo-mark labels to companies that voluntarily introduce environmental management systems, issue environmental proclamation reports, receive certification from an authorized environmental inspector, or satisfy other related procedures. An official EC gazette will also publish the names of companies undertaking such practices. The regulations are expected to take effect in April 1995.
  The trend toward implementing environmental management systems is also growing within Japan's industrial sector. Government policies outlined in MITI's Voluntary Plan on the Environment, adopted in October 1991, and the Environment Agency's Environment-Friendly Corporate Action Guidelines, issued in February 1993, are proving effective in encouraging companies to undertake independent environment-related initiatives. A survey on environment-friendly business practices, conducted by the Environment Agency in fiscal 1993, revealed the extent to which companies were introducing environmentrelated guidelines and goals and periodically monitoring their own business practices. Of the companies that responded to the survey questionnaire, 35.9% were implementing some form of environmental surveillance or monitoring, with 27.8% already undertaking these initiatives and 8.1% planning to do so within the fiscal year (Figure 2-3-2). Additionally, 65.2% of responding companies stated that personnel responsible for overseeing business practices that impacted the environment reported to an authoritative body, and 34.2% of these companies made the periodic compilation of such reports mandatory more than once per year (Figure 2-3-3).
Fig. 2-3-2 Companies Conducting Internal Environmental Monitoring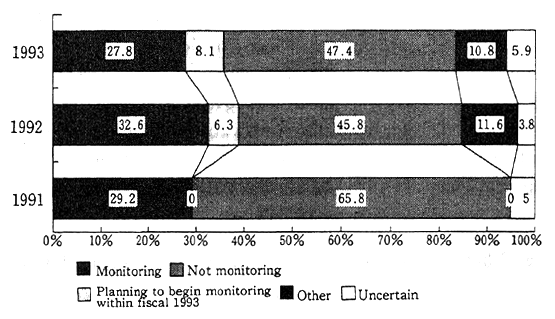 Source: Environment Agency
Fig. 2-3-3 Companies Requiring Periodic Reports to an Envi ronmental or Other Management Committee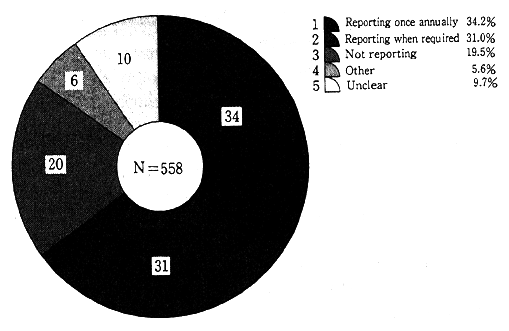 Source: Environment Agency
  Furthermore, some progressive companies in Europe and the United States are working actively to disclose environmental information, and the trend toward supplying this data to consumers continues to gathering momentum. The Environment Agency's fiscal 1993 environment-friendly corporate action survey revealed a trend toward gathering and reporting such information in Japan. According to the survey, 6.3% of responding companies compile and disclose environment-related reports and 21.7% prepare such reports but take no official steps to disclose them to the public. However, the largest number of respondents, 44.3%, do not write such reports (Figure 2-3-4). The disclosure of environmental information as such is less a priority than ensuring that consumers properly understand the data and can weigh it when considering purchases. New lifestyles and consumption patterns, spurred by the movement to consider the environmental impact of products before purchasing, has in turn incited companies to further promote environmental preservation.
Fig. 2-3-4 Corporate Compilation of Environmental Reports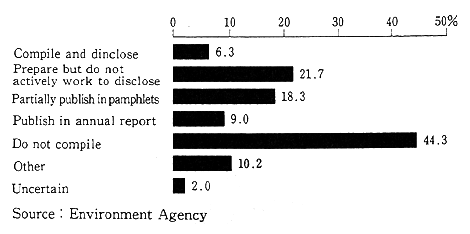 Source: Environment Agency
  The Basic Environmental Law, which took effect in November 1993, requires the active and self-motivated participation of all members of the community in working toward improving the environment. The corporate sector, as an important part of the social fabric, is expected to faithfully execute its own concrete action plans in this regard. Businesses will be required to instigate additional environment-friendly practices to build a sustainable socioeconomic structure with minimal environmental impact.