main body
Effort
Clean-up/Beautification and Invasive Species Elimination Efforts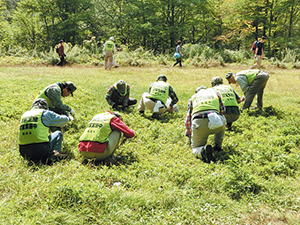 Although Kamikochi, Murodo in the Mt. Tateyama and Tatamidaira in the Mt. Norikura are used by hordes of visitors, the area maintains a beautiful natural environment and landscapes without litter on the roadways, thanks to the efforts of all the people conserving the area.
In Kamikochi, local people have organized a group since 1963 aimed at beautifying the area to continue with the efforts to clean-up, beautify, and eliminate invasive species while the Kamikochi park volunteers, who are eager to conserve the natural environment and disseminate the beauty of nature to many people, get together to engage in clean-up and beautification activities, elimination of invasive species, maintenance and repair of footpaths and trails, nature commentary activities, guidance for visitors, and a survey of flora and fauna.
The regulation of Private Cars
In Kamikochi, the private car regulation is in place to preserve the natural environment and enhance the comfort and safety of visitors. Access to the Prefectural Route Kamikochi-koen line is restricted for private cars during the climbing season as well as for tour buses during the busy season. Alternative means of transportation include shuttle busses and taxis from Sawando and Hirayu. Also, visitors to Mt. Norikura are subject to the private car regulations. Along with the Norikura Skyline Road to Tatamidaira and the Norikura Echo Line, visitors must take alternative means of transportation including shuttle buses and taxis from Norikura Highland and Hoonokidaira parking lots.