main body
Efforts
Conservation Activities in the Iide and Asashi Region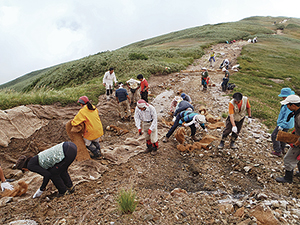 At the Iide and Asahi Mountain Ranges, conservation activities of vegetation restoration are being conducted to restore the natural environment that was devastated by the effects of human activities and to ensure that the natural environment in the two areas can be maintained permanently at a highly primitive level.
Invasive Plant Measures
The Bandai-Asahi National Park has seen the invasion of species such as the Golden glow and the common dandelion which are designated as invasive alien species, and removal work is being conducted at Urabandai and Joudodaira to remove Golden glow, and at Mt. Gassan to remove the common dandelion that has invaded the alpine belt.
My Car (Private Car) Regulations of Oguninuma
In Oguninuma, the use of private cars peaks during the season of Japanese azaleas and Hemerocallis dumortiei, so My Car Regulations are put into effect from mid-June to mid-July. The council operates a shuttle bus (subject to fees) as an alternative mode of transportation during this period.
Park Volunteer Activities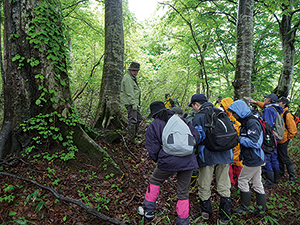 In the Urabandai and Haguro areas, there are many volunteers who provide visitors with commentary on the nature, conduct beautification and cleaning activities, and nature studies. Additionally, a variety of events to help visitors get closer to nature such as nature observation walks and snowshoe trekking are held at the visitor centers.