The ecology of this park is roughly classified into three of solfataric wilderness where volcanic gas fumes; forests that spread over the mountain base; and grassland that is maintained by controlled burning and mowing.
The solfataric wilderness has peculiar biota where animals and plants have adopted to the harsh environment. The forests, including secondary forest and natural forest among other types, foster a wide variety of animals and plants. The grassland shows different vegetation depending on usage and management by human, including tall-grass vegetation where Japanese silver grass is dominant by continued controlled burning and mowing, and short-grass vegetation where zoysia is dominant by pasturing of cows and horses, each presenting ecology that fosters specific animals and plants.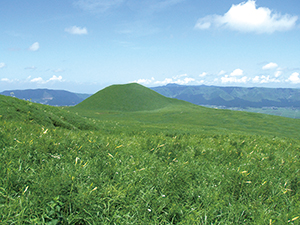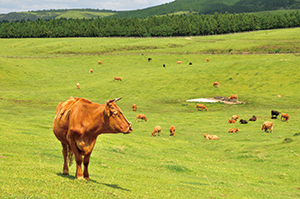 Around the volcano, due to the effect of volcanic gas, characteristic plants, such as Rhododendron kiusianum and Cowberry, grow in clusters, presenting unique scenery.
The grassland area over the mountain base has been kept from becoming a forest through such activities as pasturing, controlled burning, and mowing for many years. The dominant species is Japanese silver grass, but precisely because it is kept as grassland, many rare endangered species such as Echinops setifer, Viola orientails, and Ehimeayame (iris) are preserved. It is a very important habitat for such plants. In the Tadewara Moor and other moors, you can see scholarly precious vegetation where Sawagikyo (balloonflower), Numagaya (grass), and other plants grow in clusters.