Press Release
Letter of Intent (LOI) on Cooperation of Government of Japan and Indonesia for Enhancing Indonesian Climate Change Adaptation Planning Signed
March 22, 2016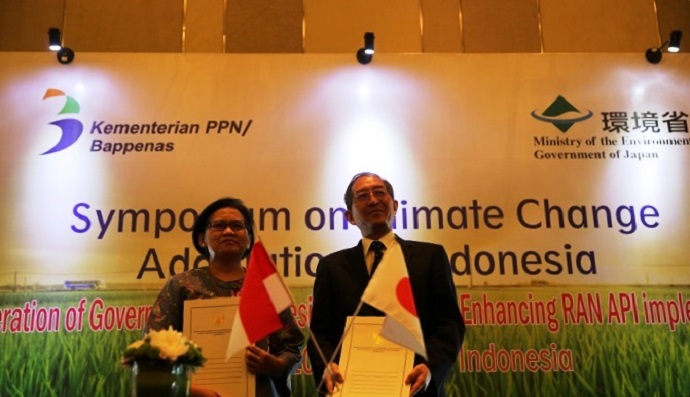 The Ministry of the Environment Japan (MOEJ) signed a LOI on Climate Change Adaptation with the Indonesian Ministry of National Development Planning in the Symposium on Climate Change Adaptation on March 15, 2016 in Jakarta. The document was signed by the Vice-Minister for Global Environment Affairs, MOEJ, (Mr Masaaki Kobayashi) and Deputy Minister for Maritime and Natural Resources Ministry of National Development Planning / BAPPENAS (Dr Endah Murniningtyas).
The LOI parallels one of the basic strategies of Japan's "National Plan for Adaptation to the Impacts of Climate Change", which is international cooperation and contribution. This is the first bilateral cooperation document in the MOEJ to focus on the area of climate change adaptation.
To this purpose, symposiums were hold on "Climate Change Adaptation in Indonesia - Cooperation of Government of Indonesia and Japan for Enhancing Indonesian National Adaptation Plan (RAN API)" in Jakarta, Medan and Surabaya during the period 15 -17 March. Medan and Surabaya will be the target Provinces for the cooperation.
OUTLINE OF LOI
Purpose: To strengthen, facilitate and develop capacity of climate change impact assessment, bringing the view to develop local climate change adaptation strategy/plan which refers to the National Action Plan for Climate Change Adaptation (RAN-API).
Target Local Areas: To be designated based on mutual agreement among MOEJ and BAPPENAS. At the beginning, the provinces of North Sumatra and East Java are designated and other local areas may be added if appropriate.
Modality: Establish a Joint Expert Team of climate change impact assessment which consists of researchers and experts of various areas of climate change impact, such as agriculture, water resources, coastal zones etc. from Japan and Indonesia and coordinators to conduct and support the activities.
For furthetr information, please contact:
Climate Change Adaptation Office,
Global Environment Bureau, Ministry of the Environment
TEL:03-5521-8242
:03-3581-3351