Thyroid Ultrasound Examination: Results of Full-scale Survey (the survey at age 25 years)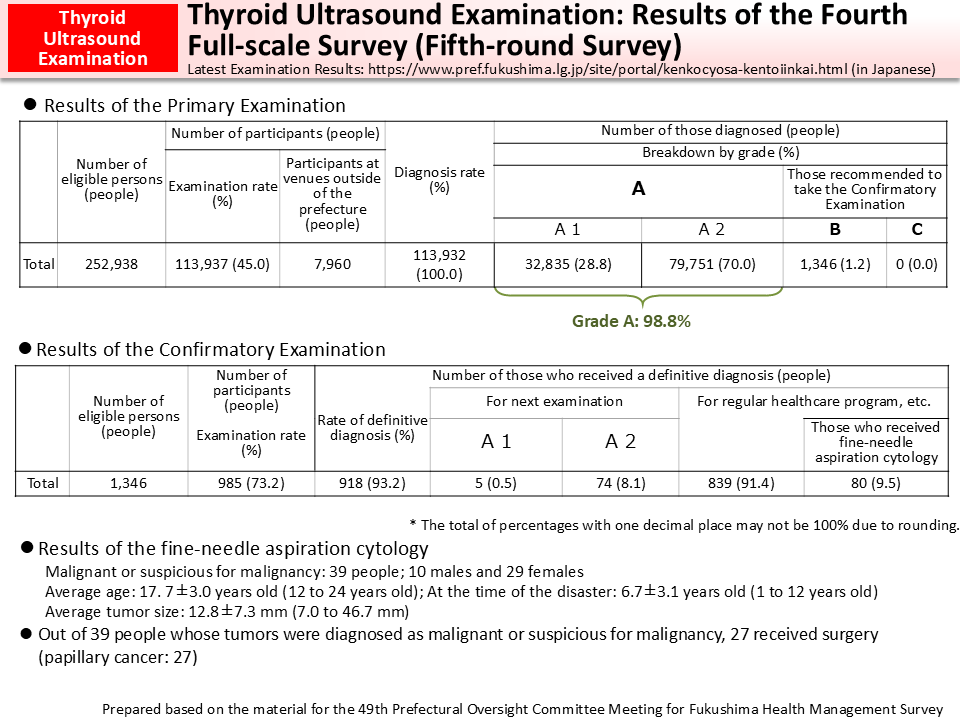 In the implementation period of the Full-scale Survey (third-round survey) (FY2017), a survey targeting people who become 25 years old during the relevant fiscal year was commenced as part of the Full-scale Survey. These are the results of such surveys targeting people born in FY1992 through FY1994.
Examinees diagnosed as Grade A in the Primary Examination accounted for 95.1% of the total, while those diagnosed as Grade B accounted for 4.9%. Most of those diagnosed as Grade A2 had cysts of 20 mm or smaller and those diagnosed as Grade B had nodules of 5.1 mm or larger. This tendency was the same as that observed so far, but targeted examinees were older than in prior examinations, and therefore, the percentages of those diagnosed as Grade B and those diagnosed to have nodules were higher compared with the Preliminary Baseline Survey and the Full-scale Surveys (second- to fourthround surveys).
In the Confirmatory Examination, as a result of fine-needle aspiration cytology, 9 examinees were diagnosed that their tumors were malignant or suspicious for malignancy.
Included in this reference material on March 31, 2021
Updated on March 31, 2022