Basic Survey: Purpose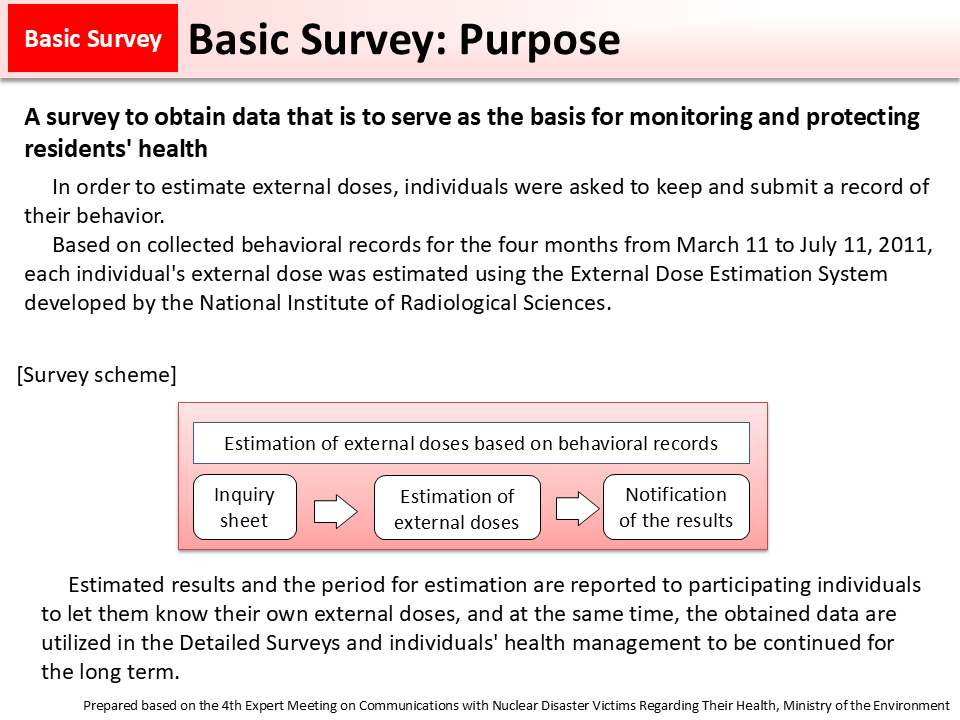 The Basic Survey was commenced for the purpose of estimating the level of external doses of the residents of Fukushima Prefecture based on the records of their behavior, informing them of the estimation results individually, and thereby promoting and maintaining the health of the prefectural residents, in light of the effect of radiation due to the accident at Tokyo Electric Power Company (TEPCO)'s Fukushima Daiichi NPS, which occurred following the Great East Japan Earthquake.
Specifically, inquiry sheets were delivered to the applicable residents to ask them to record their behavior during the four months after the accident. Based on the behavioral records entered in the inquiry sheets, individuals' external doses were estimated using a program developed by the National Institute of Radiological Sciences. The four months after the accident, which is the targeted period of the Basic Survey, is the period during which ambient dose rates were the highest, and it is most important to determine people's external doses during this period.
Individuals' estimated external doses were compiled and statistically processed, and have been utilized for analyzing radiation exposure and its health effects in Fukushima Prefecture.
Included in this reference material on March 31, 2013
Updated on March 31, 2020